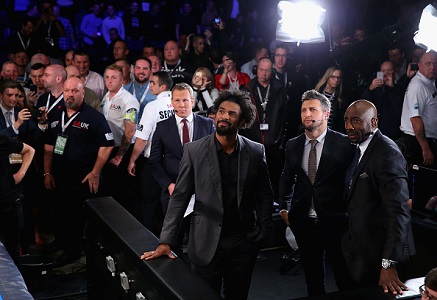 David Haye goes into the March 4th fight against Tony Bellew as the 1/8 favourite, with Bellew best priced 5/1.
The rivalry that has erupted in the last few months is somewhat more closely matched though and that proved to be the case in their press conference this morning.
Before having a long war of words with Bellew, Haye went after promoter Eddie Hearn accusing him of making every fight all about him. Take a look at some of the best quotes from the press conference below:
Bellew: "I will smash your f****** face."
Haye: "If I go clubbing every night between now and fight night, I'll still smash your face!"
Haye: "Your whole team is getting destroyed. You're putting this guy's life on the line."
Bellew: "You need a dance partner, you had no options."
Haye: "You're the option, we're taking it to shut you up, shut Eddie up and shut Dave up."
Bellew: "You are not the best boxer by a mile, you're an amazing athlete...When it comes to technical boxing you are s***."
Haye: "I'll be standing over your limp body in the ring. I'll come to hospital and let you play with my hair...You're not going to be able to chew your food."
WATCH: @TonyBellew & Haye clash on head to head https://t.co/odJNn5lqsz via @KuganCassius @JamesHelder_ @IFLTV #HayeBellew

— Matchroom Boxing (@MatchroomBoxing) 30 November 2016