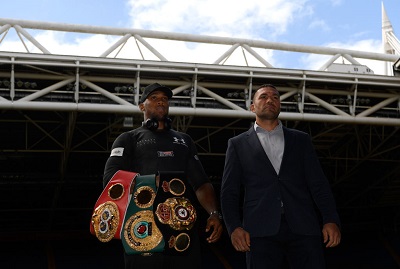 Compared to the betting for his match with Kubrat Pulev, the bout seems one-sided
The substitute of Carlos Takam for Kubrat Pulev is being viewed by the bookies as a lesser fight for Anthony Joshua. So much so, they have drastically shorter odds for an early round Joshua KO against Takam than the odds were for him to do the same against Pulev:
Joshua to KO Opponent by round (best odds, percentage of probability, as per Oddschecker):
Round 1 KO - 6/1 Takam, 10/1 Pulev
14.20% vs 9.09%
Round 2 KO - 1/2 Takam, 17/2 Pulev
15.39% vs 10.52%
Round 3 KO - 5/1 Takam, 13/2 Pulev
16.66% vs 13.33%
Rounds 7-12 KO - 5/1 Takam, 5/2 Pulev
16.66% vs 28.57%
Joshua was 11/2 to win against Pulev on points, and 10/1 against Takam, while both opponents had best odds of 40/1 to win on points against Joshua.
Oddschecker spokesman George Elek: "The odds suggest an early round KO will be par for the course for Joshua against the perceived weaker Takam, with high odds also on the match ending after round 6. The crowd in Cardiff will be rightly disappointed if the heavyweight bout pans out as the bookies are suggesting it will."