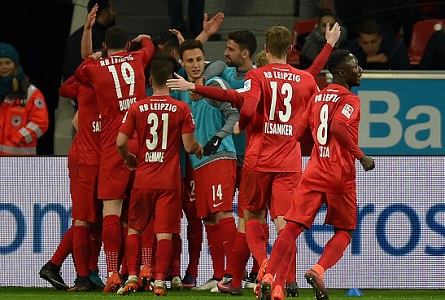 Prior to the start of the Bundesliga in August, RB Leipzig were a massive 500/1 to win outright. Newly promoted and backed by Red Bull, their odds were not as long as you may have thought but they were certainly not considered contenders for the title.
Bayern Munich were the massive pre-season favourites at odds of 1/7 and that hasn't really changed just yet. RB Leipzig's form has forced the bookies to cut their odds of winning the Bundesliga though and they are now into 10/1.
Leipzig have not lost a match in the league this season and are on a six-match winning run, with their latest coming away to Bayer Leverkusen. With that result and Bayern Munich losing to Dortmund at the weekend, RB Leipzig find themselves three points clear at the top of the Bundesliga with just under one-third of the season already completed.
While their pre-season odds do not match up to Leicester's 5000/1, it would still be a seismic shock if they were to come out on top at the end of the Bundesliga season. At this stage last season, Leicester were top of the Premier League but their odds were still a huge 1500/1. While RB Leipzig are a long way from emulating Leicester's achievement in 2015/16, the bookies are clearly not willing to risk making the same mistake again.