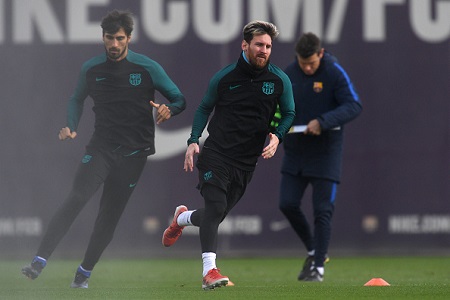 With Barcelona already through in the Champions League, Messi is set to start in a bid to beat Ronaldo's 11 goal record in the group stages.
Barcelona face Borussia Monchengladbach at the Nou Camp tonight in a match that means little to both teams. Barcelona are already through to the knockout stages and Monchengladbach are safe in their Europa League spot, with no chance of progressing in the Champions League.
There is something on the line for Lionel Messi though, as he bids to take another record off Ronaldo. Ronaldo only set the record for the most goals in the group stages of one season in last year's competition but Messi is already hot in his heels. That record made by Ronaldo was 11 goals, which is astonishing in itself considering they came in six matches against some of the top teams in Europe.
Messi currently sits on 9 goals in this season's group stage and will be fancying his chances of bagging a hat-trick at the Nou Camp tonight. He is best priced 9/1 to do just that to break the record and 5/2 to score 2 or more, with two seeing him equal the record.
This just goes to show the sheer competitiveness between the two best players in the world and also Messi's influence at Barcelona. It would have been easy for Messi to sit this one out and Luis Enrique to play Andre Gomes or Paco Alcacer with an opportunity for a confidence booster.
Messi looks set to start though and it certainly make the dead rubber more interesting to watch and see if Messi can achieve the feat.