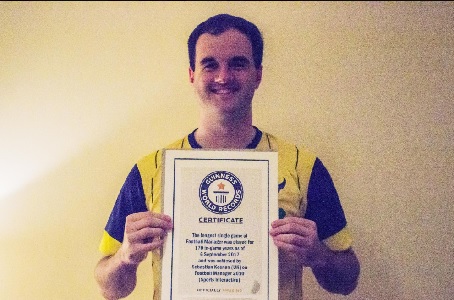 Guinness World Record holder, Seb Keenan, believes he can defy the odds by becoming Sunderland's next manager.
Seb Keenan has been busy over the last seven years, playing Football Manager 2010 for an incredible 170 seasons.
In real time that equates to six months of his life playing the addictive game that has seen him win the Champions League six times with Oxford and achievements that saw both Real Madrid and Barcelona name stadiums after him.
That success on the game has seen him enter the running for the Sunderland manager job as a 1000/1 shot. The Mackems are still without a manager since sacking Simon Grayson after their 3-3 draw with Bolton at the Stadium of Light on Tuesday.
Seb himself is bullish about his chances, telling Oddschecker: "After 170 seasons, I'm not surprised my name's been mentioned for some of the top jobs in the game. In all seriousness, it's amazing just to see my name on the same list as childhood heroes such as Giggs, Bould and Adams. With a bit of a push, I believe we can make this a reality. I take it someone's actually placed a bet on me for the price to be shown? Whoever you are, I wish you all the luck in the world!"
Though he used to go to university in Newcastle, quite how the now digital content strategist in London would make the commute up to the north-east remains to be seen.