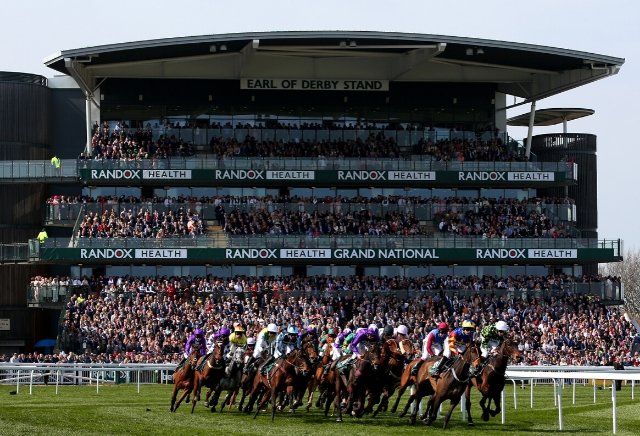 The 40-strong field are virtually ready for action
Although the Aintree faithful will not be flocking to the iconic venue this weekend, millions of punters across the country will be watching on, from the comfort of their very own living room.
That's right, the Virtual Grand National is taking place this Saturday, April 4th, and you can bet on it via Oddschecker.
But, who are the runners for the biggest horse race of the year (virtually)? We've listed the runners for the Virtual Grand National below.
Number, name, jockey, odds, weight:
1 Tiger Roll, Davy Russell, 5-1, 11-10
2 Bristol De Mai, Daryl Jacob, 20-1, 11-8
3 Aso, Charlie Deutsch, 66-1, 11-2
4 Elegant Escape, Jonjo O'Neill jnr, 20-1, 11-2
5 Anibale Fly, Barry Geraghty, 20-1, 11-2
6 Top Ville Ben, Tom Dowson, 45-1, 11-2
7 Beware The Bear, Jerry McGrath, 33-1, 11-0
8 Peregrine Run, Kevin Sexton, 66-1, 10-13
9 Jett, Sam Waley-Cohen, 50-1, 10-13
10 Alpha Des Obeaux, Richard Johnson, 25-1, 10-13
11 Total Recall, Paul Townend, 40-1, 10-13
12 The Storyteller, Keith Donoghue, 40-1, 10-12
13 Magic Of Light, Robbie Power, 18-1, 10-12
14 Talkischeap, Tom Cannon, 25-1, 10-11
15 Yala Enki, Bryony Frost, 28-1, 10-11
16 Ballyoptic, Sam Twiston-Davies, 25-1, 10-11
17 Burrows Saint, Rachael Blackmore, 12-1, 10-10
18 Definitly Red, Brian Hughes, 14-1, 10-10
19 Sub Lieutenant, JJ Slevin, 33-1, 10-9
20 Ok Corral, Derek O'Connor, 25-1, 10-9
21 Tout Est Permis, Sean Flanagan, 80-1, 10-9
22 Vintage Clouds, Danny Cook, 33/1, 10-8
23 Crievehill, Tom Bellamy, 66-1, 10-8
24 Lake View Lad, Henry Brooke, 50-1, 10-8
25 Jury Duty, Mark Enright, 40-1, 10-8
26 Pleasant Company, David Mullins, 28-1, 10-7
27 Acapella Bourgeois, Danny Mullins, 33-1, 10-6
28 Shattered Love, Lisa O'Neill, 66-1, 10-6
29 Any Second Now, Mark Walsh, 10-1, 10-6
30 Potters Corner, Jack Tudor, 18-1, 10-6
31 Dounikos, Luke Dempsey, 50-1, 10-5
32 Kildisart, Nico de Boinville, 50-1, 10-5
33 Death Duty, Gavin Brouder, 50-1, 10-5
34 Ramses De Teillee, Tom Scudamore, 66-1, 10-5
35 Valtor, James Bowen, 66-1, 10-4
36 Saint Xavier, David Maxwell, 66-1, 10-4
37 Warriors Tale, Harry Cobden, 80-1, 10-4
38 Double Shuffle, Jonathan Burke, 100-1, 10-4
39 Kimberlite Candy, Richie McLernon, 16-1, 10-4
40 Walk In The Mill, James Best, 16-1, 10-4