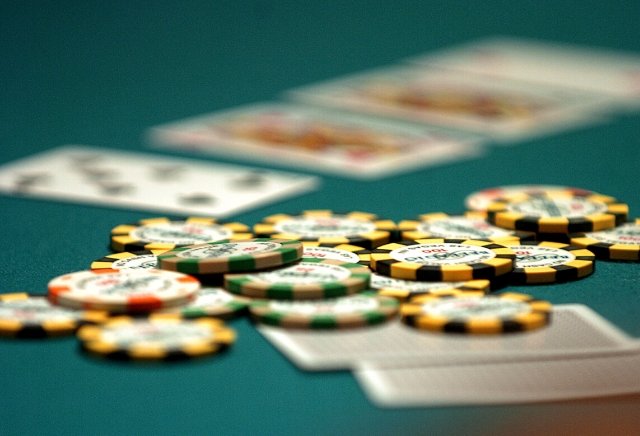 Fancy winning your share of $85,000,000?
Yesterday saw the start of the well-anticipated 2020 Spring Championship of Online Poker (SCOOP) on PokerStars, which is an online festival where huge prizes are up for grabs in a whole range of tournaments lasting until the 19th May.
Over the course of the festival, there is a minimum guarantee of $85 million up for grabs across 80 events at all ranges of buy-ins, with at least $1.5 million guaranteed every single day and $22 million being guaranteed on the final day.
The majority of the festival is targeted towards your standard No-Limit Hold'em games however, there are also other tournament formats included in SCOOP to suit your preference such as Pot Limit Omaha, H.O.R.S.E, 2-7 Single Draw, and Stud Hi-Lo.
Alongside the SCOOP festival tournaments, we at oddschecker are running a Poker League up until the 17th May with $500 added by PokerStars for each tournament and has seen people win over $4,200 already.
Not only do you have the chance to win cash through the oddschecker Poker League, you are also able to win tickets to the Sunday Million (worth $109) and compete for the top prize which tends to be around $250,000! You can find out how to enter the oddschecker Poker League here.
Below we have created a schedule of selected tournaments from the SCOOP festival and the oddschecker Poker League for the more recreational players with buy-ins ranging from $2 - $22.
888sport
In-depth football stats
Multiple deposit methods
Licensed by UK Gambling Commission
Treble The Odds in cash
Claim
New customers only. Min deposit £10. Customer must apply 'Profit Boost Ticket ' to a single or accumulator. Max stake of £10. 'Profit Boost Token' granted hereunder is equivalent to 200% on top of a winning bets profit. Maximum extra winnings are capped at £/$/€5000. Additional winnings are credited in cash to the player's account immediately after bet settlement. 'Profit boost ticket' valid for 7 days. 18+. begambleaware.org. T&Cs Apply.
| Date | Time (UK) | Event | Buy-in | Game | | Guarantee |
| --- | --- | --- | --- | --- | --- | --- |
| May-01 | 18:00 | SCOOP 05-L | $11 | NLHE | | $125,000 |
| May-01 | 19:00 | Oddschecker PL | $5.50 | NLHE | | $500 (added) |
| May-01 | 19:30 | SCOOP 06-L | $22 | 8-Game | | $30,000 |
| May-01 | 20:30 | SCOOP 07-L | $5.50 | NLHE | 8-Max, Progressive KO | $80,000 |
| May-01 | 22:00 | SCOOP 08-L | $11 | NLHE | 8-Max, Turbo | $35,000 |
| May-02 | 15:30 | SCOOP 09-L | $5.50 | NLHE | 8-Max, Afternoon Deep Stack | $50,000 |
| May-02 | 18:00 | SCOOP 10-L | $11 | NLHE | Progressive KO | $200,000 |
| May-02 | 19:30 | SCOOP 11-L | $11 | NL 5-Card Draw | Progressive KO | $15,000 |
| May-02 | 20:30 | SCOOP 12-L | $2.20+R | NLHE | 8-Max, Turbo | $25,000 |
| May-02 | 20:30 | SCOOP 12-M | $22+R | NLHE | 8-Max, Turbo | $100,000 |
| May-03 | 13:00 | SCOOP 13-L | $5.50 | NLHE | 8-Max, Progressive KO, Mini Sunday Kickoff SE | $50,000 |
| May-03 | 15:30 | SCOOP 14-L | $11 | NLHE | 8-Max | $100,000 |
| May-03 | 18:00 | SCOOP 15-L | $22 | NLHE | Mini Sunday Million SE | $275,000 |
| May-03 | 19:00 | Oddschecker PL | $5.50 | NLHE | | $500 (added) |
| May-03 | 19:30 | SCOOP 16-L | $22 | PLO | 6-Max | $80,000 |
| May-03 | 22:00 | SCOOP 18-L | $22 | NLHE | 8-Max, Turbo, Progressive KO, Mini Sunday Cooldown SE | $100,000 |
| May-04 | 17:05 | SCOOP 19-L | $11 | FLHE | 6-Max | $12,000 |
| May-04 | 18:00 | SCOOP 20-L | $5.50 | NLHE | 6-Max, Progressive KO | $100,000 |
| May-04 | 19:30 | SCOOP 21-L | $5.50 | NLO8 | 8-Max | $15,000 |
| May-04 | 20:30 | SCOOP 22-L | $11 | NLHE | | $50,000 |
| May-05 | 17:05 | SCOOP 23-L | $5.50 | 5-Card PLO | 6-Max, Progressive KO | $30,000 |
| May-05 | 19:30 | SCOOP 25-L | $22 | FL 2-7 Triple Draw | | $25,000 |
| May-05 | 20:30 | SCOOP 26-L | $22 | NLHE | 6-Max | $80,000 |
| May-05 | 21:00 | SCOOP 27-L | $5.50 | NLHE | 8-Max, Turbo, Progressive KO | $40,000 |
| May-06 | 17:05 | SCOOP 28-L | $11 | Stud Hi/Lo | | $15,000 |
| May-06 | 19:30 | SCOOP 30-L | $5.50+R | PLO | 6-Max | $35,000 |
| May-06 | 20:30 | SCOOP 31-L | $11 | NLHE | Progressive KO | $50,000 |
| May-07 | 15:30 | SCOOP 32-L | $5.50 | NLHE | | $35,000 |
| May-07 | 19:30 | SCOOP 35-L | $5.50 | PLO8 | 8-Max | $15,000 |
| May-07 | 20:30 | SCOOP 36-L | $22 | NLHE | 6-Max | $80,000 |
| May-08 | 18:00 | SCOOP 37-L | $11 | NLHE | 8-Max | $125,000 |
| May-08 | 19:00 | Oddschecker PL | $5.50 | NLHE | | $500 (added) |
| May-08 | 19:30 | SCOOP 38-L | $22 | HORSE | | $35,000 |
| May-08 | 20:30 | SCOOP 39-L | $5.50 | NLHE | Heads-Up, Turbo, Progressive Total KO Zoom | $60,000 |
| May-09 | 15:30 | SCOOP 40-L | $11 | NLHE | Afternoon Deep Stack | $80,000 |
| May-09 | 19:30 | SCOOP 42-L | $5.50 | NLHE | 8-Max, Progressive KO | $80,000 |
| May-10 | 13:00 | SCOOP 43-L | $5.50 | NLHE | Mini Sunday Kickoff SE | $50,000 |
| May-10 | 15:30 | SCOOP 44-L | $22 | NLHE | 8-Max, Progressive KO | $200,000 |
| May-10 | 19:00 | Oddschecker PL | $5.50 | NLHE | | $500 (added GTD) |
| May-10 | 19:30 | SCOOP 46-L | $22 | NLO8 | 6-Max, Progressive KO | $60,000 |
| May-10 | 20:30 | SCOOP 47-L | $11 | NLHE | 8-Max | $100,000 |
| May-10 | 22:00 | SCOOP 48-L | $5.50 | NLHE | Turbo, Progressive KO, Mini Sunday Cooldown SE | $40,000 |
| May-11 | 16:00 | SCOOP 49-L | $5.50 | NLHE | | $80,000 |
| May-11 | 19:30 | SCOOP 50-L | $11 | Stud | | $15,000 |
| May-11 | 20:30 | SCOOP 51-L | $5.50 | NLHE | 4-Max, Progressive KO | $35,000 |
| May-12 | 17:05 | SCOOP 52-L | $11 | NL 2-7 Single Draw | | $15,000 |
| May-12 | 19:30 | SCOOP 54-L | $22 | PLO8 | 6-Max | $40,000 |
| May-12 | 20:30 | SCOOP 55-L | $11 | NLHE | | $80,000 |
| May-12 | 23:00 | SCOOP 56-L | $5.50 | NLHE | 8-Max, Progressive KO | $40,000 |
| May-13 | 17:05 | SCOOP 57-L | $11 | HORSE | | $20,000 |
| May-13 | 19:30 | SCOOP 59-L | $22 | NLHE | Heads-Up | $40,000 |
| May-13 | 20:30 | SCOOP 60-L | $11 | NLHE | Progressive KO | $50,000 |
| May-14 | 15:30 | SCOOP 61-L | $11 | NLHE | | $80,000 |
| May-14 | 17:05 | SCOOP 62-L | $11 | FLO8 | 8-Max | $25,000 |
| May-14 | 19:30 | SCOOP 64-L | $11 | Razz | | $20,000 |
| May-14 | 20:30 | SCOOP 65-L | $22 | NLHE | | $125,000 |
| May-15 | 17:05 | SCOOP 66-L | $11 | 8-Game | | $25,000 |
| May-15 | 18:00 | SCOOP 67-L | $22 | NLHE | | $125,000 |
| May-15 | 19:00 | Oddschecker PL | $5.50 | NLHE | | $500 (added) |
| May-15 | 19:30 | SCOOP 68-L | $11 | PLO | 6-Max, Progressive KO | $35,000 |
| May-15 | 20:30 | SCOOP 69-L | $11 | NLHE | 6-Max, Turbo Shootout | $40,000 |
| May-16 | 15:30 | SCOOP 70-L | $11 | NLHE | Afternoon Deep Stack | $80,000 |
| May-16 | 18:00 | SCOOP 71-L | $5.50 | NLHE | 8-Max, Progressive KO | $100,000 |
| May-16 | 19:30 | SCOOP 72-L | $11 | NLO8 | 6-Max, Turbo | $20,000 |
| May-17 | 13:00 | SCOOP 73-L | $5.50 | NLHE | Progressive KO, Mini Sunday Kickoff SE | $40,000 |
| May-17 | 15:30 | SCOOP 74-L | $22 | NLHE | | $200,000 |
| May-17 | 19:00 | Oddschecker PL | $5.50 | NLHE | | $500 (added) |
| May-17 | 19:30 | SCOOP 01-L | $2 | NLHE | Phase Event | $200,000 |
| May-17 | 19:30 | SCOOP 01-M | $22 | NLHE | Phase Event | $1,000,000 |
| May-17 | 22:00 | SCOOP 76-L | $11 | NLHE | 8-Max, Turbo, Progressive KO, Mini Sunday Cooldown SE | $100,000 |
| May-18 | 19:30 | SCOOP 77-L | $11 | NLHE | 8-Max, Progressive KO | $200,000 |
| May-18 | 22:00 | SCOOP 78-L | $22 | NLHE | Turbo | $80,000 |
| May-19 | 20:30 | SCOOP 80-L | $11 | 5-Card PLO | 6-Max | $30,000 |
Find all the best poker sign up offers and welcome bonuses in our poker section