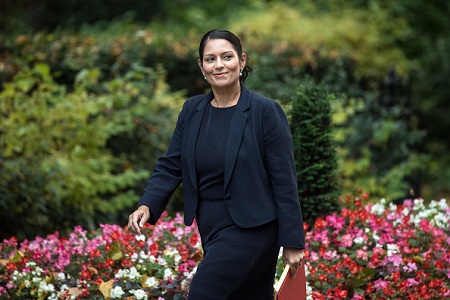 Ms Patel has accounted for 97% of bets and moved from 40/1 on Monday to 1/3 following her unofficial Israeli meetings.
Priti Patel's future as a cabinet minister is said to be seriously under threat following her meetings with Israeli officials and the betting markets have reacted.
Ms Patel apologised to PM Theresa May about unauthorised meetings with Israeli politicians, that took place in August, on Monday, which caused her odds to crash from 40/1 to 3/1. It appears she was not forthcoming about further meetings that took place in September and she is now said to be on her way back from an official trip in Africa by order of the Prime Minister.
Her failure to inform Mrs May about plans to look into giving tax-payers' money to the Israeli military to treat wounded Syrian refugees in the Israeli-occupied Golan Heights region appears to be the straw that broke the camel's back. Since yesterday morning, Patel has accounted for a huge 97% of bets in the next Cabinet Minister to leave market.
Prior to the scandal, Damian Green, who has himself been under fire for his conduct was the favourite at 15/8 and accounts for the remaining 3% of bets. Elsewhere in the market, Boris Johnson (6/1), Patrick Mcloughlin (8/1) and Philip Hammond (16/1) have all faced recent controversies.
Oddschecker spokesman, George Elek: "Priti Patel may well be facing the sack, but punters are looking to cash in on her situation by backing her to be shown the door. Westminster is getting daily headlines for all the wrong reasons at the moment but, with many expecting Boris Johnson and Theresa May to lose their posts in recent times, Patel could still be the latest cabinet minister to be backed to leave before somehow keeping their job."