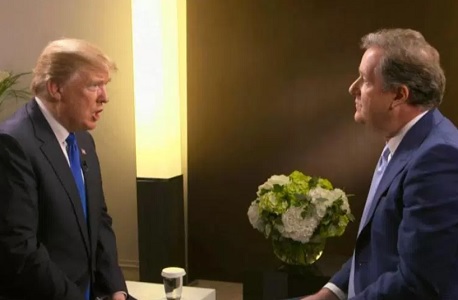 President Trump's UK popularity appears to be on the rise following his overarching interview with Pier Morgan last night.
After a few days of social media hype, Donald Trump's highly anticipated interview with Piers Morgan aired last night, and, judging by the betting the American president has been perceived positively by UK viewers.
Since the interview went live at 10pm, Trump has accounted for 51% of bets at 5/2 to win the 2020 US election and serve a second term in the White House.
Covering a range of topics in Trump's first international interview, he reaffirmed his love for the British Isles telling the Good Morning Britain host that "the real me is somebody that loves Britain, loves the UK. I love Scotland."
He also apologised for the Britain First row that caused controversy after he retweeted the far right group in November saying he didn't know who they were.
That admission of responsibility may have come as a surprise to some and, along with his comments last week about being willing to go under oath to talk to Robert Mueller about Russia's interference in the 2016 presidential campaign, makes the slight chance of an impeachment even less likely.
Two democrats come next in the betting for the 2020 election in the last 24 hours, with Bernie Sanders and Tammy Duckworth looking the most likely to win the Democratic nomination.