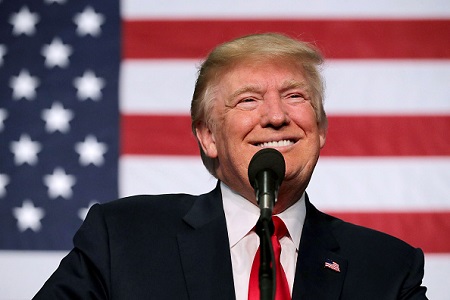 Trump is now likely to join the likes of Nelson Mandela, Mother Theresa, and Mikhail Gorbachev.
American President Donald Trump and South Korean President Moon Jae-In are now odds-on to win a Nobel Peace Prize, following the US President's efforts to solve the North Korean nuclear tensions.
Bookmakers cut odds on the world leaders doing so, following the landmark meeting between Moon Jae-In and North Korean Supreme Leader Kim Jong-Un.
They're now 5/6 to win the highly prestigious award won by the likes of Nelson Mandela, Mother Theresa and Mikhail Gorbachev.
The pair are being heavily backed to win the award, with a whopping 68% of all bets over the last week being placed on the two world leaders.
In fact, Donald Trump (solo) is the second favourite for the award at 4/1, with it being considerably more likely to win alongside Moon Jae-In according to bookmakers.
Elsewhere, Russian newspaper Novaya Gazeta is the third favourite to win the award at 16/1, following their hard-line reporting on political and social affairs in Russia.
The United Nations High Commissioner for Refugees (UNHCR) are fourth favourites for the gong at 16/1 and have won it twice, once in 1954 and again in 1981.
Oddschecker spokesperson George Elek said: "There is not a great deal of positive Donald Trump coverage in the UK mainstream media, but Trump's efforts to bring peace to North Korean tensions has been picked upon by punters who think he is likely to pick up this prestigious award."