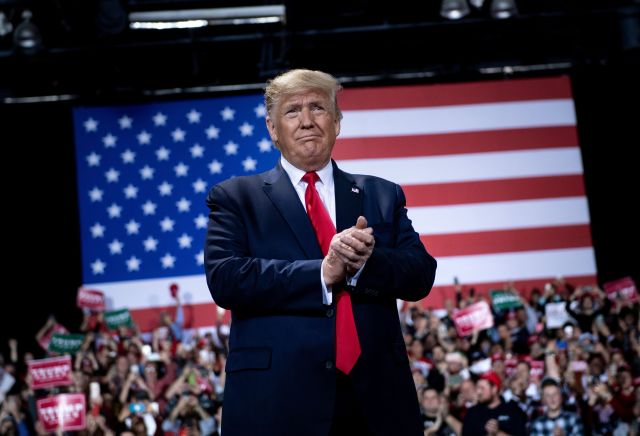 Trump's chances have improved from 47% to 54% after the attack.
Donald Trump's chances of winning re-election in 2020 have improved at the bookmakers, following the US' involvement in the killing of Iran general Qassem Soleimani.
Since the Trump administration ordered the killing of the top Iranian general, a whopping 65% of all bets on the winner of the 2020 US election have backed the current President of the United States.
That's resulted in bookmakers slashing odds on the 73-year-old seeing out a further four years in office.
Just weeks ago, Trump was 11/10 to be re-elected in 2020, but that's now been cut into odds-on 10/11 best price.
A number of bookies have cut odds even further, with one firm slashing odds into 17/20.
In layman's terms, that means his chances have improved from 47% prior to the Iran crisis, to 54% after.
It looks almost certain that Trump will represent the Republicans in the upcoming election, priced at 1/8 to do so. That means he has an implied 89% chance of standing.
On the flip side, Joe Biden is the current favourite to be named Democratic the nominee, with Bernie Sanders hot on his heels at 3/1.
Elizabeth Warren is the third most likely to presumably take on Trump at 13/2, followed by Pete Buttgieg at 9/1.
Oddschecker spokesperson Callum Wilson: "While it may not seem so on British shores, Donald Trump has plenty of support in his homeland, and his move against the Iranians has seemingly done his re-election campaign no harm at all.
"We're yet to discover who will be running against the President, but it's clear this attack, and his impeachment, will have no negative impact on the incumbent."