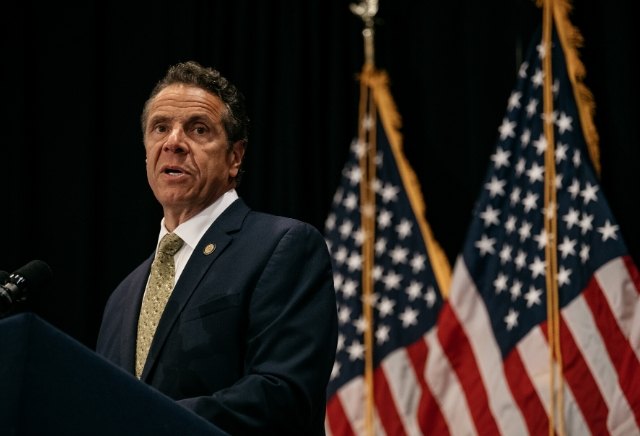 Cuomo's odds were as high as 250/1 on March 27th, just three days ago
Governor Andrew Cuomo's handling of the Coronavirus outbreak in New York has seen his odds slashed on winning the US 2020 Election.
Since Cuomo started holding his daily press updates on the epidemic, his odds have plummeted from 250/1 into as short as 14/1, now making him the third favourite.
The best price of 25/1 is available with a few bookmakers on the Oddschecker grids.
Cuomo's odds were as high as 250/1 on March 27th, just three days ago.
That's due to the high number of bets on the Governor becoming the next Leader of the Free World, with a whopping 61% of all bets in the last 24 hours backing Cuomo.
In turn, both Donald Trump and Joe Biden have drifted in the market, with Trump now a 1/1 favourite ahead of Biden at 11/8.
The latest odds move means that Cuomo is now more likely than the likes of Bernie Sanders (33/1) and Mike Pence (50/1), ahead of the election in November.
Oddschecker spokesperson Callum Wilson: "Just three days ago, bookmakers gave Cuomo a 0.4% chance (250/1) chance of winning the US election. Now, he's third favourite."
"It seems Donald Trump is cracking at the seams during this coronavirus crisis and his erratic handling of the pandemic has alienated a good chunk of the electorate.
"The calm clarity with which Cuomo has addressed the people of New York is not going unnoticed, and if Trump continues down his current path, the 62-year-old's chances of becoming the next President will only increase with time."
US Presidential Election 2020 winner
Donald Trump - 1/1
Joe Biden - 11/8
Andrew Cuomo - 25/1
Bernie Sanders - 33/1
Mike Pence - 50/1
Hilary Clinton - 66/1
Nikki Haley - 100/1