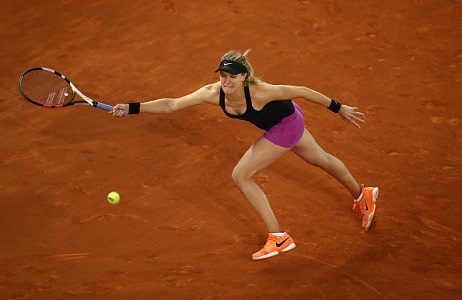 Eugenie Bouchard has been cut from 100/1 to 33/1 to win the French Open after beating Sharapova last night.
Eugenie Bouchard beat Maria Sharapova yesterday evening in Madrid with the sort of confident performance that saw her reach the Wimbledon final in 2014.
The Canadian came through a thrilling encounter with Sharapova, winning 7-5 2-6 6-4 after almost three hours on court.
Bouchard had recently called Sharapova a "cheat" after she made her comeback after a 15 month ban via a wildcard at the Stuttgart Open in April, with the the Canadian saying she was "inspired" to win.
"They were players I don't normally speak to and I got a lot of texts from people in the tennis world that were just rooting for me. I wanted to do it for myself, but also for all these people." Said Bouchard.
Having had a difficult start to the year, the question is whether Bourchard can reproduce this form when not extra motivated to win, as she was in this match.
She remains a dangerous opponent though, having been inside the world's top ten towards the end of 2014, and the bookies obviously feel a corner of sorts has been turned, cutting her odds from 100/1 to 33/1 to win at Roland Garros at the end of this month.
In her current tournament in Madrid, Bouchard will play Angelique Kerber, who is about to replace Serena Williams as world number one, in the next round and will be looking to build on the Sharapova win.