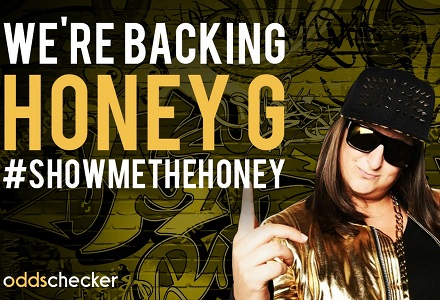 After smashing last week's Motown performance, Honey G looks set to go one step further on tonight's live show.
The latest rap-phenomenon will be performing a mash-up of Vanilla Ice's Ice Ice Baby and Queen's Under Pressure, and we cannot wait!
Honey G's shortest price to win the X Factor is 14/1. But following tonight's mega show we are predicting that will shorten even more after the crowd have bounced along to her beats.
Even Simon Cowell was forced to admit Honey G 'shut it down' last week and we are fully behind the former tennis champion with a music technology degree to win this year's show!
While Honey continues to cause some controversy, the bookies are beginning to take her seriously. Following last week's show she shortened to 12/1. Since then she has drifted to 14/1 and while some are angered by her involvement in the show, she still has plenty of supporters out there. With us being her biggest!
If "Rage Against The Machine" can do it, so can we… H to the O to the N to the E to the Y to the G, it's Honey G!
H to the 0 to the N to the E to the Y to the G, it's Honey G!!! @The_Honey_G is bringing the heat to #XFactor!pic.twitter.com/zuYi7l7quS

— The X Factor (@TheXFactor) October 8, 2016