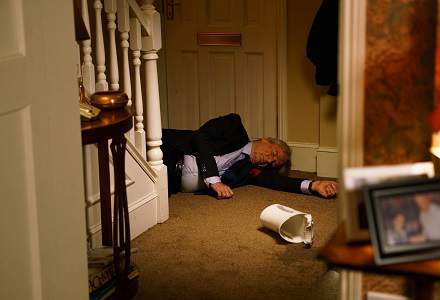 Even though CCTV footage shows the dodgy builder being elsewhere at the scene of the crime, bookmakers have made Phelan a prime suspect.
Odds movements over the last couple of days suggest that Pat Phelan might have been up to his old tricks again. The dodgy builder has already got away with murdering Andy Carver, but it looks unlikely he'll escape punishment for pushing Ken Barlow down the stairs.
Phelan has recently been undertaking a conversion job in Ken's kitchen, however arguments broke out between the pair when the builder informed Barlow he need extra time to finish the job. The mounting pressure on the former teacher led to him snapping at Pat and labelled the builder as scum. Another juicy sub-plot reared its head when Daniel Osborne found Phelan standing over Ken's body on the night of the attack.
Despite the disagreement between the pair, and being at the scene of the crime, Pat Phelan was ruled out of the investigation because of CCTV footage handed in by Todd Grimshaw, proving that the builder was elsewhere. However, since the latest episode of Coronation Street on Friday night, the odds of Phelan attempting to murder Ken Barlow have been cut from 100/1 to 8/1. Implying the probability that Pat tried to murder Barlow has increased to 11.1% from just 1%.
When there's such strong evidence (CCTV) suggesting that Pat Phelan isn't a suspect, it's strange the odds would have been cut so dramatically without an episode even being shown. I would take note of this movement, even though we've not seen many big bets on Phelan, somebody somewhere must know something for the odds to move this much.