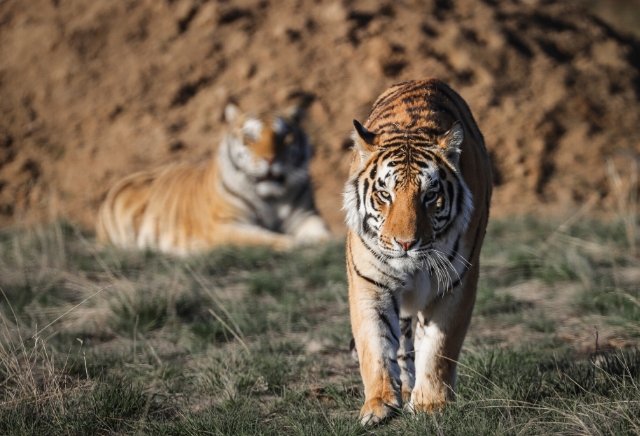 The Netflix documentary could be headed to the silver screen
Netflix's smash hit Tiger King has astounded, puzzled and bewildered audiences in equal measure, and now industry rumours are swirling that a movie is in the works.
But what Hollywood actor will be given the role of the flamboyant gun-toting tiger lover?
Bookmakers Paddy Power have released odds on who will get the role.
There's a three-way tie at the top of the market, with Apollo 13 star Kevin Bacon, Bad Santa's Billy Bob Thornton and Rounders' Ed Norton all 4/1.
Norton, in particular, has expressed interest on Twitter around the main protagonist in the show, saying: "Wouldn't that be fun?"
The next most likely, according to bookmakers, is Saturday Night Live's David Spade at 6/1, followed by a Hollywood icon in Brad Pitt at 8/1.
Matthew McConaughey is renowned for taking on adventurous roles, and he's 10/1 next in the betting.
Ben Still is 10/1, with Robert Downey Jr (12/1), Ben Affleck (14/1) and Christian Bale (14/1) following next in the market.
The least most likely actor in the market to get the role, according to Paddy Power, is Adam Sandler at 50/1.
Joe Exotic himself has said that either Brad Pitt or David Spade should play him on screen, speaking to the Hollywood Reporter.
Oddschecker spokesperson Callum Wilson: "Biopics are all the rage in Hollywood at the moment, and Joe Exotic's car-crash ludicrous lifestyle will attract a top clientele at the casting.
"Brad Pitt is around the top of the market and has been endorsed by the man himself - which would make terrifc viewing.
"Ed Norton is the most popular with punters at the moment with 28% of all bets in the market, followed by Brad Pitt with 18% of all bets."
Who will play Joe Exotic in the Tiger King movie?
Edward Norton – 4/1
Kevin Bacon – 4/1
Billy Bob Thornton – 4/1
David Spade – 6/1
Brad Pitt – 8/1
Matthew McConaughey – 10/1
Ben Stiller – 10/1
Robert Downey Jr – 12/1
Ben Affleck – 14/1
Christian Bale – 14/1
Leonardo DiCaprio – 16/1
Bradley Cooper – 16/1
Tom Cruise – 20/1