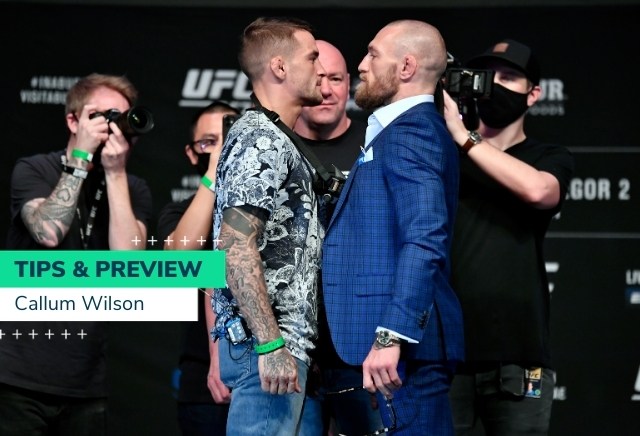 UFC expert Callum Wilson casts his eye over Connor McGregor's much anticipated return to the Octagon, with 10/1 and 20/1 pokes.
There are few finer week-long events in all of sports than a Conor McGregor fight week – albeit this time a lower profile one in preparation for Dustin Poirier. Reduced media scrums, fewer column inches in the papers and perhaps most noticeably – a more reticent and calculating McGregor.
This is a far cry from the outlandish and provocative behaviour we've become accustomed to in the build-up to big McGregor PPVs. Many will regard it as a positive PR play following a murky few years legally for the Irishman – but a hushed McGregor is a dangerous prospect.
The former lightweight champ dispatched of Poirier in just one minute and 46 seconds when they first met in 2014. Although I'm not projecting as easy a path to victory as the first meeting, there does seem value in taking McGregor in the later rounds.
Don't expect the judges to be involved
If previous history is anything to go by, the officials around the octagon may be able to put their feet up for this rematch. With both McGregor and Poirier keen to make an impression for the on-watching Khabib Nurmagomedov, expect both to be on the hunt for a statement win.
McGregor has gone the distance a paltry twice in his 26-fight career (8%). Adding to this, Poirier has only had the scorecards read out in nine of his 33 fights (28%).
There seems little value in under 4.5 rounds priced at 2/7 and under 3.5 at 4/11. Similarly, bookies are offering 1/4 that the fight does not go the distance.
The Diamond has sharpened over the years
If you haven't watched the redemption of Dustin 'The Diamond' Poirier following his loss to Conor – don't expect the same man in the octagon this time around.
Aside from the Khabib loss, Poirier has been on a tear in the lightweight division, including huge wins over Max Holloway, Eddie Alvarez and Justin Gaethje to name just a few.
Although Poirer's striking has improved dramatically, I still feel there's a significant difference to the crispness of McGregor's ability.
McGregor to take Poirier into deep waters
With the significant striking advantage, I see far more paths to victory for the Irishman than his American counterpart. However, Poirier is a savage and I can see him sticking around in there before being finished.
Poirier's few losses form a similar pattern (Johnson and McGregor aside), with the Diamond able to hang in with Khabib until being submitted in the third. Poirier's other stoppage loss before that came in the fourth round to Chan Sung Jung - and I'm envisaging a similarly gritty, but unsuccessful performance.
McGregor's clear striking advantage, albeit with infrequent octagon action, combined with Poirier's ability to absorb damage and plod on points towards a McGregor victory in the later rounds.
At the time of writing, 10/1 on Conor McGregor to win in round three looks huge value, particularly compared to the 2/1 and 5/1 offered on the respective first two rounds. Similarly, I think the 20/1 on offer for McGregor round 4 is simply too long.
Conor McGregor to win in round 3 - 2pts @ 10/1
Conor McGregor to win in round 4 - 1pt @ 20/1