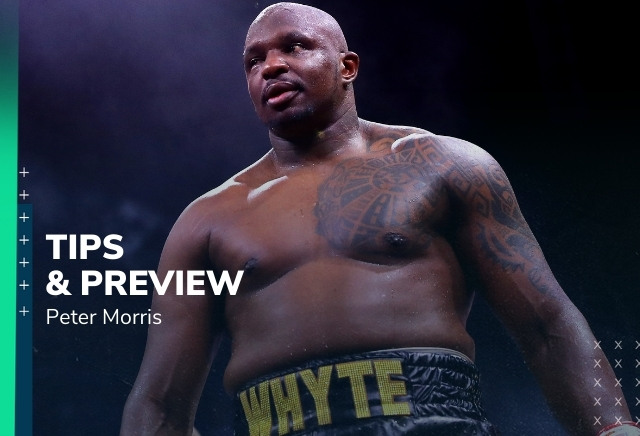 Boxing expert Peter Morris has one 2pt tip for Povetkin vs Whyte on Saturday.
Whyte is best price of 3/10 to beat Povetkin
Most bookmakers are leaning towards an TKO, KO or Disqualification from Whyte as method of victory, with best odds of 8/11.
22:30 Saturday - Alexander Povetkin vs Dillian Whyte
This Saturday sees the rematch of Alexander Povetkin and Dillian Whyte's explosive first encounter. This time, rather than Eddie Hearn's Essex garden, the fight is taking place in the far more glamourous setting of Gibraltar in what is being billed as the "Rumble on the Rock". The undercard is pretty stacked but the headline event is truly mouth-watering, with the first fight between these two delivering fireworks: Povetkin was knocked down twice in the fourth before stopping the Brixton man in his stride with one of the best uppercuts you will ever see.
The rematch looks set up to be another dramatic fight: a mandatory shot at the WBC title is on the line for the winner and both fighters know they can hurt their opponent. For Whyte, he can take a lot of confidence from the first fight, despite him getting knocked out. He was probably winning the fight up to that point and in putting Povetkin down twice in the fourth round he looked like he was on the brink of victory. Povetkin had occasionally looked unsteady on his legs prior to the fourth round and all the signs suggested that Whyte was going to be a little too big, strong and fresh for the 40 year old Povetkin. That changed in the blink of an eye when Povetkin landed a flush uppercut on Whyte.
Up until the stoppage, Whyte had been boxing well. Whenever Povetkin looked to close the range, Whyte was either covering up and rolling under his shots or just stepping back out of range. He'd nullified much of Povetkin's good work and was landing his own jab and body shots. Despite what the Sky commentary team would have you believe, Povetkin was having some successes, but he wasn't landing anything too damaging. However, there is no doubting Povetkin's boxing ability (he was an outstanding amateur and has only lost 2 professional fights to Wladimir Klitschko and Anthony Joshua) and someone of his calibre is always going to be dangerous. The knockout punch was a peach; Povetkin set it up off the jab, dipped to his left and then ripped it up through the middle of Whyte's guard. It was one of the few times Whyte didn't react to Povetkin leading off and demonstrated how unforgiving top level heavyweight boxing can be.
With the first fight as a benchmark and considering the styles and power of the two fighters, it would be hugely surprising if we didn't see knockdowns in the second fight. Povetkin to be knocked down is an unappetising 4/9, Dillian Whyte to be knocked down is a slightly more tempting 15/8, whilst both fighters to be knocked down at 11/2 looks a bet which could pay dividends if it becomes a shoot again.
However, with all things considered, it's hard not to favour the man from Brixton to get revenge. Despite suffering a huge knockout, Whyte still seems full of confidence and Povetkin's age does look to be slowly catching up with him. Whyte should come out and look for a positive start and set the tone of the fight using his jab. He's not going to want to let Povetkin off the hook again if he has him hurt. Back Whyte to win in rounds 1-6 with Sky Bet, who are offering an outstanding 5/2.
Whyte in Rounds 1-6 - 2pts @ 5/2