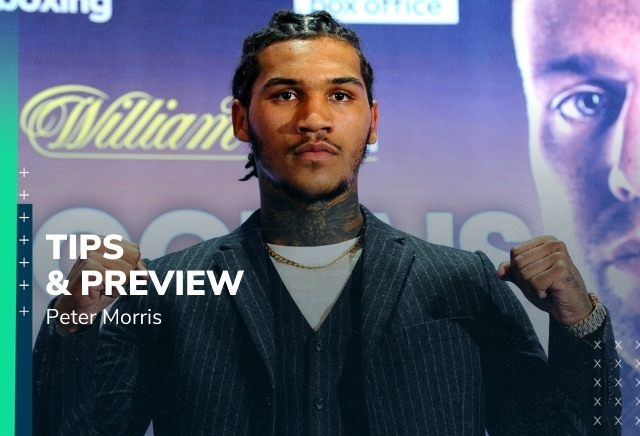 Boxing expert Peter Morris has two tips for Benn vs Vargas on Saturday.
Benn is best price of 1/12 to beat Vargas
Most bookmakers are leaning towards an TKO, KO or Disqualification from Benn as method of victory, with best odds of 8/11.
22:00 Saturday - Benn vs Vargas
Conor Benn takes on Colombian Samuel Vargas at the Copper Box Arena in London this Saturday in what is a big step up in opposition for the British welterweight. Conor Benn has been tipped by Eddie Hearn as the next big British PPV star and the fighter himself has already talked about bouts against Amir Khan or Kell Brook, but is he possibly overlooking a challenging assignment in Samuel Vargas?
Samuel Vargas is a tough, experienced gatekeeper at 147lbs and has been fighting at world level for a long time. Whilst his 39 fight record consists of 6 losses and 2 draws, he's been in with some of the best welterweights on the planet and is unquestionably as tough and as durable as they come. His last bout was against Virgil Ortiz Jr who is potentially the heir to the welterweight throne. In his 15 fights prior to Samuel Vargas, Ortiz Jr had been knocking out everyone in double quick time, never going past 6 rounds. Without disrespecting Conor Benn, Ortiz Jr is currently a completely different beast to the Brit and Vargas, whilst losing that fight in the 7th, demonstrated just how tough and durable he is. He took heavy shots from one of the biggest punching and most talented prospects in the division and kept firing back and actually boxed well. Even when the fight was stopped in the 7th round, Vargas was still on his feet and wanted to continue. He showed he's as tough and as game as they come.
If Conor Benn is at all overlooking Vargas, he's going to be in for a rude awakening. The bookmakers, however, are pretty keen on a victory for the Brit, with his best price 1/10 compared to Samuel Vargas' best of 17/2. If the outright winner price alone seems to underestimate the Colombian's chances, then the method of victory market is even more disrespectful. Conor Benn is odds on to win by stoppage: his best price is 8/11. Considering Vargas has only ever been stopped by Danny Garcia, Errol Spence and Virgil Ortiz Jr that price seems to lean too far in Benn's favour. Conor Benn is untested and inexperienced, he has virtually no amateur experience and whilst his punching and aggressive style gets hyped up and compared to his father's, the younger Benn's record suggests he's far from a devastating puncher. He's been taken the distance twice by Cedrick Peynaud (whose current record reads 8-8-3) and recently went the distance with Josef Zahradnik and Steve Jamoye. To be clear, these are not bad wins but they suggest that the bookmakers are overestimating Benn's punching power in pricing him odds on to win by stoppage against a fighter who's superior to anyone he's faced in the past.
It is certainly worth shunning the Conor Benn stoppage market in favour of betting on the bout to go the distance. The best price for the fight to last the full 12 is 13/8 and you can get over 7.5 rounds at even money. Both of those prices look like remarkably good value when you weigh up Samuel Vargas' toughness and experience. At 8/1, Vargas is worth a small bet to cause the upset – Conor Benn, if he's anywhere near as good as he's expected to be, should get the win but the odds are simply too lopsided to ignore. Eddie Hearn's Matchroom stable has been prone to an upset in recent times, with Josh Warrington and Josh Kelly two prime examples, and it is not beyond the imagination that Samuel Vargas could spring another upset this weekend.
Fight to go the distance - 2pts @ 13/8
Samuel Vargas to Win - 0.5pts @ 17/2