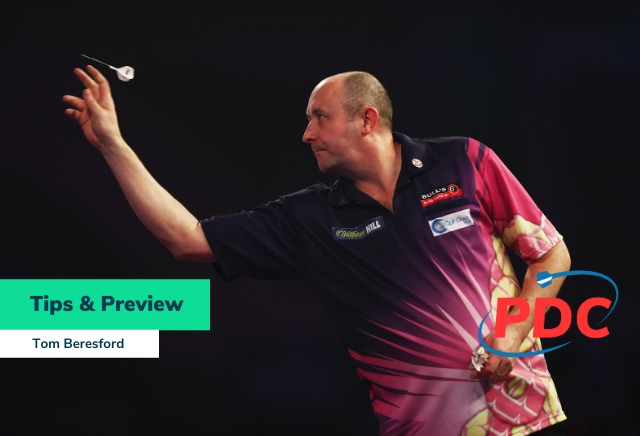 Three tips for Wednesday night at Ally Pally, including a few different multiples to choose from.
James Wilson v Nico Kurz - 19:10
Kicking off the action on Wednesday evening at Alexandra Palace, Huddersfield's James Wilson takes on Germany's young gun, Nico Kurz.
Wilson has been battling an eye injury, which hampered his progress throughout 2019, but towards the end of the year, Jammy Dodger has been producing some decent spells of form.
Wilson's best run on the Players Championship series came in Wigan, reaching a semi-final in June.
As for Kurz, the youngster came through the European qualifier for the World Championship. In terms of big stage experience, the youngster enjoyed a memorable win over Gary Anderson at the German Darts Masters earlier in the year, but apart from that, there's a degree of inexperienced on the big stage.
As far as form over the course of the year goes, Wilson has a seasonal average of 91.45, hitting 116 maximums over 51 matches, impressively.
As for Kurz, the German youngster boasts a seasonal average of 90.48 with a 180's per leg ratio of 0.16.
For this one, the recommended market is 180's handicap in favour of James Wilson.
James Wilson -2 180s Handicap - 1pt @ 24/25
Josh Payne v Diogo Portela - 20:00
In a fascinating battle featuring two players who've been tipped for the top - Josh Payne and Diogo Portela, we can expect to see moments of drama and real quality.
Payne let's not forget, is a two-time PDC ranking event winner. The Kent-based ace has been on the PDC tour since the age of 17 and has improved year-on-year. Payne produced a stunning display despite defeat at Alexandra Palace last year in that epic match with Dave Chisnall - averaging 110 in taking the opening two sets.
As for Portela, the first Brazilian to ever grace the PDC, who now resides in Lancashire, much like Payne, has improved every year.
Despite not holding a PDC tour-card, Portela qualified via a South American qualifying event. It's taken Portela some time to settle into life on the PDC tour, but he's been producing some steady form as of late.
After a consistent year on-tour, Payne boasts a seasonal average of 92.73 compared to Portela's 85.84.
Despite the disparity in the averages, this encounter could potentially go all five sets. I'd recommend the over 4.5 sets market.
Over 4.5 Sets - 1pt @ 9/4
Gabriel Clemens v Benito van de Pas - 21:00
Rounding off the action on Wednesday evening sees the 'German Giant' Gabriel Clemens take on 'Big Ben' Benito van de Pas.
Clemens has enjoyed a great year on the PDC tour in 2019 - reaching three finals, including the final of the German Darts Masters on the World Series of Darts, losing out only to Peter Wright.
Clemens' consistent rise in form has seen the German catapult his way up the PDC order of merit (48).
As for Benito van de Pas, it's been an inconsistent year or so for the Dutchman, slipping down the ranking and struggling for form in 2018. However, van de Pas has showed signs of resurgence in 2019 and especially during the qualifiers for the World Championship, Big Ben produced moments of real quality.
As far as comparisons go in terms of performance levels, Clemens boasts an seasonal average of 95.03, the 15th highest out of all the 128 tour-card holders, hitting 191 maximums.
As for van de Pas, the Dutchman's averaged 89.83 over the course of 2019, firing in 61 maximums. Looking at the disparity in the maximums especially, the recommended bet here is the 180's handicap in favour of Clemens (-2). The total sets market is also appealing, with over 3.5 sets being the most suitable option.
Gabriel Clemens -2 180s Handicap - 1pt @ 67/50