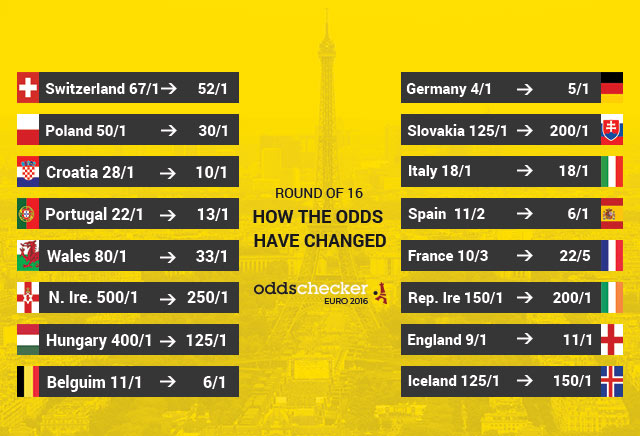 Yes, the team that Roy fielded for the last group game against Slovakia should have been good enough to get the three points, but clearly resting six players has come back to bite England in the backside.
The draw is a tale of two halves and our failure to beat Slovakia has landed us on the right hand side (the wrong side), alongside European giants Germany, Italy, Spain and France. The bookies have reacted to the tough draw by lengthening England's odds
to win Euro 2016
from 9/1 to 11/1. With one of Switzerland, Poland, Croatia, Portugal, Wales, N.Ireland, Hungary or Belgium going
to reach the final of Euro 2016
, the left hand side is there for the taking.
So who have become fancied and who do the bookies believe are merely making up the numbers?
Croatia and Hungary are the biggest movers. Croatia were unbeaten in the group stage beating Spain along the way and now find themselves playing a very poor Portugal side in the Last 16. If they win that, they have a fairly straightforward route to the final. The Croats began the tournament at 28/1 but are now best-price 10/1 to win Euro 2016.
Hungary along with Iceland have been the surprise package of the tournament thus far. Hungary's pre-tournament price was 400/1 but having topped Group F and secured a place on the left side of the draw, they are now into 125/1. They do face Belgium in the Last 16 however.
Despite qualifying in second place ahead of Portugal, Iceland interestingly have been lengthened from 125/1 to 150/1. The reason for this being the fact they are on the right hand side and will have to beat a number of the favourites on their route to the final.
As far as the remaining home nations are concerned, Wales have come in from 80/1 to 33/1, benefiting from winning the group and securing a favourable draw. Their Last 16 opponents, N.Ireland, have seen their odds slashed from 500/1 to 250/1 whilst Rep of Ireland face a tall order in the tough half of the draw and their odds have gone out to 200/1 to reflect that.