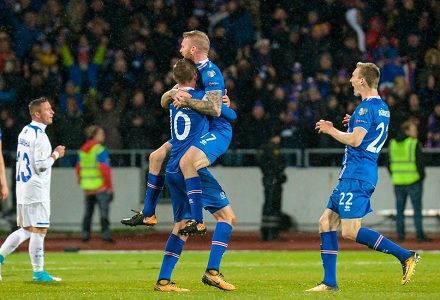 England are only the tenth most popular team in the World Cup betting
England may have qualified for next summer's World Cup with an unbeaten record matched only by current World Champions Germany, a talented Spain squad and a Belgium side managed by Bobby Martinez, yet enthusiasm from the English public seems to be at an all-time low and with that expectations.
With other countries celebrating wildly across the world after securing their place at Russia, Panama declared today as a national holiday in honour of achieving the feat, it appears the UK public are jumping on other countries' World Cup bandwagons to experience the thrill of World Cup success, at least when it comes to betting.
Since the full-time whistle of England's final qualifying fixture, a 1-0 win away at Lithuania, Gareth Southgate's men are only the tenth most popular nation with punters in the World Cup winner betting market with just 3% of all bets. So who are Oddschecker users backing to conquer the world?
Argentina - 10/1 13% of bets
How a team that boasts attacking talent such as Aguero, Higuain, Dybala, Icardi, and Di Maria can be so reliant on one man is frankly ridiculous. But then, Lionel Messi is just that. The 30-year-old really is the man when it comes to making Argentina tick. His hat-trick in the early hours of Wednesday morning against Ecuador that saw his nation qualify was vintage Messi. The Barca man was responsible for seven of his team's last eight goals in qualifying. The other being an own goal. With Messi in your side anything is possible, just imagine if the rest of the team turned up…
If you were unsure who best #footballer in the world is... pic.twitter.com/tjqwE7Vb2t #Messi leads @Argentina to #WorldCup2018 w/ #goals

— Shaun Harris (@SAHsoccer1) October 11, 2017
France - 6/1 11% of bets
Didier Dechamps is possibly one of the luckiest men in football. No other manager has the pool of talent from which to select his squad let alone his starting XI. There is a perfect blend of youth and experience in almost every position but it's in the attacking third where the embarrassment of riches lies. Mbappe, Martial, Griezmann, Dembele and Lemar would be at the top of any Premier League club's shopping list while in midfield the likes of Pogba, Kante and Bakayoko provide the foundations for those in front to thrive. They lost just once on the way to qualifying from a group containing Sweden and the Netherlands and are second favourites with the bookies.
Germany - 11/2 9% of bets
Played ten, won ten. Goals for: 43. Goals against: 4. They are some numbers. And when you have Emre Can scoring thunderb*stards from 30 yards out it's safe to say you're in a good place! The reigning champions look stronger than ever with a squad so deep it's almost unfair. The fact Sandro Wagner was their top scorer with five goals in three games shows how the goals were spread across a team that is as ruthless as it is effective. The bookmakers have them down as favourites and justifiably so.
Emre Can first ever goal for Germany, take a bow son! pic.twitter.com/UB3t9qla2V

— Maxi Generossi (@MaxiGenerossi) October 8, 2017
Iceland - 250/1 8% of bets
How everyone laughed/cried when Iceland knocked England out of the Euros last summer. Roy Hodgson lost his job, England players were lambasted and a major frozen food chain was boycotted after a case of mistaken identity (probably). But who is laughing now? Iceland topped their qualifying group containing Croatia, Ukraine, Turkey and Finland. That's some feat. Sure at 250/1 they can't really be expected to win the whole thing, but we'll get to see them all do that thunderclap thing and they'll probably be drawn in the same group as England and will probably beat them again and we'll all start tweeting about the fact they have a population less than Leicester…
Poland - 7% 80/1 of bets
They boast the topscorer in European qualifying in the shape of Bayern Munich striker Robert Lewandowski who bagged 16 goals in 10 games (a new record apparently) but no one else in the squad managed more than two goals (some bloke from Estonia managed to score three). So if anything were to happen to their talisman you would have to be concerned at the very least as he was responsible for 58% of their goals. But hey, Oddschecker punters believe!