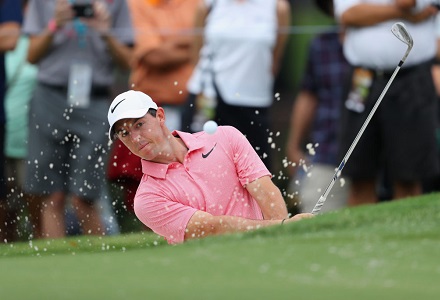 Niall Lyons landed the winner of the last Major, can he repeat the trick this week at Quail Hollow?
The final Major of the year is upon us and attention turns to the magnificent Quail Hollow in Charlotte, North Carolina as Jordan Spieth has his first opportunity at landing golfs Grand Slam. Already a victor on the three other big ones Spieth turns up this week in great form and who would be surprised if this legend of the game makes history once again at the ripe old age of 24. Quail Hollow has undergone a number of changes in the last few months to prepare for its finest hour in the limelight. Holes numbers 1,2 and 5 have been the major changes. Bermuda rough now surrounds the greens which will definitely make scrambling all the more difficult. Some trees have been removed but I believe the playability of the course off the tee will not change a lot just with more of an emphasis of hitting the fairways. With the tall bermuda rough we will surely see scores tumble from the usual numbers we see at the Wells Fargo. Down the years a mic of golfers have won at this course from the powerful games of Tiger, Rory, Holmes and Singh to the more plodding types of Glover, Furyk and Toms.
Rory McIlroy has slotted himself in as tournament jolly this week and it's not hard to see why. Just like Tiger had his courses where he always played well at, McIlroy has looked to make Quail Hollow a special place for himself. His first win on the PGA Tour he came courtesy of one of the best rounds of golf he has ever played on the final day of the Wells Fargo in 2010. Another scintillating performance came on day three of the same event in 2015 en route to his second win here when he broke the course record and posted 61. This has been the home of some of the most sparkling golf we have seen from the Northern Irishman and it would be a bold man to say he won't figure here over the weekend. His seven performances here consist of one missed cut and form figures of 4-win-8-10-2-win. A few weeks back at Birkdale there was a turning point in McIlroy's year whenever he looked down and out on the canvas half way through round one. He rallied to shoot a respectable score and it is a testament to his game that he managed to get into the heat of the battle on Saturday despite not having his 'A' game. That is Rory though. He hasn't turned up to any event in the last 12 months with his game in top notch but still manages to contend on a regular basis. Last week at Firestone I was hugely impressed by the part of his game that has let him down so often, putting. He struck so many good putts all week at the perfect pace and missing tiddlers looked a thing of the past. Not many dropped but it was clear to see his stroke had improved a lot. His wedge game was letting him down after a sparkling game off the tee. If he drives the same way this week as he did last week I think he'll win. That power off the tee is such an asset around Quail Hollow and even if hes wedges aren't 100% I think he will do enough to win. It all depends on the driving for me. Rory's last 7 majors have resulted in four top tens and three missed cuts. With the revival at Birkdale followed by many positives at Firestone coming to one of his favourite courses I just can't see past him.
Rory McIlroy - 4pts e/w @ 8/1
It is pretty simple for me this week. I think the winner will come from Rory, Rickie or Hideki. I can't play Hideki now as he's too short and I've still got reservations about his putting under the cauldron of a Major weekend in the thick of it. Sure, when he's knocking down flags and holing chips like the round on Sunday it comes easy, but those rounds come along once every couple of years. Personally I don't think winning majors will come as easy to Hideki as some people think. That leaves Fowler and surely to date this is his biggest chance of a Major victory. Quail Hollow holds special memories for Rickie as it is the venue upon where he first got into the winner enclosure on tour. Two other top tens posted at the course make this a happy hunting ground for the lad. Since posting four top 5s in the Majors in 2014 Rickie has had a very modest record in these events. Only one top 5 finish has followed since in this years US Open. There's no doubting how consistent his golf has been of late. Five top tens in his last seven outings the most impressive of which was last week at Firestone where he got onto the fringes of contention on Sunday after a horrific opening day carding all sorts of numbers. His resilience was there for all to see and that's the exact attitude we are looking for in a tough Major Championship.
Rickie Fowler - 2pts e/w @ 18/1
I'd like to have one play outside of these two and although my preference goes towards the top of the market I have to include Branden Grace in my staking plan. Somewhat foolishly punters have backed this lad in a lot of majors down the last few years without waiting for the right opportunity. I think Quail Hollow is that chance. He has yet to play here but this is a classical style golf course and these are the types of tests that Grace really likes. His lower ball flight and manipulation of the ball in the air is also made for links courses and none more so was this evident when he broke the 63 barrier that hadn't been beaten in a major up until then. A solid yet unspectacular week followed at Firestone where his game isn't exactly suited but he will take great heart from that 62 at Birkdale and the 6th placed finish. Grace has posted five top 6 finishes in Majors in the last two and a half years so outside the top of the market he looks the most likely contender to me.
I will be back later in the week with some 'extras' markets.
Branden Grace - 1pt e/w @ 66/1