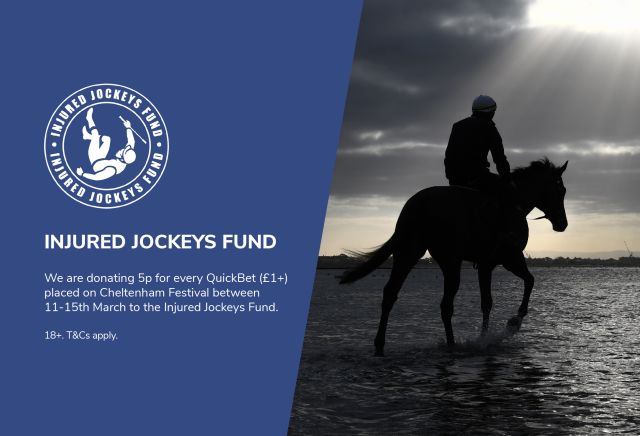 Bets placed through Oddschecker will go towards helping injured jockeys.
For every £1+ bet placed through Oddschecker on Cheltenham Festival races, we will be donating 5p to the Injured Jockeys Fund.
A jockey will fall off their horse once every 16 rides, with 18% of all those resulting in an injury.
Since its establishment in 1964, the Injured Jockeys Fund (IJF) has helped over 1,000 jockeys and their families, paying out more than £18m in charitable assistance.
As integral to the sport as the horses themselves, these brave jockeys put their lives on the line - all in the name of entertainment.
Here's how we donate to the IJF
Simply place your £1+ bet on any Cheltenham race during the week of the festival (11th-15th March) using any of the QuickBet bookies on our site.
Add selections straight from tip articles (see below) or from our grids with any bookie displaying the QuickBet icon.
It's as simple as that. Place your bet through the Oddschecker bet slip and we will donate to the IJF.
Who's supporting the IJF campaign?
Big names in racing such as Ed Chamberlin, Oli Bell and Fran Berry are all vocal supporters of the fantastic work the IJF does.
ITV Racing presenter Ed Chamberlin on being made a trustee for the IJF: "What an honour, what a big responsibility for me. I'm thrilled about it, it's lovely to be able to give something back.
"Anyone who loves their racing has such a debt of gratitude to the brave and hardy souls who ride these horses.
"If you love your racing, you should support the Injured Jockeys Fund, in my eyes it's as simple as that."
Recently injured jockey Fran Berry on why investment in the IJF is so important: "The facilities here are top class… It allows the team to really expand your rehab programs.
"It's a massive difference not just when you're out injured but when you're currently riding if you're carrying injuries.
"People don't get that kind of guidance and the injury becomes more chronic, maybe than it should have been initially, and people don't return in the same shape that they would now with the benefit of programs that they can do here.
"I just think it's a major benefit to the industry as a whole."
Ex-jockey Brian Toomey spent 157 nights in hospital after a life-threatening fall. He spoke of the IJF's support for his family: "The IJF were always there for my family whilst I was in hospital and ever since they've been there by my side.
"Without the support we get, I dread to think how families would have survived without them.
"Come Cheltenham, the amount of bets that will be on every race, there's only one winner of every race. The jockey that wins that race, God forbid could go out in the next race and get a fall and then might need the care to get back."
If you would like to make additional donations to the this fantastic cause, please head over to the IJF website to find out more.
Read the full terms and conditions for the IJF campaign here.