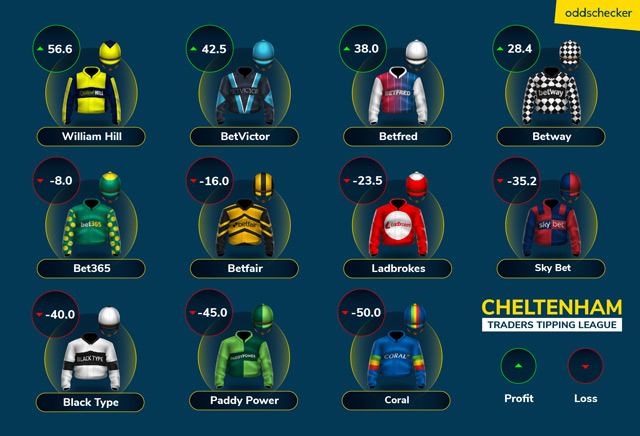 The final fence is in sight and it's William Hill who lead but can they get up the hill?
There have been more lows than highs this week in the Cheltenham Traders Tipping League but Gold Cup has made a habit of being a profitable one in the competition in previous years. Stick with them and you might just be handsomely rewarded.
Betfred's final day selections are eye-opening to say the least. At 80/1, 40/1, 40/1, 33/1 and 33/1 they're not settling for the podium and for that they can be proud, whatever might unfold this afternoon. At the other end of the scale we've got BlackType who are just desperate to get up and running in 2019. They've backed two well-fancied runners with 5 points a piece - one fav and one second fav. Whilst this won't rule them out of taking the title, any positive results among the current top four may just do so.
There's some serious common ground between the trading teams with Eclair De Beaufeu (County Hurdle), Thistle Do Nicely (County Hurdle), Dickie Diver (Albert Bartlett), Birchdale (Albert Bartlett), Clan Des Obeaux (Gold Cup) and Brelan D'As (Grand Annual) all well fancied.
Trading teams across the country had a 20 point allowance to spend on ante-post selections and are now required to assign a further 10 points on minimum two horses per day. Minimum bet of 1 point, maximum 5 points. The best-price is taken from Oddschecker at the time each team sends through their picks, with place terms of the best-price bookmaker used. Final day picks below:
*includes ante-post selections.
Betway (2018 Champions):
Triumph Hurdle: Quel Destin 8/1 - 1pt win (ante-post)
Triumph Hurdle: Quel Destin 9/1 - 2pt win
Triumph Hurdle: Pentland Hills 22/1 - 1pt e/w
Albert Bartlett: Nadaitak 33/1 - 1pt win (ante-post)
Albert Bartlett: Birchdale 6/1 - 4pt win
Martin Pipe: Big Time Dancer 50/1 - 1pt e/w
Bet365:
Albert Bartlett: Dickie Diver 10/1 - 5pt win
Gold Cup: Clan Des Obeaux 11/2 - 5pt win
Betfair:
County Hurdle: Countister 18/1 - 3pt win
Albert Bartlett: Birchdale 10/1 - 10pt win (ante-post)
Grand Annual: Bun Doran 12/1 - 3pt win
Martin Pipe: Discordantly 40/1 - 4pt win
Betfred:
Triumph Hurdle: Authorizo 80/1 - 1pt e/w
County Hurdle: Thistle Do Nicely 40/1 - 1pt e/w
Albert Bartlett: Stoney Mountain 33/1 - 1pt e/w
Gold Cup: Shattered Love 33/1 - 1pt e/w
Grand Annual: Diakali 40/1 - 1pt e/w
BetVictor:
County Hurdle: Eclair De Beaufeu 16/1 - 5pt win
Albert Bartlett: Dickie Diver 8/1 - 5pt win
Gold Cup: Clan Des Obeaux 9/2 - 10pt win (ante-post)
BlackType:
Gold Cup: Presenting Percy 4/1 - 5pt win
Martin Pipe: Dallas Des Pictons 6/1 - 5pt win (ante-post)
Martin Pipe: Early Doors 9/2 - 5pt win
Coral (2017 Champions):
County Hurdle: Eclair De Beaufeu 12/1 - 5pt win
Albert Bartlett: Rhinestone 12/1 - 5pt win
Ladbrokes:
County Hurdle: Eclair De Beaufeu 16/1 - 5pt win
Albert Bartlett: Lisnagar Oscar 8/1 - 4pt win (ante-post)
Grand Annual: Not Another Muddle 8/1 - 5pt win
PaddyPower:
County Hurdle: Leoncavallo 33/1 - 5pt win (ante-post)
County Hurdle: Capitaine 16/1 - 3pt win
Grand Annual: Caid Du Lin 22/1 - 4pt win
Martin Pipe: Defi Bleu 16/1 - 3pt win
Sky Bet:
Albert Bartlett: Salsaretta 25/1 - 2pt win
Albert Bartlett: Nadaitak 33/1 - 2pt win
Grand Annual: Brelan D'As 12/1 - 3pt win
Martin Pipe: Finawn Bawn 25/1 - 3pt win (ante-post)
Martin Pipe: Style De Garde 33/1 - 3pt win
William Hill:
County Hurdle: Thistle Do Nicely 33/1 - 2pt win
Gold Cup: Clan Des Obeaux 9/2 - 4pt e/w (ante-post)
Grand Annual: Brelan D'As 14/1 - 5pt win
Martin Pipe: Garo De Juilley 40/1 - 3pt win