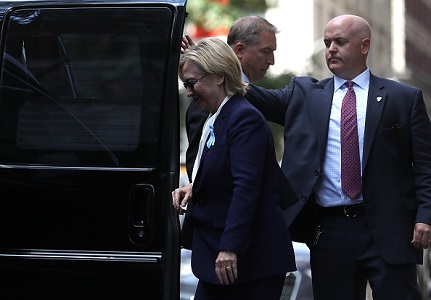 After being diagnosed with pneumonia on Friday, Hillary Clinton was forced to leave a 9/11 ceremony early and has cancelled a trip to California this week.
The betting markets have reacted, with Donald Trump now the shortest odds he has ever been to become the President of the United States. In some places his odds are 13/10, compared with 12/5 only last week and 7/2 in the middle of August.
The questions around Hillary Clinton's health follow a bad week for her campaign, in which she called half of Trump's supporters deplorables - calling them racist, sexist and homophobic. Trump is likely to press home his advantage by questioning Clinton's character in the wake of those remarks, which could see support for him grow even stronger in the coming weeks.
Who would replace her as Democratic Candidate?
Another question that has been raised about Clinton's health is what would happen if her health deteriorated to the point where she couldn't continue with her bid for leadership. The Democratic National Committee has plans in place should that happen, with the committee meeting to appoint a new candidate.
The three candidates that would be in the frame are Joe Biden, Bernie Sanders and Tim Kaine. Their respective odds have shortened significantly in the wake of Clinton's illness. Joe Biden's odds have gone from 80/1 on Friday to 18/1 today, Bernie Sanders' have gone from 66/1 to 16/1 in the same period and Tim Kaine's have gone from a massive 250/1 last Tuesday to 25/1 today.