Newcastle Betting Odds
Change Track

UK & Ireland Horse Racing

UK & Ireland Horse Racing On 1/4/2023

UK & Ireland Horse Racing On 2/4/2023

International Horse Racing

International Horse Racing On 1/4/2023

International Horse Racing On 2/4/2023
Newcastle racecourse is located in Gosforth Park, open since 1882. The Northumberland Plate, known as the 'Pitmen's Derby', is the June highlight, but both flat and jumps fixtures are hosted.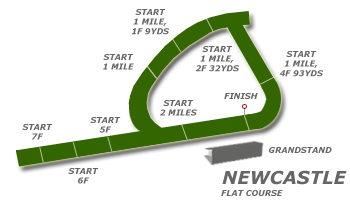 Newcastle race tracks Next
Newcastle is a fairly stiff, galloping track. The oval course is 14f in length with a 4f run in. The home straight extends for a further four furlongs to provide 5f - 8f starts. The final two or three furlongs are uphill, meaning that stamina and courage are required in abundance. It is a fair track on the whole however - just one at which your horse must fully get the trip.
Draw bias: The draw bias on the straight track can occasionally be variable. Over 5 fulongs low draws are generally favoured, but over 6 furlongs in big fields or on easy ground high is the place to be. Over seven furlongs and a mile though, the bias swings to the near side, with those drawn high enjoying a considerable advantage. On the round course, as usual on a left handed track low numbers are slightly favoured as they find it easier to get a good position. There is no particular pace bias, but front runners can't afford to go off too quickly as they will be swallowed up due to the stiff nature of the finish.