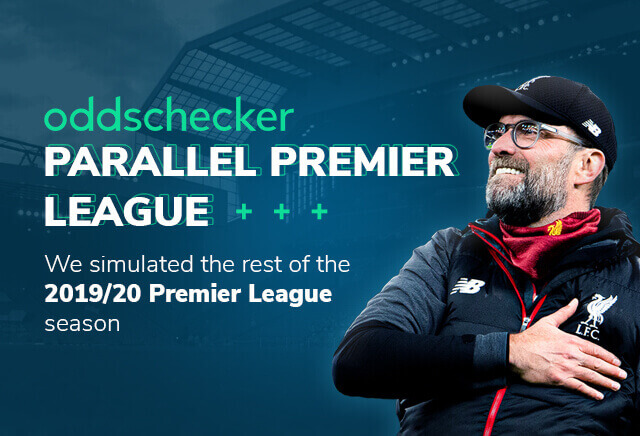 The brightest minds at oddschecker and WhoScored have joined forces to predict the rest of the 2019/20 Premier League season.
Using detailed data from 14 different leagues going back several seasons, totalling over 1,000,000 shots, we have created our very own proprietary xG model. The model can take in several factors about a shot, such as the position on the pitch, the body part used and the context of the situation to give a probability that the shot will end in a goal, with an element of chance also included- typical of real-life situations.
Using this model, we've simulated the remaining results of the 2019/20 Premier League season, with our football writer, Ryan Elliott, injecting the joy, misery, ecstasy and agony into the final nine Gameweeks of the Premier League season, using just a dash of creative license along the way.
Prologue
It's Saturday March 14. The air is chilly but the early-spring sunshine is bathing the UK in its rays, as hundreds of thousands of fans from across the land embark on their weekly pilgrimage to the football. It's just another weekend, and all is well.
The Premier League's climax is rapidly approaching. Liverpool, to the dismay of many envious onlookers, are just two victories away from their first top-flight title in 30 years while Chelsea continue to cling onto their Champions League qualification place. At the bottom, a six-team relegation battle goes into overdrive.
Team sheets are released on Twitter while disgruntled fans, on seeing last week's Man of the Match benched, prepare to launch a volley of obscenities at their club's helpless admin; managers give their Churchillian pre-match team talks; Jeff Stelling fills the television screens of a nation.
It's the Premier League. It's Gameweek 30.
Gameweek 30
Results: Everton 2-0 Liverpool; Bournemouth 2-2 Crystal Palace; Manchester City 2-2 Burnley; Brighton 0-2 Arsenal; Norwich 3-1 Southampton; Aston Villa 1-4 Chelsea; Newcastle 1-2 Sheffield United; West Ham 0-2; Tottenham 1-0 Manchester United; West Ham 0-2 Wolves; Watford 3-2 Leicester.
After their gruelling Champions League exit at the hands of Diego Simeone's wily Atletico Madrid, Liverpool quickly turned their attention to the Merseyside Derby, where their march to domestic glory was dealt another delay, as The Toffees produced a sensational display to beat their battle-worn rivals for the first time in a decade.
Jurgen Klopp walked down the Goodison Park tunnel with an angry, sarcastic grin, after Dominic Calvert-Lewin's 94th minute breakaway goal added to Michael Keane's headed first-half opener.
However, a late Ederson mistake gifted Burnley a late draw at The Etihad against Manchester City, ensuring Liverpool's champagne perhaps wouldn't remain on ice for too much longer than expected.
Tottenham and Manchester United produced a rotten spectacle, as Jose Mourinho's side eventually prevailed in North London courtesy of Lucas Moura's early strike. Despite the lack of action on the pitch, Mourinho's victory against his former employer kept Spurs' Champions League hopes alive, despite Chelsea's comfortable win at Villa Park. Ole Gunnar Solskjaer was in high spirits in the face of this damaging defeat: "I couldn't be happier with the boys", beamed the Norwegian, "what matters most is that they play with a smile on their faces".
An ill-tempered victory for Watford against Leicester saw Nigel Pearson's men put daylight between themselves and the relegation zone, leaving the Foxes looking ever-more nervously over their shoulders in 3rd place.
Gameweek 31
Results: Chelsea 2-2 Manchester City; Wolves 1-3 Bournemouth; Burnley 0-0 Watford; Man Utd 1-1 Sheffield United; Tottenham 4-1 West ham; Newcastle 0-0 Aston Villa; Leicester 3-1 Brighton; Liverpool 4-1 Crystal Palace; Southampton 2-1 Arsenal; Norwich 2-2 Everton.
12:30pm. West London. There's a peculiar, carnivalistic atmosphere circling around a sun-soaked Stamford Bridge, where Chelsea fans are baying for their side to finally put Pep Guardiola out of this season's title-chasing misery – furthering their own Champions League-qualification aspirations in the process.
The visitors, however, dominate the first-half, with Sergio Aguero silencing the home crowd within eight minutes, and doubling his tally not long after.
Unfortunately, things turn sour for Pep and his side in the second-half. Jorginho hop-skip-and-jumps Chelsea back into the tie from the spot, before VAR, feeling neglected after a relatively controversy-free affair, decides to join the fun.
N'Golo Kante stabs home in stoppage-time from a goalmouth scramble in which it appears a stray Olivier Giroud elbow catches Nicolas Otamendi. However, after many minutes of scrutiny, VAR elects to remain with Andre Marriner's decision and awards the equaliser.
Guardiola, hurling his Herno cardigan in the direction of helpless fourth official Kevin Friend, disappears into the dressing room, fully aware that Liverpool are one victory away from the Premier League title.
5:30pm. Merseyside. As Jordan Henderson leads out his Liverpool side against Crystal Palace, the television cameras strewn around Anfield glare onwards, in the knowledge that they are on the cusp of witnessing 30 years of pain finally put to bed. The noise of the fans, complemented by the seemingly endless horde of Kopites congregated before giant screens outside the ground, creates a vociferous wall of noise.
Liverpool's procession to the title is swift and brutal. Sadio Mane and Mo Salah both help themselves to braces against a shell-shocked Palace side, and although an unlucky Andy Robertson own-goal sees the hosts' clean sheet go up in smoke, Michael Oliver's brief puff of his whistle rubber-stamps their title victory. Liverpool are Premier League champions.
After the inevitable invasion dies down, two hours later, the Liverpool players and Klopp return to the Anfield turf, celebrating in typical German fashion: drenching one-another with non-alcoholic lager, as the strains of You'll Never Walk Alone bellow from the giant speakers.
This, finally, was Liverpool's year.
Gameweek 32
Results: Aston Villa 5-2 Wolves; West Ham 1-0 Chelsea; Watford 2-0 Southampton; Bournemouth 1-1 Newcastle; Arsenal 2-0 Norwich; Everton 1-3 Leicester; Crystal Palace 2-2 Burnley; Manchester City 1-3 Liverpool; Sheffield United 1-2 Tottenham; Brighton 1-3 Manchester United.
After a relatively uneventful International Break, the Premier League's return was marked with fireworks in the West Midlands, where Aston Villa notched up a stunning 5-2 victory against a Wolves side with very real Champions League aspirations.
Dean Smith's men took advantage of Matt Doherty's first-half red card to claw their way back into survival contention after threatening to be cut adrift.
West Ham, also in the relegation zone, paid homage to Sam Allardyce's 19th century football of yesteryear with a 1-0 win over Chelsea. Aaron Cresswell's stunning free-kick very much came against the run of play, before Lukasz Fabianski pulled out a Joe Hart in Barcelona performance to hand The Hammers three crucial points.
After such an exciting day, Manchester City v Liverpool in the late kick-off—which had the potential to be a true Premier League blockbuster—had the feel of a farcical procession.
Pep Guardiola, freely admitting his sole focus was on the Champions League, appeared a little too carefree in his pre-match interview, while Jurgen Klopp was bullish in his assertion that City's 100-point record was next in his side's crosshairs.
On the pitch, Liverpool dominated, with City personifying their manager's new-found negligence for domestic matters. Trent Alexander-Arnold and Andy Robertson ran riot, providing an assist each for Mo Salah and Roberto Firmino respectively, before Alex Oxlade-Chamberlain made it three from distance.
When Gabriel Jesus netted a late consolation, only a small red sliver of bouncing bodies remained inside the Etihad.
Gameweek 33
Results: Norwich 0-3 Brighton; Liverpool 3-1 Aston Villa; Tottenham 2-3 Everton; Newcastle 2-1 West Ham; Leicester 3-1 Crystal Palace; Wolves 1-2 Arsenal; Chelsea 2-1 Watford; Manchester Utd 2-2 Bournemouth; Southampton 3-0 Manchester City; Burnley 0-1 Sheffield United.
After sleepwalking their way into the relegation zone, Brighton and Hove Albion finally registered their first Premier League victory of 2020 in the Battle of the Birds at Carrow Road, where the Seagulls culled the Canaries 3-0 – mainly thanks to an inspired Glenn Murray display.
Tottenham succumbed 3-2 at home against Everton to lose further ground in the battle for the top four, with Jose Mourinho the figure of heated vitriol from the terraces after bringing on a fourth and fifth centre-back while his side were 2-1 up. The Portuguese, however, took a different view, bizarrely branding unused substitute Tanguy Ndombele "a disgrace to the football club" in his post-match press-conference.
On the South Coast, Manchester City, having made 11 changes following the first-leg of their Champions League quarter-final, were soundly beaten by Southampton, who saw all three of their shots-on-target fly, loop and trickle past Claudio Bravo.
Rounding-off Super Sunday, Burnley and Sheffield United battled their way into the record books, playing out the first ever Premier League match in which both teams register an xG of 0.00 - due to the Blades' strike officially going down as a Nick Pope own-goal.
Gameweek 34
Results: Aston Villa 1-1 Manchester United; Arsenal 0-1 Leicester; Sheffield United 2-2 Wolves; Everton 0-0 Southampton; West Ham 5-1 Burnley; Crystal Palace 0-2 Chelsea; Brighton 0-2 Liverpool; Watford 2-2 Norwich; Bournemouth 4-1 Tottenham; Manchester City 1-2 Newcastle.
Leicester City, now up to 2nd in the Premier League, strung together a sensational rear-guard display to shut Arsenal out at The Emirates after Jamie Vardy netted for The Foxes on the quarter-hour mark.
The sullen Mikel Arteta's demeanour at full-time suggested he believed his side's top four aspirations were all but over, but his mood was nothing compared to that of his shaven-headed, sallow-featured counterpart at Tottenham, whose side were being dismantled by a Bournemouth outfit deep in relegation bother.
On the final whistle, Spurs assistant Joao Sacramento was sent off for launching a volley of abuse at referee Jon Moss, while Jose Mourinho strolled past Eddie Howe towards the tunnel, grinning from ear-to-ear.
A 5-1 victory for West Ham against Burnley saw them clamber out of the drop zone - a result particularly significant after Aston Villa, Brighton, Watford and Norwich all dropped points.
Maintaining his Champions League-centric policy, Pep Guardiola appeared willing to go down with his ship in the Premier League, as the rag-tag XI he selected to host Newcastle United meekly folded, just four days after their triumphant Champions League quarter-final tie. The Spaniard's strange, monosyllabic post-match presser left the attending journalists perplexed.
Gameweek 35
Results: Aston Villa 3-0 Sheffield United; Manchester City 1-1 Arsenal; Wolves 1-0 Everton; Norwich 2-0 West Ham; Brighton 0-1 Manchester City; Aston Villa 1-0 Crystal Palace; Sheffield United 1-3 Chelsea; Watford 2-1 Newcastle; Manchester United 2-1 Southampton; Liverpool 2-1 Burnley; Tottenham 0-3 Arsenal.
Gameweek 35 started with a midweek double, kicking-off with Aston Villa stunning the miserly Sheffield United to further their survival aspirations, before Arsenal secured a point at The Etihad in relatively low-key fashion.
Pep Guardiola, still sticking to his European policy, then oversaw his makeshift side snatch a 1-0 victory at Brighton after Dan Burn was shown two yellow cards in quick succession. This result saw last year's champions close the gap on Leicester in second place, who themselves failed to take advantage of a home red card, as Simon Francis' professional foul went unpunished as The Cherries clung on to secure a crucial 3-2 victory.
The rest of the weekend was relatively quiet, until the very last Super Sunday fixture: The North London Derby.
With Spurs sitting just one point above Arsenal as proceedings kicked-off, the wall of noise produced by the mountainous South Stand was sucked away just 95 seconds later, as David Luiz's speculative daisy-cutter from distance inexplicably squirmed under Hugo Lloris to gift the Gunners an early lead.
After Pierre-Emerick Aubameyang fired home on the stroke of half-time, the buoyant optimism coursing through the home fans quickly turned to ash, as Jose Mourinho's skulking descent into the dressing room was greeted by a symphony of boos.
Judging by the hosts' second-half performance, Mourinho's team talk must have been akin to Roy Hodgson's before England returned to the pitch in their doomed Icelandic mission, as misplaced passes, spinning heads and on-pitch bickering lead to a third Arsenal goal.
At full-time, the toxicity circling around The Tottenham Hotspur Stadium reached Steve Kean at Blackburn levels. The guillotine was preparing to renew acquaintances with his old pal Jose.
Gameweek 36
Results: Chelsea 0-0 Norwich; Southampton 2-3 Brighton; Burnley 1-3 Wolves; Leicester 2-1 Sheffield United; Everton 2-1 Aston Villa; West Ham 3-0 Watford; Manchester City 3-1 Bournemouth; Arsenal 3-3 Liverpool; Crystal Palace 3-0 Manchester United; Newcastle 3-0 Tottenham.
Gameweek 36 of the 2019/20 Premier League season began with Norwich City's relegation finally being confirmed. The Canaries' goalless draw at Stamford Bridge sealed their inevitable fate, but the mood amongst the away end generally echoed of defiance – the fans had enjoyed their Premier League journey, and Daniel Farke's confirmation that he was to remain as Norwich manager next season was met with enormous positivity.
With Liverpool's title confirmed and Chelsea seven points clear of the chasing pack in 4th place, the primary area of interest in the Premier League turned to the relegation battle, where Brighton and West Ham now find themselves running out of time to claw their way back towards safety.
The Hammers were first to give their survival hopes a significant boost, as David Moyes' men stuck three goals past a hopeless Watford defence – in turn dragging the Hornets into hot water. Nigel Pearson, facing the BBC after the match, didn't utter a single word, instead electing to stare terrifyingly into Guy Mowbray's soul after the reporter questioned the visitors' tactics.
Brighton followed West Ham's lead at 3pm, coming from behind at St. Mary's in spectacular fashion courtesy of a last-gasp Alireza Jahanbakhsh howitzer – igniting bedlam in the away stand, particularly as news of Aston Villa and Bournemouth's defeats filtered through to the Seagulls fans.
However, it was on Sunday where the drama of this season's Premier League reached overdrive. Arsenal and Liverpool's 3-3 draw was dramatic, as was Manchester United's capitulation at Selhurst Park, but the biggest story of the day came on Tyneside...
Spurs, whose hopes of European football next season were dissipating with alarming rapidity, found themselves 3-0 down at Newcastle after just 35 minutes, but fortunately for Jose Mourinho, the chants of "You're Getting Sacked in the Morning" echoing around St. James' proved false. Instead, he was sacked on the bus home.
The Special One's career in English football was ended by Steve Bruce.
Gameweek 37
Results: Liverpool 2-2 Chelsea; Wolves 1-3 Crystal Palace; Aston Villa 1-1 Arsenal; Watford 0-0 Manchester City; Sheffield United 1-0 Everton; Norwich 0-0 Burnley; Manchester United 4-1 West Ham; Brighton 2-1 Newcastle; Bournemouth 3-3 Southampton; Tottenham 1-2 Leicester.
This season's relegation battle saw just four points separate 19th place Brighton and 15th place Bournemouth.
Watford secured a battling draw with Manchester City—whose first team crashed out of the Champions League semi-finals just four days prior— while Aston Villa conceded in stoppage-time against Arsenal, courtesy of a moment of madness from Pepe Reina.
Mark Noble saw red at Old Trafford as West Ham sunk into the relegation zone after a 4-1 defeat against Manchester United, as Ole Gunnar Solskjaer's men ascended into 5th place – which had been newly confirmed as a Champions League qualifying spot after Manchester City's European ban was upheld.
The big winners of the weekend were Brighton, who had Maty Ryan to thank for their 2-1 victory against Newcastle after the Australian saved a late Matt Ritchie spot-kick, lifting them out of the drop zone in the process.
As jubilation circled around the Amex Stadium, David Moyes was greeted with howls of fury by riotous fans as he went to applaud the away section at Old Trafford; The Hammers needed to beat Aston Villa in a final day relegation showdown to have any chance of staying up on the final day, while Brighton and Watford required victories at Burnley and Arsenal respectively to make survival a certainty.
Gameweek 38
Results: Manchester City 5-2 Norwich; Chelsea 0-1 Wolves; Everton 1-1 Bournemouth; West Ham 2-0 Aston Villa; Crystal Palace 2-1 Tottenham; Burnley 2-1 Brighton; Arsenal 2-1 Watford; Newcastle 2-2 Liverpool; Southampton 2-2 Sheffield United; Leicester 1-0 Manchester United.
The final weekend of the Premier League dawned with more questions than answers.
Liverpool required one point to reach the 100 mark, but a victory would hand them the all-time Premier League record. Manchester United and Arsenal were the two remaining sides still in with a serious chance of securing the final Champions League qualifying place, while Watford, Brighton, West Ham and Aston Villa were all still fighting for their lives.
This was to be a final day which would live long in the memory.
Brighton landed the first blow, scoring after just 10 minutes at Turf Moor via an Adam Webster header. It was a goal which ramped up the pressure in East London, with the unwelcome news filtering through to both West Ham and Aston Villa fans.
Up in the North East, Liverpool found themselves in a slugfest with Newcastle, as both teams found the net in an ill-tempered first-half, primarily due to Paul Dummett somehow escaping a red card for pole-axing Mo Salah.
Arsenal's 2-0 lead over Watford at the break put them level on points with Manchester United, although the Red Devils still only needed a point at The King Power to secure Champions League football next season.
Soon after the 10 fixtures resumed for the second-half, everything changed. Sebastien Haller sent The London Stadium into delirium after bundling in West Ham's opener – in turn sucking Watford into the drop zone at their expense on goal difference.
Burnley were next to have their say, equalising against Brighton to peg The Seagulls back to 39 points alongside Watford and West Ham, although their superior goal difference was keeping them safe for the time being.
It was then Manchester United's turn to slip-up, as Jamie Vardy fired across David de Gea which opened the door for Arsenal to sneak above them into 5th place.
Up on Tyneside, Newcastle restored their lead against Liverpool with just 20 minutes remaining, threatening to jeopardise the champions' 100-point season.
Will Hughes' screamer for Watford at The Emirates brought them to within one goal of survival, while Jordan Henderson fittingly equalised against his boyhood enemies before scurrying back to the centre-circle for a quick restart.
However, with only 8 minutes remaining on the clock at Turf Moor, Ashley Barnes, playing against his former club, saw his goal-bound effort deflected past a wrong-footed Maty Ryan; a goal which saw Graham Potter sink to his knees. Brighton, utterly shell-shocked, were suddenly back in the relegation zone.
However, in the dying embers of the all-claret relegation-decider, Aston Villa hit the bar from a corner in the 95th minute, before West Ham sealed Dean Smith and his side's fate with a goal from the resulting break.
The tumultuous West Ham players, amongst the dispersed figures of disconsolate, turf-bound Villans, were soon swallowed-up by 60,000 Hammers fans who had taken to the pitch. West Ham were safe. Aston Villa were relegated.
Up in Lancashire, this result hadn't fallen on deaf ears. West Ham's victory, coupled with Burnley's late winner, had sent Brighton and Hove Albion down after three years in the top-flight, who will rue the fact they started the day with safety very much in their own hands. Brighton, alongside Villa and Norwich, were also relegated.
But with one's pain comes another's pleasure. Arsenal and Watford fans were now celebrating together at The Emirates, after both of their ultimate aims were realised. Manchester United's defeat at Leicester saw Arsenal sneak into the final Champions League place, while Watford's impending relegation, which was totally out of their control, was prevented at the eleventh hour.
The final order of business was concluded up in Newcastle, where Liverpool were unable to break down their hosts one last time – securing their 100 points but having to settle for equalling Manchester City's 2017/18 record.
However, Liverpool, after 30 years of hurt, were finally Premier League champions.
Top 2 Finish
Manchester City: 1/16
Leicester: 19/2
Top 4 Finish
Chelsea: 3/5
Manchester United: 8/5
Wolves: 8/1
Sheffield United: 14/1
Arsenal: 17/1
Tottenham: 20/1
Relegation
Norwich City: 1/20
Aston Villa: 4/11
Bournemouth: 5/6
West Ham: 2/1
Watford: 9/4
Brighton: 11/4
888sport
In-depth football stats
Multiple deposit methods
Licensed by UK Gambling Commission
Treble The Odds in cash

Claim

New customers only. Min deposit £10. Customer must apply 'Profit Boost Ticket ' to a single or accumulator. Max stake of £10. 'Profit Boost Token' granted hereunder is equivalent to 200% on top of a winning bets profit. Maximum extra winnings are capped at £/$/€5000. Additional winnings are credited in cash to the player's account immediately after bet settlement. 'Profit boost ticket' valid for 7 days. 18+. begambleaware.org. T&Cs Apply.