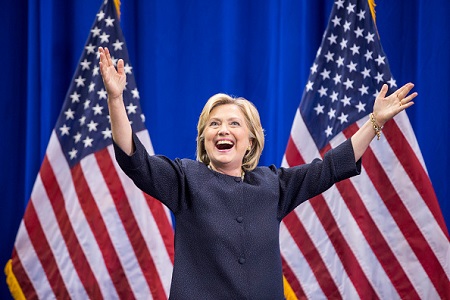 The time is now upon us, after all the excitement and unpredictability, tomorrow brings us the U.S Presidential Election. It's had that many swings and roundabouts that the majority of people will be so happy that it's here, whereas some hope that it could last forever.
Hillary Clinton takes on Donald Trump for the White House and it's going to be tight. Who would have thought that Donald Trump would even be the Republican Nominee? After all, he's a reality TV star; where as Clinton is a career politician.
The polls are tight, very tight in fact and they tend to side with Clinton but a Trump victory is not out of the question. The swing states are well within Trump's grasp but it all comes down to polling day.
Trump saw a bump in the polls over the past week due to the FBI re-opening their investigation into Clinton's emails. That investigation didn't last long though and the FBI announced yesterday that they are closing the case, again.
Does this give Clinton the edge as she's now in the clear or does this remind people that she's just been under investigation by the FBI? Time will tell…
The odds on Clinton winning the White House have shortened dramatically over the past 24 hours, while Trump has drifted at an alarming rate.
In line with the odds movement, betting patterns have shifted significantly in that time as well.
From Saturday 5th November at midnight until 14:59 on Sunday 6th November, 82% of bets on the election through Oddschecker were on Trump. Of those bets, 12% of the money was staked on Clinton and 88% on Trump, with many anticipating Trump's popularity in the polls to increase further amid speculation around the FBI investigation.
| | Trump | Clinton |
| --- | --- | --- |
| Number of bets (05/11-06/11) | 82% | 18% |
| Total money staked (05/11-06/11) | 88% | 12% |
| | Trump | Clinton |
| --- | --- | --- |
| Number of bets (06/11-07/11) | 62% | 38% |
| Total money staked (06/11-07/11) | 41% | 59% |
Compare that with the time period between 15:00 on Sunday 6th November until 14:30 on Monday 7th November, those numbers had changed to 62% of election bets on Trump and 38% on Clinton. The total money staked on Clinton has risen dramatically to 59%, compared to Trump's 41%. Now that the FBI investigation is over it appears confidence is rapidly returning in Clinton.
The majority of the most recent polls published today have Clinton leading and that seems to be what the smart money is going off. Clinton is now as short as 1/6 and Trump has drifted out to nearly 5/1.