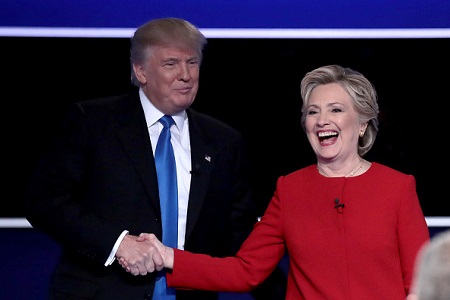 Election day in the race to become president of the United States of America is finally upon us and bettors have been putting their money where their mouth is.
Since midnight today, 88% of total money staked on the US election through Oddschecker has been on Hillary Clinton to be elected. While the larger majority of bets placed have been on Donald Trump at 74%. The smart money, therefore, would appear to be on Clinton but can we really be confident about that outcome given how the EU referendum went in the UK?
US Election Betting - 08/11
| | Trump | Clinton |
| --- | --- | --- |
| Number of bets | 74% | 26% |
| Total money staked | 12% | 88% |
EU Referendum - 23/06
| | Leave | Remain |
| --- | --- | --- |
| Number of bets | 83% | 17% |
| Total money staked | 44% | 56% |
Back on June 23rd, the day of the Brexit vote, there was a very similar pattern. 56% of total money staked on the referendum was on Britain to remain in the EU. Again though, the far larger majority of bets placed were on Britain to leave the EU at 83%.
The key thing here though is the sheer confidence that is seemingly behind the Clinton campaign, compared to the remain one. 88% of total money staked on Clinton is a huge number, even compared with the 56% that was staked on remain back in June. There have also been fewer bets placed on Trump relative to Clinton when compared to leave relative to remain. 74% of total bets today is a big number for Trump but still falls short of the 83% of bets placed on leave.
This election is surely going to be the latest in a line of tight public votes after the UK general election in 2015 and the EU referendum earlier this year. It is the increase in confidence in Clinton, compared to remain, shown by the data above that could well swing the vote in her favour.
Going by the betting trends, Trump does not appear quite as likely as the leave campaign to pull off an upset but you wouldn't write him off doing just that, would you?