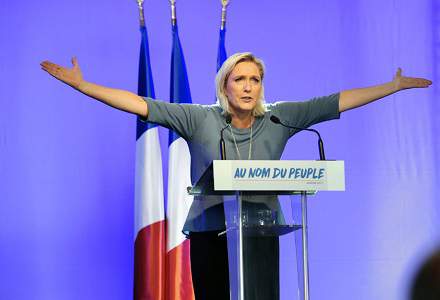 Marine Le Pen remains a popular pick ahead of Sunday's first round of voting.
The first round of the Presidential elections will take place this Sunday as French voters head to the polls. Results will be released around 8pm local time and if one candidate receives more than 50% of the first vote, they will automatically become the next French President and the second round of voting will be cancelled. However, no candidate has ever walked away with the main prize after the first round of voting and given the odds, it seems unlikely to happen this year. If there is no outright majority, the top two politicians will face-off again on Sunday May 7.
Betting on the next French President has been a popular market throughout the year on Oddschecker, with betting activity at its highest this past week. Emmanuel Macron remains favourite with the bookmakers at 5/6 (54.5% implied probability), ahead of the National Front leader, Marine Le Pen who is 10/3 (23.1% implied probability) to take the hot seat. Far-right leader, Le Pen has always been a popular pick with bettors; in the first three months of 2017 she accounted for a massive 42% of bets on the market, whereas Macron only held 23% of bets placed via Oddschecker. Third favourite, Francios Fillon took up 13% of bets in the same period and his odds are currently 4/1 (20% implied probability). In the last week, Macron who married his former high school teacher, has become an ever more popular pick with politics punters. Despite Le Pen still being the favourite choice (34%) with bettors, Macron's share of bets placed has grown to 26.6%.
As well as increasing support for the favourite, both Fillion, Melenchon and Asselineau's share of bets placed have also risen and they now account for 15.2%, 11.1% and 7.2% respectively. The left-wing politician, Jean-Luc Melenchon's odds have been extremely volatile leading up to the first round of voting. On March 12th he was available to back at odds as big as 150/1 (0.7% implied probability). However, just over a month later these odds had been slashed to as short as 4/1 (20% implied probability) on the 15th April. His chances, and with that his odds, seem to have dwindled of late though and he's now as big as 16/1 (5.9% implied probability) to win the election. Despite the dramatic change in odds, Melenchon has only accounted for 7% of bets placed through Oddschecker so far this year.
Another candidate whose support has grown throughout April is Franciois Asselinau. The Popular Republican Union President's views on taking France out of the EU seems to have resonated with members of the French public. Even though his odds of 250/1 suggest there's no chance of him making it through this round of voting, he's accounted for just over 7% of all bets placed on the market this week.
According to bets placed on the next President market today, Marine Le Pen looks guaranteed to make it through the first round of voting with over 87% of stakes placed, and 60% of bets. One bookmaker is still offering 66/1 that she wins over 50% of the first round share.