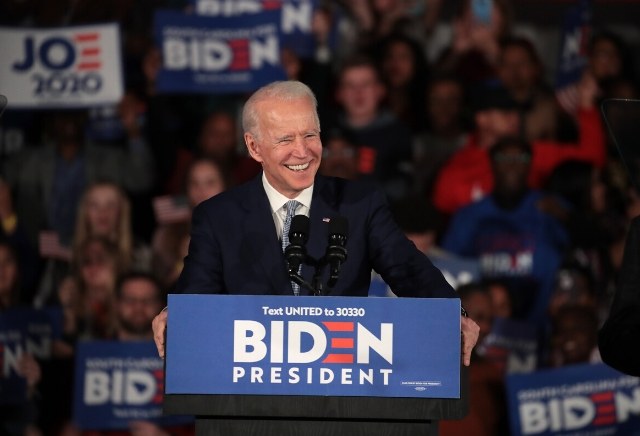 Joe Biden is giving Donald Trump a run for his money
Joe Biden hasn't even secured his nomination yet but bookies have given him an equal chance with Donald Trump of winning the 2020 US election.
Now available at 11/10, Biden now has a 48% chance of taking his seat in the Oval Office.
Trump is also available at bookies at 11/10, with the same 48% chance of election.
Donald Trump (73) has been heavily supported since drifting in price, collecting almost 46% of bets in the market as value hunters seek to make a quick buck.
Joe Biden (77) has attracted 37% of bets, available at the best price of 11/10 he'll have to fight off the other democratic nominees first.
Finally, Bernie Sanders (78) is still attractive to some punters gathering 16% of bets. At the best price of 50/1 for the presidency, many don't even believe he can win the Democratic nomination against Biden.
Oddschecker spokesperson Callum Wilson: "Donald Trump looked unopposed in the market just a short time ago, but challenger Joe Biden is hot on the heels of the current US president.
"Neck-and-neck at the top of the market, it now looks like a two-horse race ahead of the election later this year.
"With odds of 1/12 for the Democratic nomination, it looks certain that Joe Biden will be taking on Trump in November – and according to the most recent betting markets – he might just win."
US Presidential Election 2020:
Donald Trump - 11/10
Joe Biden - 11/10
Mike Pence - 33/1
Bernie Sanders - 50/1