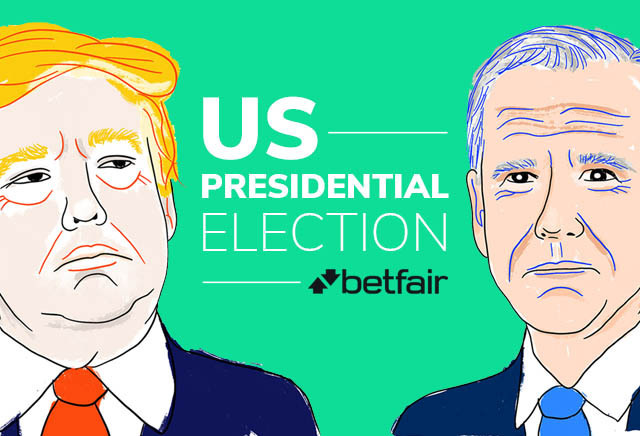 Two of the country's leading political betting analysts give their insight and predictions for the 2020 US election.
As we reach the final stages of campaigning, Joe Biden is the clear bookies' favourite to win the 2020 US election.
We were joined on the oddschecker podcast by two of the country's top political betting experts, sponsored by Betfair Exchange.
The 2020 US election is now looming large, with the final days of campaigning leading up to the 59th quadrennial presidential election on Tuesday 3rd November.
On the same day the Betfair Exchange election market ticked past the £200million mark and became their biggest betting market in history, we spoke to two of the country's leading political betting analysts for the latest.
US election odds: Latest predictions from the betting experts
Host George Elek was joined by professional gambler and political analyst Paul Krishnamurty and political betting analyst William Kedjanyi to get the latest insight on the election market.
The experts talk us through the story of the betting market so far, through the lens of our sponsors Betfair Exchange. They go on to discuss the key swing states, comparisons with 2016, the accuracy of polling and making cases for either candidate.
You can watch our full 2020 US election betting preview with Paul and William on YouTube above.
US election swing states: Which are the key battleground states?
The critical swing states are widely expected to be Arizona, Florida, Georgia, Michigan, Minnesota, North Carolina, Pennsylvania and Wisconsin. In 11 of the last 12 elections, the candidate who has won Florida has gone on to win the presidency.
Paul Krishnamurty made his case for why he believes Pennsylvania is the most important swing state, even ahead of Florida. William Kedjanyi points to some states which are closer races than many have come to expect, like Texas.
Compare odds and bet on each state in our US politics section.
US election polls: Will they get it right this time?
The public's faith in polling has taken a hit in recent years, from the 2016 US election, to Brexit and the UK general election. We asked the experts why polling is still such a valuable tool in the lead up to this election.
As it stands Joe Biden is overwhelmingly leading Donald Trump in the national polls, even more so than Hillary Clinton was in 2016. He also boasts a commanding lead in the key swing states of Florida and Pennsylvania.
William Kedjanyi talks through the exaggeration of the 2016 polling miss, and defends polls as a highly useful snapshot of the mood of an election rather than an exact prediction. Meanwhile, Paul Krishnamurty argues there's no reason to distrust polls, noting that the 2016 miss was largely down to pundits misreading the outcome.
US election betting update: The latest odds and activity
| | Best Odds | Implied % Chance | % of money staked in October | % of number of bets in October |
| --- | --- | --- | --- | --- |
| Joe Biden | 13/25 | 65.2% | 60% | 31% |
| Donald Trump | 15/8 | 34.8% | 39% | 62% |
"Joe Biden was actually a 1% chance to win the US Election, that's 100/1!"

@PaulMotty gives the story of the election so far through the lens of the @BetfairExchange, where £200M has been matched on the market.

Watch the #Election2020 preview: https://t.co/kfeXbmTcLE pic.twitter.com/RaIDkDRVei

— oddschecker (@oddschecker) October 29, 2020