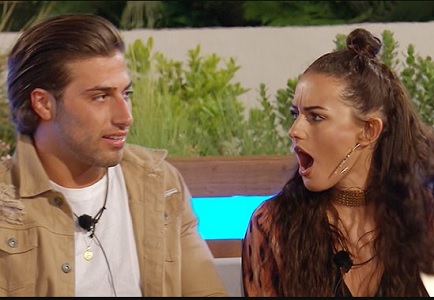 Kem and Amber have today seen their odds drop from 10/1 to 4/1 for them to win Love Island 2017.
It's no secret that Kem and Amber have had a tumultuous relationship over during this series of Love Island but after Amber's performance in the lie detector test, the British public are getting behind the pair in their droves.
Amber surprisingly came out of the lie detector results shown in last night's episode as the most truthful of all the girls and it seems the public now believe their relationship is completely genuine. Through Oddschecker, we've seen 38% of bets being placed on the couple since 10pm last night. That's quite a turnaround considering that in the week leading up to last night, Kem only accounted for 11% of bets in the top boy market and Amber even less at 7% with the public unsure of Amber's true feelings and intentions.
Camilla and Jamie are the favourites in the market, taking that title from Marcel and Gabby, who have been strongly backed by the public throughout the series, until this week that is. Despite their favourite status, there does remain a bit of doubt about whether Camilla and Jamie could win after Camilla failed a few questions when faced with the lie detector and saying last night that she doesn't feel like she's good enough for Jamie. They are the next most backed in the market behind Kem and Amber however, with 24% of bets placed.
Marcel and Gabby are now very much outsiders having been favourites up until this week, following a growing sense over the last week that Gabby's feelings for Marcel are not as genuine as first thought. That particular storyline came to a head last night, with Gabby saying she doesn't love Marcel and the lie detector confirming that as truth and that she isn't looking forward to sex with Marcel.
Kem and Amber are looking stronger as a couple every day and we've seen their odds drop from 10/1 to 4/1 over the course of today. If they get through the rest of the week without any problems, we could see them become outright favourites as the series final approaches.