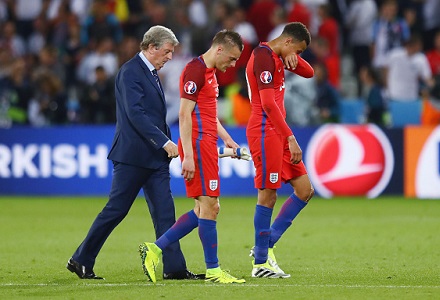 After England's exit, we take a look at the biggest shock exits in big tournaments in recent competitions.
England crashing out to Iceland came as a bit of a surprise to most fans across the world. We've had a look at other shock exits from major tournaments and maybe we shouldn't be too shocked at England?
France 2002 – pre tournament odds 4/1
South Korea and Japan hosted the 2002 World Cup, with European big guns France second favourites to win the tournament at 4/1 having won the competition in 1998. Drawn against a decent Denmark side, Senegal and Uruguay who were far from strong, they were heavily tipped to win the group with comfort. What followed was far from it. A team with Vieira, Henry, Petit, Trezeguet, Desailly, Zidane and Lizarazu could only manage 1 point, finishing stone dead last in their group.
Spain 2014 – pre tournament odds 7/1
A Spain side packed with talent got themselves to Brazil in great shape after winning pretty much everything there is to win in the years leading up to the tournament. As they took the lead through a Alonso penalty in their first game against Holland, all looked as it should for Spain. That was until van Persie scored one of the most notorious goals in recent tournaments, propelling himself like a salmon out of water to draw his side level. They went on to lose the game 5-1 and then suffered a 2-0 defeat at the hands of Chile. It was all over as they finished third in the group, with their only win coming against an Australia side who finished on zero points.
Euros Bore Draw Money Back with BET365
Italy Euro 2004 – pre tournament odds 9/2
All the stats suggested that Italy were going to have a highly successful time in Austria and Switzerland. A team packed with Italian superstars drew Denmark (spotting a theme here?), Sweden and Bulgaria. Going into the final group game, Italy needed to beat strugglers Bulgaria and rely on either Sweden or Denmark winning in their game. The scene was set. Going into the final 5 minutes, Italy were being held 1-1 by Bulgaria, whilst Denmark were winning 2-1. Jonson then scored in the 89th minute for Sweden, levelling it up at 2-2. This left the Italians on the brink, but a 94th minute goal from Cassano saw them go 2-1 up leaving the 3 teams on 5 points. Goal difference did its thing and Italy crashed out with a +1 goal difference, compared to Denmark's +2. Brutal!
England Euro 2016 – pre tournament odds 9/1
The only slight glimmer of hope here is we are the longest priced team on this list, with probably the weakest of the squads mentioned. I am by no means defending it at all! The nation had high hopes for this young squad who had impressed for their club sides. Iceland, a country with no professional teams and a part time dentist as a manager, were too strong for us (and Holland in the qualifying round it must be worth mentioning!). Where do we go from here? Surely the only way is up!