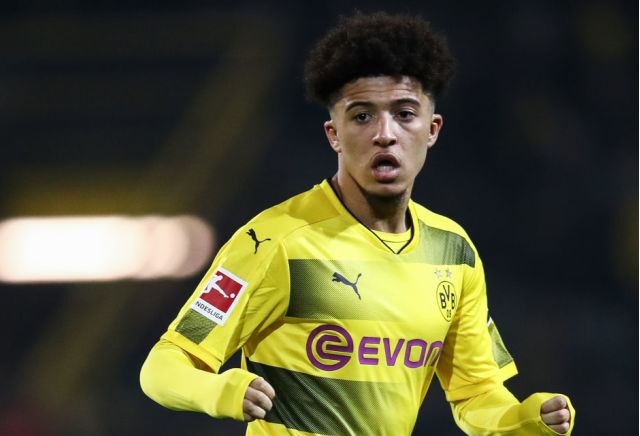 Jadon Sancho's debut for BVB has catapulted him into the reckoning for a surprise England call-up, with Southgate surely taking note of the young winger's progress.
When Sven-Goran Eriksson handed Everton starlet Wayne Rooney the no.9 shirt for Euro 2004 he started a trend of selecting precocious young attacking players for major tournaments.
Theo Walcott was just 17 when he made the trip to Germany two years later despite only having made 13 senior appearances and none for new club Arsenal. 19 year-old speedster Aaron Lennon was also included and went one better than his fellow teen as the Swedish manager used him off the bench, unlike Walcott who remained seated for the campaign.
Steve McClaren's England failed to qualify for Euro 2008, although teenager Micah Richards was one of the few bright sparks in a dismal qualifying campaign.
Capello's squad for the World Cup in 2010 is the anomaly, with Joe Hart beating the then 23 year-old Lennon to the youngest player tag by three days.
In a move that triggered déjà vu almost as much as the following quarter-final exit, a lively Southampton graduate who had recently moved to Arsenal was brought along to Euro 2012 by Hodgson; 18 year-old Alex Oxlade-Chamberlain.
Raheem Sterling was still six months shy of his 20th birthday when starting on the right wing in 2014, whilst Marcus Rashford's meteoric rise in early 2016 culminated in a summer super-sub role in France.
So, despite England's well-established reputation as a footballing nation unable to elicit the swashbuckling brand of football to appease the baying mob back home, it isn't for lack of investing faith in stars of tomorrow, or at least trying to.
The old adage is that "if you're good enough, you're old enough" and England's problem was seemingly that they selected youngsters who just weren't good enough. With the obvious exception of Wayne Rooney and, hopefully, Marcus Rashford, the other players selected have failed to build a notable international career when in their prime, let alone their teens.
Walcott, Lennon and Richards have had careers of varying success, but none have fulfilled the promise that saw them called upon in the formative years of their careers. Alex Oxlade-Chamberlain is now 24 years-old and can be backed at Evs to make the plane to Russia; an implied chance of 50%.
It would, therefore, be no surprise to see a burgeoning young attacking player force his way into Southgate's reckoning, and the pool is plentiful.
2017 was a landmark year for England's youth teams, with the U20 and U17 age groups emerging as world champions, and the U19s winning the European Championships.
The likes of Phil Foden (25/1) and Reiss Nelson (50/1) have featured for Man City and Arsenal respectively, whilst Ryan Sessegnon (25/1) has established himself as one of the best players in the Championship aged just 17.
It is a player who left the Premier League in the summer, however, who could well be the player who is about to catapult himself into the reckoning and earn the right to be England's secret weapon for this summer's World Cup.
2012: Oxlade-Chamberlain
2014: Sterling
2016: Rashford
2018: Sancho?

Keep an eye on Jadon Sancho, he just might be the next English teenager on a plane to the World Cup.

Great stuff by @GeorgeElek https://t.co/2DZsLvbh6b

— Scouted Football (@ScoutedFtbl) January 16, 2018
Jadon Sancho (33/1) made his first start for Borussia Dortmund on Sunday, playing the full 90 minutes in a stalemate against Wolfsburg. The 17 year-old came close to breaking the deadlock, striking the post early in the second half.
In style he is, in many ways, the player who England have needed for two generations. Whilst right-footed, Sancho is more comfortable playing on the left hand side and cutting onto his stronger foot. His dribbling ability is what will make admirers take notice, but he is also an intelligent player who collects the ball in dangerous positions, able to find pockets of space out of tight positions.
The one-dimensional nature of England's struggles in France highlighted the frankly scandalous decision of Hodgson to travel to the tournament with just one established winger; the woefully short of form Raheem Sterling.
Sterling is a different beast now, a successful task from the best 'project manager' going. Sancho, who decided to leave Manchester City for the Bundesliga in the summer, decided that Guardiola's vision for his was not the one he wanted to explore. No bother; Dortmund's ability to bring through young talent is unparalleled.
A first start for Sancho, the sixth youngest debutant in Bundesliga history, could be a seminal moment for the graduation of this new generation of English players. Naturally, it hasn't received the column inches that it would have done had it been in the blue of City, but don't for a minute think the England boss is any less aware.
Sancho was deprived of his moment of glory in the summer, with Dortmund insisting that he returned to the club to train with the first-team rather than play in the knock-out stages of the U-17 World Cup. The message was clear, whilst eligible to play for the teenagers; he had been bought to play with the men.
Whether this first start will see Sancho used regularly for Dortmund is yet to be seen. Two years ago today, Marcus Rashford's Manchester United career constituted of one unused substitute appearance, yet six months later he was carrying the expectations of the whole nation.
Sancho's progress will likely remain under the radar, but if he builds upon this weekend's start, the 33/1 may not last long. Harry Winks (Evs) and Joe Gomez (5/2) have shown that Southgate is happy to adhere to the 'good enough' theory, Sancho now has six months out of the media spotlight to prove his worth to the boss.