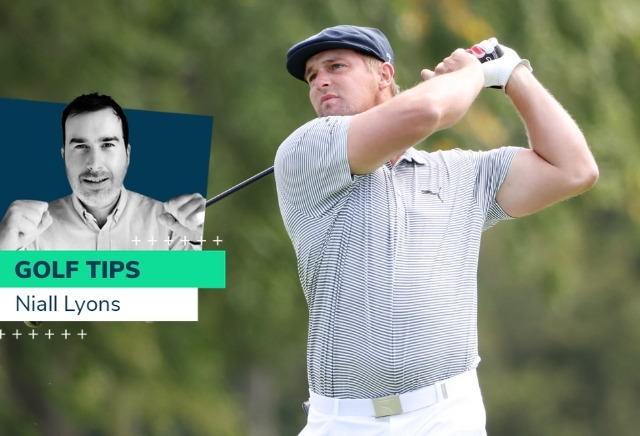 Our golf expert brings you his preview and predictions for golf's iconic major, The Masters at Augusta National Golf Club.
Golf expert Niall Lyons has five tips for the 2020 Masters, including a 5pt headline selection.
The Masters will take place at Augusta National Golf Club between Thursday 12th November and Sunday 15th November, having been rearranged from it's usual springtime slot.
Bryson DeChambeau is currently the favourite to win the Masters, at a best price of 8/1.
The Masters 2020
November spawned a Masters, and Biden is the new President...Trump that. What an absolute treat golf fans have in store this week as we play out this year's third and final major. Some of the colour may be missing from the Augusta picture but the magic remains and another historic chapter will be written. It rained heavily in Georgia over four weeks ago but sunshine has returned and the course looks in pristine shape. In April we often see cold conditions in the morning with temperatures rising throughout the day. However this time it looks like we may get similar weather for both early and late draws and it will be relatively warm if the predicted forecast stays the same over the coming days. A slightly softer course for the time of year is probably inevitable which will play into the longer hitters' hands, with it already playing long due to the direction the grass is cut from the green to the tee. That in turn makes the course wider for those prone to stray off the tee, so essentially it becomes a bombers paradise. As ever, approach play becomes important and not missing many greens. When you do miss them it becomes a very difficult task to get up and down no matter how good your short game is. This levels the playing field somewhat for those whose main weakness lies on or around the greens.
Bryson DeChambeau at 8/1
It'll be no secret to many that Bryson DeChambeau is my main outright selection this week. I'll start by saying the price is right and there's not a pile of value in it, but if he clicks again like he has done a few times before this year nobody will be able to live with him. You'll hear plenty from many this week spelling out the obvious negatives to punting the favourite here around 8/1, however, the positives are ten fold. His length off the tee is a huge advantage here as the course plays wider and longer than the majority they'll play all year. Whilst at other venues this year he has had to compete with tighter fairways, he should be able to unleash his Sunday best here all week. That will open up lines not available to others and get him close enough to greens to take potential disasters off the scorecard. We know his approach play isn't up there with the best in the game but when hitting approaches from longer yardages that gap narrows.
The lack of green books doesn't worry me in the slightest as Bryson will have it all worked out regardless. During the 2020 season he finished 1st in putting from 5-10 feet also which is crucial for holding scores together here at Augusta. His high ball flight (measured in distance to apex on tour stats) is another huge positive as he can dial in his approaches from a height and retain control of that part of his game. He finished 2nd in that stat last year and 2nd in par 4 scoring also which is another stat the winners of this event regularly rank high in. Solid recent major form is another catalyst for winners and he has the best in the field finishing 4th at the PGA and 1st at the US Open. He won the US Open by six, dominance that we hadn't seen in a fair while. The potential for another dominating performance is there. Length in the game was long an issue before Bryson kicked up the circus, but at some stage the game will have a tipping point in terms of the conversation and this week may just be the final straw. Bombs away Bryson!
5pt WIN B.DeChambeau 8/1
Bryson DeChambeau - 5pts @ 8/1
Tony Finau at 33/1 (9 places)
Tony Finau is another monster bet each-way for me this week in Georgia. He has reached a new level of consistency over the past few months and will sooner or later capitalise upon that form with a big win. He is probably more likely to win one of the four big than any other. Punters can get foolishly caught up in misconceptions about golfers not having the bottle to win events. Tony isn't one of those, certainly not yet anyway. He has four top tens in his last majors, and more remarkably 8 top tens in 17 tries in the big four. It is a matter of time before he realises his potential and becomes a regular winner on the circuit. He also lost a WGC in a playoff to Xander Schauffele in China. He ranked 14th in Par 4 scoring in 2020, 21st in Distance to Apex and finished 4th at the PGA and 8th at the US Open. This is a perfect recipe for a contender and especially for someone who has bagged two top tens here at Augusta in two starts. One of those was on a dodgy ankle after going over on it during the par 3 pantomime. He has everything for Augusta and this could be the week it all comes together.
4pts each-way T.Finau 33/1 (1/5 9)
Tony Finau - 4pts e/w @ 33/1
Hideki Matsuyama at 33/1 (7 places)
I've forever scratched my head at Matsuyama's price in these Major Championships, and indeed any event. Having last won in 2017 he never goes much below tenth in the betting in any of these heats. The same was sure to apply this week again, but last nights performance has cemented his price this week. In years gone by I've thought his price to be criminal, not this year. The pause in the backswing is gone and for me that is a major breakthrough in his career at still only 28 years of age. Nothing much has happened over the past while bar a string of steady finishes. That changed in Houston as he got right into the argument at the business end. He has posted two top ten finishes here at Augusta but I feel he is more ready than ever to take one of these prizes. I mentioned earlier tracks where it's difficult to hit greens suit the Japanese player as his strength lies in approaching the greens. The majority will find it very difficult to survive the week at Augusta missing greens as the treacherous slopes make for tough scrambling. This in turn enhances his chances at these layouts more as the gap between his weakness and others' strength narrows. A win at the notoriously tough tee to green track at Muirfield Village is another example of such a scenario playing out. Add to this the fact that around the greens he has improved lately with some tremendous performances, most notably at the BMW, PGA and most recently at the CJ Cup and we may have found a serious contender. He found his touch on the greens at Houston gaining over 4 strokes on the field in that category and if he brings that to Augusta he has a serious opportunity. The presumed lack of media circus that follows him about is another positive worth noting.
2pts each-way H.Matsuyama 33/1 (1/5 7)
Hideki Matsuyama - 2pts e/w @ 33/1
Cameron Smith at 80/1 (8 places)
I had planned for Tyrrell Hatton to be on my staking plan these past few weeks but I've gone off the Englishman last minute. He has played super golf all year but I can't help but feel a bit disappointed by two missed cuts in the previous two majors. There are no real excuses for that and with a ball flight not exactly made for Augusta I'll be leaving him off the list. Cameron Smith doesn't quite hit the heights in the stats you'd look to this week but has a lot of experience in the bag and could go low for a long part of the way this week. Having won the Sony earlier in the year he went off the boil but has found something this past few weeks. He finished 11th at the CJ Cup, then 4th at the Zozo last time out. He has found success on the greens this past while and although it's not a stat you'd look to and think 'he must go well at Augusta', it is surely no negative. His credentials are good. Inside the top 50 in the world with a win to his name this year. Two top 5s in Majors, one being here back in 2018. He has posted 8 events on the trot with positive strokes gained approach against the field. I was impressed by the bottle he showed when in trouble on the 72nd at the Sony and his calmness in closing it out int he playoff with Brendan Steele. He is a dogged character if in contention and looks a cracking bet with the places on offer.
1.25pts each-way C.Smith 80/1 (1/5 8)
Cameron Smith - 1.25pts e/w @ 80/1
Jason Kokrak at 80/1 (10 places)
I considered going top heavy on two of the favourites and Dustin being my preference for the second, but I've opted for a few longer shots instead. I'll be having a few quid on Dustin, at least to get my stakes back, but probably a bit more. For tipping purposes I'll finish up with Jason Kokrak. His win at the CJ Cup wasn't out of character as previous to the missed cut at the Shriners he went 17-6-13-15. 17th at the US open was a huge showing and a sign of what was to come. High finishes in the previous major have been crucial in predicting the next over the past few years. He has the perfect ball flight for Augusta ranking 27th in the Distance to Apex stats in 2020. He lost over 4 shots to the field approaching the greens at the Zozo and managed a top 20 finish. He closed impressively over Xander at the CJ Cup and could cause an upset for the debutants with no fans and a different Masters to many before.
1pt each-way J.Kokrak 80/1 (1/5 10)
At a time when we are usually winding down the golf, we have a November Masters. Simply amazing. Sit back and crack open a few protein shakes in support of the favourite, it is something to be genuinely very excited for.
Jason Kokrak - 1pt e/w @ 80/1