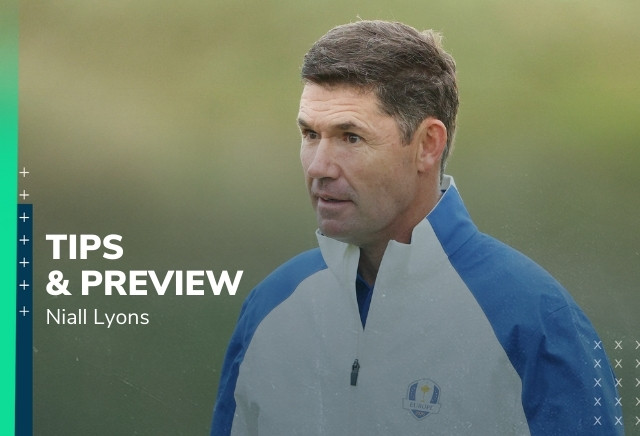 Our golf expert brings you his preview and predictions for the 43rd Ryder Cup.
Ryder Cup Top Combined Point Scorer
All the world's a stage, and all the men and women merely players: They have their exits and their entrances; And one man in his time plays many parts. Ryder Cup 2021 is here, and this is theatre. Like washed out soap stars they take to the Pantomime stage and promote their autumnal production like town criers promoting misinformation. Their content can be largely ignored and their embellishment mocked as they gather for the biggest jolly up of their careers. There are many scenes to sit through before we get to the main act on Friday, but once the golf begins and the hype is finally buried, we are usually treated to a fascinating plot.
Punting wise it's a difficult affair even though we did land Molinari top overall points scorer last time around. You can have theories and opinions on how pairings will play out but there's no doubting you'll need an ounce of luck for the scenario to play out where you're collecting your bet on Monday morning. Caution is urged, although there are a few bets I'm happy to have before the event kicks off. Outright wise I make the USA closer to 1/3 pokes. Now the players have arrived there is more and more chatter about the European record in the last few decades and their ability to outplay their odds. Last time around in Paris I wrote that I made them favourites and the 13/8 didn't quite add up given the way Paris National was set up. This time around the ball is in the red court and although they have set up the course to suit their big hitting ability, it's not quite the course advantage the Europeans had last time. What they do have in their favour is the gulf in class between their 12 and Europe's 12. 4 of Europe's side make it into the top 20 in the world, whilst 9 of the Americans rank in the top 11 in the world. It is a result of too much weight being put on 2020 form for the Europeans with the likes of Hatton, Fleetwood and Westwood not hitting the heights they were doing back then. That is a worrying sign. Harrington talked about their ball striking capabilities on the day he picked the wildcards but that doesn't look so rosy either. They may have 1st and 3rd in Ball Striking in 2021 with Rahm and Garcia but only three more rank in the top 50 with Fitzpatrick, Hatton, Westwood, Fleetwood and Poulter a long, long way down the list. What they do have is team spirit in droves and if it was a boxing match in that department the yanks would be knocked down in 10 seconds. They have even more worries on that front than usual with the Bryson/Koepka nonsense down the last year or so and Stricker has is work cut out to create a United front.
I like USA a lot, I think they win this comfortably, but the outrights are probably best left alone. I'm happy to back Morikawa top American Point scorer at 10s and top Overall at 18s. Morikawa won 4 from 4 in the Walker Cup in 2019 winning one of his foursomes games by 8&7. He is an absolute shoe in for both foursomes games, and I think he'll be a hard man to drop throughout. It looks like he could be paired with Dustin over the opening days which could be a formidable duo. Dustin is a lot shorter in both markets than Morikawa and I don't think that's right. He has the perfect game for both formats and even though a rookie can be considered up there with their best players. His approach play is the best in the business and someone else hitting the eventual putt to these approaches might be an advantage. DJ is putting well and should this be the pairing they may make their way through the card. The 100/1 on Skybet about him winning all 5 (more than double the price of DJ) is worth a tickle also.
1pt each-way C.Morikawa Top Combined Point Scorer 18/1 (1/4 4)
0.5pt Morikawa to win all 5 matches 100/1
Collin Morikawa Top Combined Point Scorer - 1pt e/w @ 18/1
Morikawa to win all 5 matches - 0.5pts @ 100/1
Ryder Cup - Top European
Given Sergio Garcia's record in this competition and his consistency over the past few months I am surprised he is 7th favourite in the European points market. He ranks 3rd in SG in the team over the last 3 months and as I mentioned before is in top 3 ball strikers this year on the pgatour. With a handful who have dropped off in terms of performance, Garcia has not let up, most recently finishing 6th in the BMW and 10th at East Lake in the 72 hole scores. Two top 20s in the US and British Opens back up that Garcia has been in better form than most in recent months and I find it difficult to imagine a scenario where the likes of Hatton, Casey and Fleetwood get more games than the Spaniard. I'd have him closer to Hovland in the betting and with the length he has gained off the tee in recent years he is unlikely to be dropped for fourballs games also.
2pts S.Garcia Top European 11/1
Sergio Garcia Top European - 2pts @ 11/1
Hatton has had a a rotten few months and ranks bottom in SG in the team during the last three months. Whilst I can see the likes of Westwood possibly raising his game for this I see Hatton as more a selfish type of player and a huge upturn is unlikely here. A missed cut at Wentworth added to his early exit in the Playoffs and what looked like a very promising 2021 after winning in Abu Dhabi somewhat fell off a cliff. He isn't an easy one to pair either and doesn't quite stand out for either foursomes or fourballs as well as some others. I think he could struggle and the 7/1 on offer for him not to get on the board this week looks a decent bet.
1pt Hatton to win Zero pts 7/1
Hatton to score 0 - 1pt @ 7/1