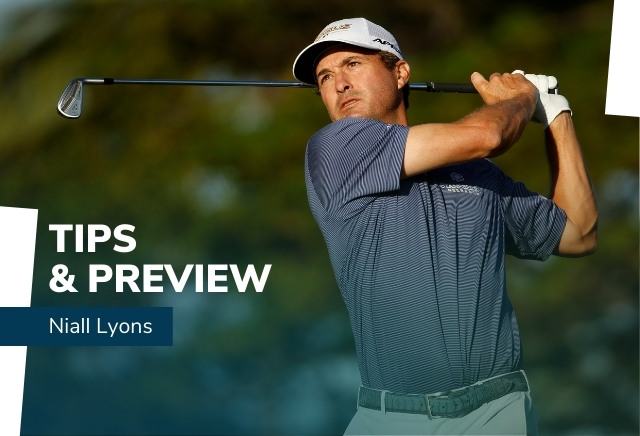 After picking up three place wins for last weeks PGA event, Niall Lyons picks out the best value golf betting odds for this week's PGA Tour event, AT&T Pebble Beach.
AT&T Pebble Beach - Winner
We move along the Californian coast this week to Pebble and the return of the traditional pro am here with the celebrities on the tee and the three course rotation back after previous restrictions. All three courses play under 7200 yards and history here has told us that distance means virtually nothing this week.
Dog legs, shorter tracks and easier set ups force players into a more strategic approach tee to green as we welcome small surfaces to land approaches on, especially at Pebble. Inevitably, greens will be missed here and SG Around The Green has been prominent in most renewals of this. Approach game as ever is key, even more so this week with small targets to aim at.
Form on coastal tracks is always worth a nod as well as form on shorter tracks like Colonial and Harbour Town. Same as Torrey last week, we have Poa Annua surfaces here and it's always worth considering those with a better record as those growing up on these greens have a significant advantage.
This is a relatively weak field so the top of the market must be considered. Cantlay is a top price 8/1 and is a comfortable favourite amidst conditions that will suit. However, the format here is difficult and there is luck involved with the draw and the weather on each days.
Catch Pebble or Spyglass on the wrong day and you'll be behind the eight ball. Throw in the celebrities alongside them and I don't think it's prudent to play towards the top of the market. Plenty make more appeal further down the market.
Kevin Kisner at 50/1 (Eight Places)
Kevin Kisner has shown little signs of weakness lately and must be respected coming back on this three course rotation. Once again he is suited by the lack on length needed on these courses and is a coastal, short course bully. That being said he is hard to rely upon and often throws in below par performances when you least expect.
All parts have his game have been on song the past few weeks finishing eighth and third in the two Hawaii events. He hand picks his schedule quite impressively and Pebble must be one on the list he thinks he is more than capable of winning. He went off around 28/1 at the Sony in a stronger field and I didn't expect anything bigger this week with significant names missing out.
He did nothing at the Sony that suggest there should be a drift, even though we have a much stronger jolly in Cantlay than what we did with Smith at Waialae. He is an easy selection as top bet this week.
2pts each-way K.Kisner 50/1 (1/5 8)
Kevin Kisner - 2pts e/w @ 50/1
Mackenzie Hughes at 50/1 (Eight Places)
Mackenzie Hughes was extremely unlucky to miss the cut on the number last week at Torrey and has to be supported around the 50/1 mark. At the final hole of his first round a marshall placed a flag beside his ball in the rough near the par 5 green which he was alongside in two shots.
He proceeded to pitch it onto the green when he realised it wasn't his ball at all. A silly error by the marshall had cost him two shots and he had the weekend off.
A 10th placed finish is the best Hughes has posted here in four visits but he looks to be on the verge of his second tour victory. He has been in or around the top 50 in the world now for a couple of years and a win will surely come at the right venue. Winner and runner up at the RSM, third at the Travelers, second and third in Puntacana are all signs that Coastal tracks suit and with the field considerably weaker than last week getting 50/1 or more seems plentiful.
1pt each-way M.Hughes 50/1 (1/5 8)
Mackenzie Hughes - 1pt e/w @ 50/1
Matt Kuchar at 66/1 (Eight Places)
I put up Kuchar a few weeks ago at 100/1 at the Sony when he finished seventh (advised five places) and I'm not dissuaded to go in once again with conditions set to suit once again. Kuchar has made coastal tracks his forte during his career with wins at Waialae, Harbour Town and El Cameleon.
This is where he is best and he also putts extremely well on Poa Annua surfaces. All parts of his game are in fine working order and I don't think he is far off getting back into the winners enclosure, something he hasn't done on the PGA Tour for over three years now.
1pt each-way M.Kuchar 66/1 (1/5 8)
Matt Kuchar - 1pt e/w @ 66/1
Brendon Todd at 125/1 (Eight Places)
Brendon Todd goes well on Poa Annua greens and I don't think his golf lately has correlated with his results. Two of his last three results have been missed cuts, both when putting poorly whilst gaining plenty on approach and around the greens.
He always faces difficulty from the tee with his lack of length but his performance is much better on courses of this length. His off the tee stats should improve significantly with these courses, whilst if his putting improves like it normally does on Poa Annua surfaces then we should have a runner.
0.75pt each-way B.Todd 125/1 (1/5 8)
Brendon Todd - 0.75pts e/w @ 125/1
Andrew Novak at 250/1 (Eight Places)
Andrew Novak looks an interesting outsider at 250/1+. A graduate from the Korn Ferry Tour, he has performed well on the coast winning the Suncoast Classic and finishing third in the Emerals Coast Classic, both pretty close to each other on the coast of Florida.
Maybe Florida will be a place to look too where he may perform well, but signs have been decent so far on tour finishing 22nd at the Mayakoba and 26th at the RSM. Both events on the coast and both events stronger than this week's field, Mayakoba considerably so.
He ranked inside the top 30 in putting on Poa Annua last week at Torrey when making the cut despite conceding a lot off the tee. This should set up better for him and the field is considerably weaker.
0.75pt each-way A.Novak 250/1 (1/5 8)
Andrew Novak - 0.75pts e/w @ 250/1
Peter Malnati at 200/1 (Eight Places)
The odd silly price went up about Peter Malnati but was snapped up quickly by those a little too eager to wait and allow the price to become a little more liquid. If a little more patience was exercised we may see more firms come together for a good price rather than see early price changes and follow suit. Patience can pay off.
Malnati was struggling with his putter towards the end of last year but thankfully the touch has returned putting very well at the Amex despite a missed then finishing inside the top 20 on the Poa Annua greens last week at Torrey. His short game is in great nick and he should be suited by the regress in distance on these three courses this week.
His approach play was solid last week en route to his top 25 finish at the Farmers and if he produces similar again he could easily be a factor. Finished 11th here two years ago. Kodaira, Hahn and Lipsky were the three other outsiders I was looking to this week but just didn't quite make the grade.
0.75pt each-way P.Malnati 200/1 (1/5 8)
Peter Malnati - 0.75pts e/w @ 200/1