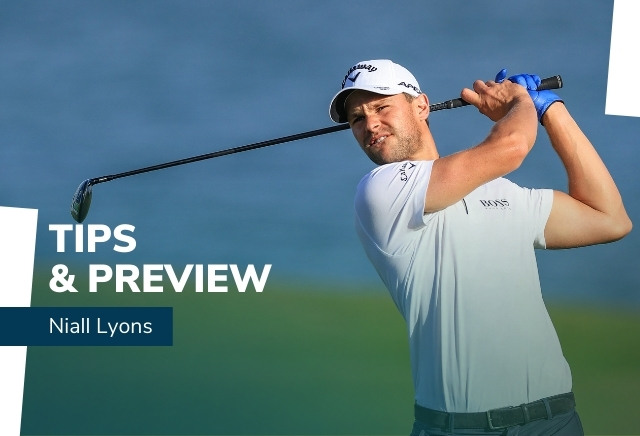 Niall Lyons picks out the best value golf betting odds for this week's European Tour event, The Ras Al Khaimah Classic.
Ras Al Khaimah Classic - Winner
We got our first proper glimpse at how Al Hamra plays last week and after sitting that one out I'm prepared to have a couple of bets this time around. There was definitely a coastal element at play last week I felt and controlling the ball in the freshening breeze wasn't straightforward. Undoubtedly though the winner and a handful of contenders made their gains last week from tee to green.
Nicolai Hojgaard ranked first off the tee and 2nd in approach which gave him the springboard to victory. Runner up Jordan Smith ranked second off the tee and so it definitely looks the way forward to scoring well here at Al Hamra. Nicolai takes his place at the top of the betting and understandably so. He has all the tools, and probably the bottle to win this again.
The way he recovered from the double bogey in the middle of the final round was extremely impressive and it remains to be seen just what he's capable of, it clearly is a lot. At 14/1 after last week's price more than double that, I shall be steering clear.
Rasmus Hojgaard at 28/1 (1/5 Seven Places)
I'm taking the plunge on the brother this week in the belief these two superstars will continue their domination on the DP World Tour. Upon watching last week I felt the track was quite similar to where he won in Mauritius back in 2019. A poor week on the greens was the main reason why Rasmus didn't get further up the leaderboard and I certainly can see an improvement this time around.
There were two holes last week where he played them in a combined +7 so a lot of his problems were on two particular holes. He has a decent record on Paspalum to date so last week was somewhat of a surprise on the greens and if he can find a little with the putter he could easily be a runner. Either of the brothers I'm sure will be determined to make it a family affair with this doubleheader at Al Hamra and I believe they may just pull it off.
1.5pts each-way R.Hojgaard 28/1 (1/5 7)
Rasmus Højgaard - 1.5pts e/w @ 28/1
Ras Al Khaimah Classic - Winner
Thomas Detry at 25/1 (1/5 Seven Places)
Thomas Detry didn't do an awful lot wrong last week with all aspects of his game in good nick and I think he can capitalise on this field and finally land his first tour victory. He will no doubt feel a little left out with the emergence of the Hojgaard brothers and their prolific nature on tour, but for some it just takes a lot longer and they're often better for it whenever it starts to click.
The Belgian gained strokes in all departments last week and any continuation of that should see him figure. A 6th in Saudi shows he can perform on Paspalum greens and the playoff defeat to Min Woo Lee at the Renaissance Club shares a few similarities with the test here. I feel he isn't far away and just about ready to break down the door after witnessing his good friend Thomas Pieters win big a couple of weeks ago.
I'll be keeping it just to two selections here this week as I can't find a ton of value. These events are difficult to judge to right now and I prefer to play a little smaller.
1.5pts each-way T.Detry 25/1 (1/5 7)
Thomas Detry - 1.5pts e/w @ 25/1