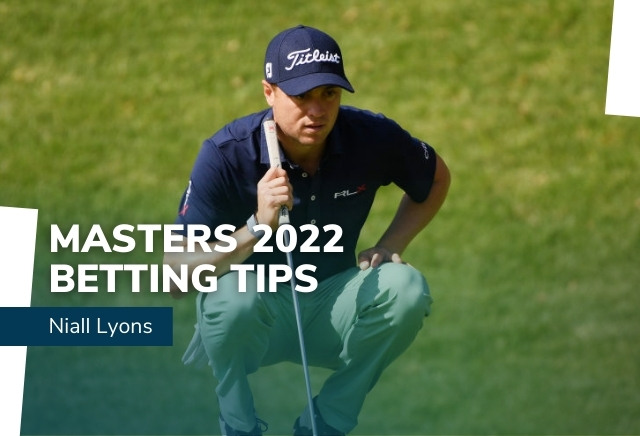 Niall Lyons, 152 pts in profit for the year so far, explains his five betting tips for the first major of the year, The Masters 2022.
2022 Masters - Winner
'April is the cruellest month, breeding lilacs out of the dead land, mixing memory with desire, stirring dull roots with spring rain.'
T.S Eliot describes April as a beacon of hope and opportunity which inevitably leads to disappointment and despair. Personally speaking, the Masters mirrors this with plenty of near misses and some gut wrenching defeats. You'll hear plenty say it's the best major for punters as the potential list of winners is small, which it is, but deciding between them is a tough task.
Collin Morikawa holing out at St George's last summer feels like a lifetime ago in golfing terms with plenty of water running under Hogan's bridge since the last major. At some stage surely the schedule will change again and we'll see a longer 'major season' and not crammed into a couple of months.
This is where we are at though and the worlds best will attempt to get out of second gear and land golf's most precious prize, a green jacket. Not all jackets are the same. Tony Soprano didn't appreciate Richie Aprile's gift of a jacket after he had disposed of mobster tough guy Rocco DiMeo.
The green jacket on offer at Augusta though won't cause anywhere near the same level of offence, and an equally tough street fighter will need to display similar qualities to wrestle if off opponent's backs.
*Headline prices for each Niall Lyons selection accurate as of 10:00 on 04/04/22. For live price comparison, click HERE.
Justin Thomas at 14/1
Justin Thomas takes the headline selection as this looks like the year he could finally conquer Augusta. Thomas has threatened to take the course apart on numerous occasions only for something to get in the way almost each and every time. More often than not that has been putting around these treacherous greens. Generally speaking the putter hasn't been an issue this term though finishing inside the top 20 on the greens at both the Valspar and the Genesis recently.
In fact to date this is his best season with the putter thus far for the past four years. That club can come and go though and as always we rely on a little luck. His game around the green is made for gains around Augusta and I can't see that being an issue this week either. The slight worry is that despite finishing inside the top 25 in his last five efforts at the course, he is yet to pose a serious threat to winning it.
His highest finish (4th) was eight shots behind the runaway winner Dustin Johnson. Johnson himself had a couple of chances here before winning, and Matsuyama had his moments here also before victory, but Thomas has yet to get his teeth into a back nine charge here. That being said, it may be no negative when you consider the ghosts some others have attempted to slay here and fail to do so.
Thomas has no war wounds at Augusta and the place is made for his pinpoint precision with his irons. The big surprise is how long it has taken him to put together a big effort here but Johnson, Matsuyama and Garcia all obliged with a few more miles on the clock. Thomas' game is in great nick, and bar Scheffler probably has the most impressive game on paper this year. It is time for it to translate to his well deserved second major.
3.5pts WIN J.Thomas 14/1
Justin Thomas - 3.5pts @ 14/1
Brooks Koepka at 20/1
Brooks Koepka gets the vote of the other towards the top of the market who looks backable. Cantlay came into fair consideration but has ultimately disappointed in majors thus far and just like it took a little bit more time than expected to land the riches on the main tour, it may be a few years until he gains enough experience in major battles to get across the line.
At the prices though, he is certainly one of the more positive stories. I prefer Koepka though who was 6th off the tee and 17th on approach last time out at a strokeplay event at the Valspar. That's worthy of note as after a tough spell in early 2021 he showed encouraging signs the week previous to winning the Phoenix Open. He got to the quarters in the Match play which could be seen as enough of a positive not to have gone the full way there in a demanding week.
He arrives back at Augusta, a place where he really ought to have won in 2019 bar a mishap at the 12th saw him finishing runner up. A handful spurned opportunities that day and Woods was the only one left standing. 7th in the November edition was another positive whilst a missed cut last April can be explained somewhat due to injury concerns hovering over him.
Since his invincible days a few years ago he has dropped the ball a couple of times in Major Championships but the consistency remains and he looks primed for a big effort. Dustin Johnson can't be far off either and Augusta could bring out the best in his game once again, which has been slightly lacking over the past year or so. He is a regular contender here bar his missed cut last time but recent signs are encouraging and he is certainly another worthy of consideration towards the top.
3pts WIN B.Koepka 20/1
Brooks Kopeka - 3pts @ 20/1
Shane Lowry at 45/1 (Nine Places)
Shane Lowry is difficult to leave off the staking plan and at the price appeals a lot more than a lot in this market. The Irishman is on a streak of 10 made cuts in majors which is a major boost to his chances here considering how much improved his game is. He has the perfect ball flight to contend around Augusta and signs have been better in recent years finishing 25th in the November edition and 21st a few months later.
He was unlucky in defeat at the Honda when the rain came down and changed the 18th to a par 5 and a half really. He looked booked for the win an hour previous before Straka produced a career effort over the final few holes. They are the fine lines we are dealing with and always worth noting when looking at trends of previous Masters winners.
Lowry was all but a winner this season bar a few miracles conspiring against him at PGA National. His approach play has been absolutely off the charts this season and he'd be unlucky not to achieve something special amidst this type of form. He struggled for a while after winning the Open but it has been a relatively smooth comeback unlike some others who have been in his position down the years and Lowry could reap the benefit of his hard work very soon.
He'd be more in the mould of Patrick Reed who could win this with his short game lighting the torch paper towards victory. He has proven himself a steely competitor since re emerging from his mini slump after Portrush and with a little wind forecast and colder conditions than usual this year's Masters could hold a huge chance for Lowry.
As part of the Masters 2022 Preview show for oddschecker, Lyons said of Lowry: "I just think he's hit a new level in the last couple of months. His game has developed so well this season to the point where he's almost playing top five in the world level - that's how good I consider the golf he's playing to be."
1.25pt each-way S.Lowry 45/1 (1/5 9)
Shane Lowry - 1.25pts e/w @ 45/1
Marc Leishman at 80/1 (Eight Places)
Marc Leishman is one to consider despite the fact he'll probably be favourable among the masses for a mug punt every year at the Masters. His record is solid here lately with a 5th, 9th and 13th in three of his last four efforts here. The Australian has a tendency to let himself down in majors when pre tournament he looks to have a proper chance, underlined by missing five of his last eight major cuts.
Augusta does look to be where he is comfortable and he comes in very under the radar this time having not won since his victory at Torrey early in 2020. There were good signs at Torrey and Riviera a few months ago playing extremely well from tee to green and to boot this is comfortably his best year on the greens in a long time. Since then a low key made cut at Bay Hill was followed by a missed cut at Sawgrass (on the number, and from the wrong side of the draw where he was seriously inconvenienced) then in the group of death at the Matchplay with Thomas and Kisner.
Therefore, his recent form is masked slightly and I believe he could be playing slightly better than what may appear. He is in the mould of Hideki and Sergio who having had plenty of miles on the clock and a few near misses in Majors finally got over the line at Augusta. With plenty looking short in the market, Leishman certainly doesn't in the 66s to 80s range.
1pt each-way M.Leishman 80/1 (1/5 8)
Marc Leishman - 1pt e/w @ 80/1
Tony Finau at 66/1 (Eight Places)
Tony Finau has shown enough in recent efforts to get some of my money this week. Having drifted to a big number his chances looked bleak but he managed to find something late on in the Match Play when out of the event. He beat Xander Schauffele by four holes when shooting -7 and last weekend performed credibly enough to suggest he may have just found enough to perform well once again at Augusta.
27th in Putting at Texas is a big positive as the flat stick has been a major thorn in his side all year. Finau has three top 10s in four efforts around here amounting to 10 top 10s in 22 major outings. He brings his best stuff to these tournaments and having drifted to 66s a number of weeks ago I'm surprised the bookies haven't trimmed that into 50s and below for someone clearly capable of at least placing given recent signs.
Question marks still surround his finishing of events as he is still somewhat of an underachiever in the winning department, but come Major weeks he can prove to be much more of a danger than others sitting alongside him in the betting. His short game has been the major problem but there were reasonable signs of improvement in Texas and it seems a decent risk/reward type wager given how easily he could finish in the top ten.
1pt each-way T.Finau 66/1 (1/5 8)
Tony Finau - 1pt e/w @ 66/1
Max Homa at 125/1 (Eight Places)
Not many outsiders get over the line here but one I am prepared to take the chance on is Max Homa. The Californian has impressed on the West Coast with a notable victory at Riviera and another top 10 there this year. His performances since that top 10 at the Genesis have been particularly impressive showing us he's not a one trick pony on that side of the States but his game can travel.
Top 20s at Bay Hill and Sawgrass were eyecatching efforts finishing 10th and 8th in tee to green performances there in consecutive weeks. Truth be told there are not many better than him this year off the tee and on approach so we should see a significant improvement in his current Masters/Major record of two missed cuts from two efforts. It's a tall order given that previous form, but his game certainly deserves respect and on paper it surely can deliver at Augusta. Worth the risk at triple figure prices.
0.75pt each-way M.Homa 125/1 (1/5 8)
Max Homa - 0.75pts e/w @ 125/1