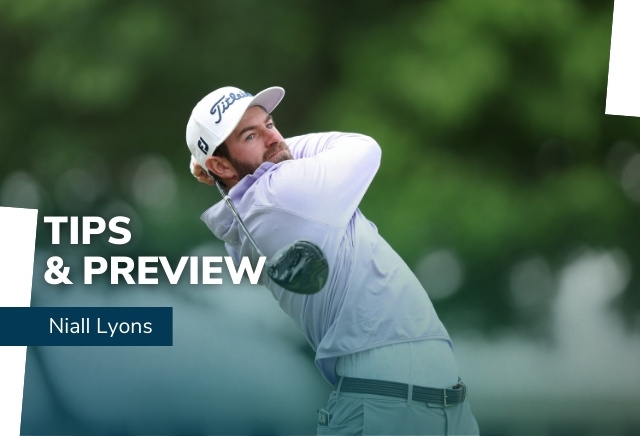 Niall Lyons picks out the best value golf betting odds for this week's PGA Tour event, The Memorial Tournament.
The Memorial Tournament - Winner
With golf punting comes torturous hours of pain and suffering. I thought I had seen it all though. The Dutch Open finish was one of the most incredible turn of events I've seen in the game and I'm still trying to figure out how Ryan Fox didn't win it. Numerous events took place which I made well into the tens of thousands to-one to land in order for him not to win. Perez's birdie birdie finish, Fox's double on the last, then the numerous putts holed by Perez to stay in the playoff and to eventually win it. It was without doubt the worst beat I have ever been a part of.
Onwards we move though to Muirfield Village in Ohio for the Memorial where we once again see a reduced field like last week. This is a ball strikers paradise where if any part of your long game is missing you'll find it very difficult to score. High rough awaits wayward drives although the fairways certainly aren't among the hardest to hit on tour. Nevertheless though, stray from the cut and prepared and you'll find plenty of trouble here. It is certainly more of a second shot golf course where approach play is key to finding the small targets. Inevitable greens missed puts increased emphasis on scrambling also. A host of average putters have performed well down the years here although it must be said putting certainly seemed an easier task here last year following the new greens built. Putts were notoriously hard to hole here down the years hence levelling the playing field between the good and the not so good putters. We don't have enough evidence if that playing field has widened again, but on the evidence of 2021, it is certainly a possibility. Other Nicklaus designs like PGA National, Glen Abbey and PGA West are always worth a glance. 2020 was an extremely tough setup with -9 winning the event but the Wells Fargo at Potomac reminded me of the Memorial renewal of 2020 and with various players having played well on both the result from a few weeks ago may be worth studying as we could see a very similar test.
Cameron Young at 33/1 (Eight Places)
Cameron Young has quickly developed into the brightest maiden on tour and I'm backing him to break that duck this week at Muirfield Village. Hailing from the Empire State, Young has catapulted himself into the top 30 in the world from outside the top 500 in little over a year. His first season on tour has so far resulted in three runner up finishes and a further two 3rd place finishes, all of these being in deep fields. Hia game clearly travels to many types of layouts but the common denominator in all of them have been places where good ball striking is imperative. His tee to green game has been exceptional all year, and has been eye watering lately. He was 2nd T2G at the PGA, 1st at the Wells Fargo and 2nd at the Heritage. Harbour Town is a much more strategic track and Young showed his versatility once again by finishing 3rd there. He was 55th in putting that week whilst finishing 3rd and was 57th on the greens when finishing runner up at Potomac. His upside is huge and once he starts winning we can start kissing goodbye to these range of odds.
1.5pts each-way C.Young 33/1 (1/5 8)
Cameron Young - 1.5pts e/w @ 33/1
Shane Lowry at 25/1 (Eight Places)
It's a mystery really how Shane Lowry hasn't won this year yet but surely it can't be too far away as he is performing as good as some of the best in the world this year. The putter has often been an issue with Lowry during his career and gambling on him was sometimes pitched with an air of unpredictability as to how he would putt. This year though he is on course for his best putting year on the pga tour currently ranking 11th on tour in SG Putting. That has complimented his much improved long game ranking 23rd on tour from tee to green. Portrush will always be his peak moment, but you could have been forgiven for thinking he'd never reach heights like that again. This year has highlighted just how much he has improved though and nothing is now off limits. He finally got to grips with Muirfield Village last year with a 6th placed finish and a tough examination in many departments this week should really suit his solid all round game right now.
1.5pts each-way S.Lowry 25/1 (1/5 8)
Shane Lowry - 1.5pts e/w @ 25/1
Brendan Steele at 150/1 (Eight Places)
Brendan Steele's long game appears to be reaching a standard that could see him win once again soon and triple figure prices this week look worth a few quid. Although never coming close to winning this Steele is on a run of 7 made cuts on the trot at this layout and the quality of his game right now just may be the difference at a layout he has been quite consistent on. Earlier in the season he was 3rd T2G at Bayhill, 5th T2G at Sawgrass and most recently 4th T2G at Southern Hills. On any given week he has the ability to punch with the best in his long game. The problems come on or around the greens. Nevertheless, there were positive signs in those departments at the PGA and we know the history of some of the poorer putters being able to make hay here. A lovely price around the 150s mark.
1pt each-way B.Steele 150/1 (1/5 8)
Brendan Steele - 1pt e/w @ 150/1
Matt Jones at 150/1 (Eight Places)
With a runner up and a 3rd placed finish already posted this season it is easy to see the upside to backing Matt Jones at triple figure prices. The Aussie had been struggling with his approach game in the lead in to Colonial but finished 7th in the field in that department last week and I'm hoping that continues. He has a lovely touch around the greens which helps around here as these greens are not easy to hit. This isn't necessarily a place dominated by the bombers but his length off the tee helps. His approach play has always been his achilles heel but signs were good last week and I'm prepared to take the chance on him at such big prices. He obliterated the field at the 2021 Honda, another Nicklaus design when winning 5 shots. This is a tall order, but the price is big enough to get involved
0.75pt each-way M.Jones 150/1 (1/5 8)
Matt Jones - 0.75pts e/w @ 150/1
Anirban Lahiri at 125/1 (Eight Places)
Anirban Lahiri is another worth chancing at triple figures this week given what he has produced this year. He has been solid most of the year in all departments with approach play being his biggest worry. Upon missing the cut last time out his long game was super and he would have been inside the top 20 on approach after the first two days. His putting was atrocious though, his worst effort all year by a distance and scuppered his chances of a decent week. 2nd at Sawgrass and 6th at Potomac this year is a sure sign he is playing these tougher tee to green layouts quite well. He went mighty close at Sawgrass and surprised many but his golf since has proven it was no fluke.
0.75pt each-way A.Lahiri 125/1 (1/5 8)
Anirban Lahiri - 0.75pts e/w @ 125/1
Justin Lower at 500/1 (Eight Places)
Justin Lower must be supported at huge odds in what would be one of the most pleasing stories ever to arise on the pga tour, maybe when they need it most. The Ohio native hasn't had an easy time as a professional but may be finding his feet following a couple of nice years on the Korn Ferry Tour and now a few solid results on the trot on the main stage. If and when Lower gets into contention he may just have the tools to get over the line simply down to perspective of the occasion. As a 15 year old Lower was waiting at the Lyons Den Golf course (of all names) in Ohio for his dad and brother to pick him up. They never made it though and were both tragically killed in a car accident. Now 33, Lower has found his feet on the professional stage and his game lately may just give him the confidence to perform in his home state. He was 15th on approach at the Byron Nelson last time out, and 17th on approach at the Wells Fargo. His work around the greens is not at the levels we'd need for a win around Muirfield, but he's in his home state at a course he will know a lot about. Worth chancing.
0.5pt each-way J.Lower 500/1 (1/5 8)
Justin Lower - 0.5pts e/w @ 500/1