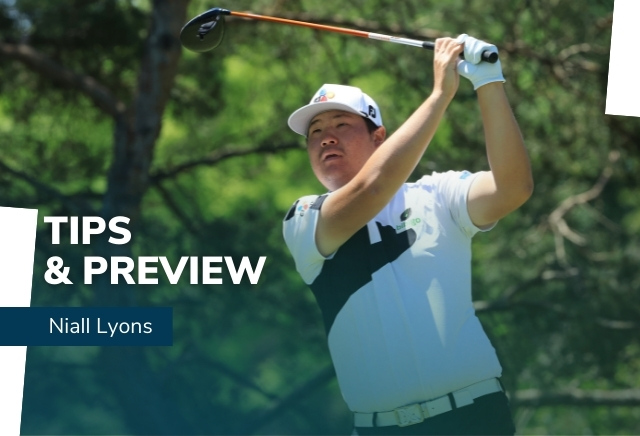 Sungjae Im is the headline US Open selection for Niall Lyons, who goes into this week's third major at +189 points for the year.
US Open - Winner
On both the main tours last weekend we saw the positives shine brightly and despite many issues needing ironed out in order to gain and retain it's viewership it was a gentle reminder of just how special both tours can be on their day. Rory McIlroy and Tony Finau brought some joy to readers of this column by dominating the weekend in Canada alongside Justin Thomas.
US Open 2022 Preview:
McIlroy has had some close calls lately but it was clear to many that his long game was performing as one of the world's best and all he needed was a decent week on the greens to win again. That arrived, finishing the week 7th in SG putting which will do the job once you have topped the T2G stats for the week. I mentioned last week he is on the cusp of something special and it feels even more tangible now that he'll create more history in either of the next two majors.
For many over 30 years of age the Country Club at Brookline is etched in our mind from the controversial 1999 Ryder Cup where the US team and WAGs ran onto the green after Justin Leonard holing the miler before the Cup was decided. The depths that some golfers sink to in that exhibition still surprises me but for most of us that's the last action we saw at this course.
In 2013 Matt Fitzpatrick lifted the US Amateur title here and there has been a Gil Hanse restoration taking place in the recent years. Gil Hanse has had a hand in many designs/redesigns in the past few years, most notably at Southern Hills, the scene of the last major, the PGA. I have often pointed out that the previous major performance is one of the biggest pointers to the following major and none more so than the US Open. I highlighted that here in a recent trends piece I wrote.
US Open 2022 Tips:
When looking at the last seven winners of the US Open, the worst finish of those in their previous major was 13th. Although I'm not one to stick to trends by Gospel, this is one that I think is extremely important and we're likely to see some of the same characters that we've seen contest the Masters and PGA in previous months.
The course looks like a tough assignment and a shade different to other US Open venues in recent years. Bomb and gauge tactics have dominated affairs at this event down the last number of years but the long rough and fescue will become a severe problem if you stray from the tee. The shift in attention from length to accuracy may throw up a slightly different result to the majors thus far in 2022 but I'd still be surprised should one or two from near the top at Southern Hills compete here for the title over the weekend.
Sungjae Im at 45/1 (Nine Places)
Sungjae Im was forced to sit out the PGA at Southern Hills due to testing positive for Covid but has shown no ill effects since coming back at the Colonial. 15th there could have been better had he not endured a tough week on the greens and the following week a top 10 at Muirfield Village was further evidence that the Korean is in fine shape.
He has gained a few yards off the tee this season and I expected to see this translate to another win this calendar year but so far it has been a series of consistent finishes. One of those being tied for 8th at the Masters where he was in the penultimate pairing on the final day. I believe these to be invaluable experiences and they can count for a lot whenever you're next in contention for one of these big four.
There is no weakness to his game and he gains in all departments which is a huge advantage at any US Open, but in particular this one at Brookline. His win at PGA National was a fine example of just how clutch he can be when in contention and I'd be confident of his ability of getting over the line in a major when the opportunity arises.
He has been on the fringes of contention a handful of times now in these Majors and the natural progression suggests he'll get a better chance some time soon. The raucous occasion in Boston will be similar to that of the Honda and the world no21 looks like a no brainer to have on the staking plan around the 50/1 mark.
2pts each-way S.Im 45/1 (1/5 9)
Sungjae Im - 2pts e/w @ 45/1
Patrick Cantlay at 25/1 (Nine Places)
I'm not one to get overly excited about anyone who hasn't performed well in recent majors but I can't quite put a line through Patrick Cantlay this week. His results in Major Championships have been nothing short of horrific for someone of his quality with only two top 20s in his last 11 efforts.
It hasn't gone well at majors but it took him a little while to realise his potential on the regular tour, and the major rewards may just take a little time also. This looks like a prime opportunity. A course with small greens just like the Memorial where he has won twice and finished 3rd just two weeks ago on his last outing.
This is a track where you'll need all parts of your game firing as you'll inevitably miss greens with the size and some tucked pins. Cantlay has always been a solid performer through the bag and although he lacks the form in Majors that is all so important, his wins at Muirfield Village are evidence that he can win the most coveted of PGA Tour events.
This season he has failed at the final hurdle a few times finishing runner up twice at Phoenix and Harbour Town. A win did follow with Schauffele in the team event at the Zurich where he played beautiful golf. A poor effort at the PGA can be excused a little bit due to the draw bias but plenty did overcome it whilst Cantlay continued down the major road of drab finishes.
The Memorial was the tonic he needed though and I expect him to take that form with him to Boston with what looks the ideal course fit for the world number 4. 25/1 looks a fair price with the place terms.
2pts each-way P.Cantlay 25/1 (1/5 9)
Patrick Cantlay - 2pts e/w @ 25/1
Matt Fitzpatrick at 25/1 (Eight Places)
Will Zalatoris has developed into a major machine and will have plenty of supporters this week. The playoff defeat to Thomas will hurt and although it certainly won't define the near future I fear a pattern of close misses developing akin to the early years of Mickelson's major career. It doesn't become any easier to win one after experiences like that and I'm now happy to swerve him this time around as this could turn out to be a little different to other long major venues recently.
The rest of the market towards the top look priced correctly and although Thomas and McIlroy hold all the aces given the golf they are producing, they make little appeal in terms of price. Fleetwood played well at the PGA and he is another who could see that form carry him towards another solid major effort in Boston.
It's important not to fall into a trap of believing an ounce of course form here from nine years ago counts for anything this week, but whether he had it or not, I think Matthew Fitzpatrick has a huge chance of landing a maiden major victory this weekend. The Englishman won the US Amateur here in 2013 and will have good vibes following a fine effort in last month's PGA.
He made it to the final group alongside Mito Pereira that Sunday and having seemingly played himself out of it early doors came right back into it mid back nine before faltering just before the final couple of holes. That experience will prove fruitful no doubt, as will being an eyewitness to what went down with the Chilean all day Sunday and in particular the 72nd hole.
He will have watched the leader battle all day to retain the lead only to let it slip with one bad swing on the final tee. The lessons the Englishman will have learned that day are plentiful and I wouldn't be surprised should we see it pay off almost immediately. He has since continued his long game excellence at Muirfield and in Canada last week.
A career worst week on the greens at Muirfield a few weeks ago was the sole contributor to that missed cut with the rest of his game firing once again. Ranked 18th in the world, it feels to me as if he's playing like a top 10 golfer at the very least. Still to win in the States is a massive hurdle to overcome, but this US Open lands on the venue in which he last tasted success on these shores and with the setup looking perfect for his game he should be a huge runner.
2pts each-way M.Fitzpatrick 25/1 (1/5 8)
Matthew Fitzpatrick - 2pts e/w @ 25/1
Max Homa at 45/1 (Eight Places)
Max Homa has continued his hugely impressive run of figures lately and I see no reason why not to include him here in Boston. The Californian is a four time winner on tour gathering those victories during his last three years on tour. No more evidence was really needed but his victory at Potomac was particularly eye catching given how demanding it was from the tee that week and I expect Homa to be unfazed by the tough driving assignment that presents itself here.
Last time out at the Memorial he finished 5th on route to making history being the first player in the modern era to record less than 100 putts during four rounds scraping just under at 99. His long game is right up there with some of the best in the game but what he does have is a smooth putting stroke to compliment that and he is a certainty to add to that already impressive winning CV.
13th at the PGA is the perfect warm up for another major effort as I have pointed out and you need to go back to January before seeing his last missed cut on tour. An extremely consistent performer and good throughout the bag which bodes well for a big effort here in Boston.
1.25pts each-way M.Homa 45/1 (1/5 8)
Max Homa - 1.25pts e/w @ 45/1
Webb Simpson at 80/1 (10 Places)
I'm amazed Webb Simpson is available at 80/1 this week given the task that presents itself this week at the Country Club. The stereotypical old style US Open credentials may be more advantageous this week compared to the way Bryson slayed his way to winning this and Simpson still retains a lot of those strengths. It has been a challenging couple of years for Simpson with his game having gone off the boil slightly from mid-2020 when he reached a career high of 4th in the world.
This year hasn't been plain sailing but he bounced back to form recently with a top 20 in the PGA then 27th at the Charles Schwab. It is also worth noting he posted that top 20 at the PGA from the wrong side of the draw. He gained in every department throughout both those events so evidence is that his game is beginning to come together and if he continues to improve this former US Open Champion would be a huge danger to everyone on the leaderboard.
He finished 24th from tee to green on both his last efforts and a similar effort should see him gaining even further ground in Brookline with his tendency to hit an accurate ball from the tee. His game has returned just in time for a really suitable venue and must be included at 80/1.
1pt each-way W.Simpson 80/1 (1/5 10)
Webb Simpson - 1pt e/w @ 80/1