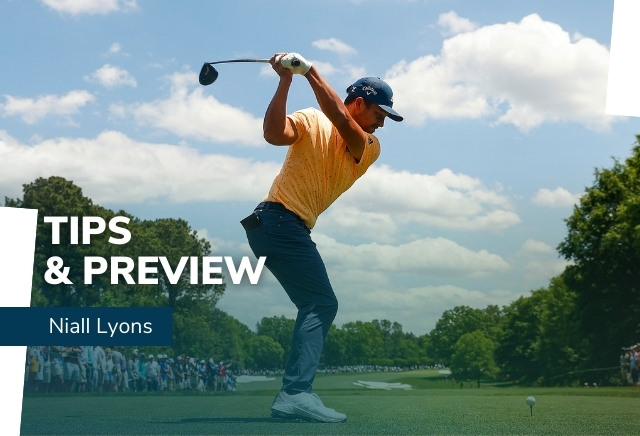 Niall Lyons has seven tips for the final major of the year at St Andrews, the Open Championship 2022.
Open Championship - Winner
Of all the Open venues, St Andrews remains the one most easily tamed, and it's a slight worry this week. Warm temperatures are set to hit and a light wind throughout means there is little in the way to defend this already straightforward test. With the players given a green light to smash the driver all week we could see the Major course record under threat. Pot bunkers may be the only challenge for the players to navigate through and unless the course gets really fiery as the warm weather continues we could see silly scores.
The Open doesn't see par is any sort of barometer seeing double figures under par have been needed to win the last seven renewals and I expect the R&A will have little or no control as to how low the scores may go over the four days. This could make for more volatile results as the test is a lot easier than what we see at other Majors but the cream have risen to the top in this event throughout history and nowadays a repeat of Ben Curtis seems very unlikely.
Xander Schauffele at 16/1 (Eight Places)
McIlroy looks short enough to my eyes to win this week having let plenty of opportunities pass him by this year. His short game is nevertheless in a tremendous nick and that could be a huge positive for him at the Old Course. Rahm has cut a frustrated figure all year and although tempting at 20.0 on the exchange I can't help but feel he isn't quite in the right head space for a major win right now.
That being said, his links record is excellent and we could look a bit foolish at the end of the week not having capitalised upon that. However, I prefer two American ahead of the two European powerhouses, firstly in the shape of last week's winner Xander Schauffele.
He comes here as the standout performer and sometimes we can be a little guilty of overthinking things. Xander rightly slots in as second jolly but I do believe he has every right to be closer to McIlroy in terms of price. Having won the Zurich alongside Patrick Cantlay he has since finished 5th at the Byron Nelson, 13th at the PGA, 18th at the Memorial, 14th at the US Open, 1st at the Travelers and 1st at the Scottish Open.
He overcame a bad draw in Scotland also. Throw in a comfortable victory at the JP McManus pro am last Monday and Tuesday and we have someone clearly way out in front in terms of recent form. Molinari won this having won twice in his last five starts.
Spieth won having won on his previous start. Stenson won the BMW three weeks prior to his Open win. Mickelson won on his last start before winning in 2013 also. Recent winning form is a huge pointer and fatigue is the only aspect I'd worry about with the X man.
1st from tee to green last week was indicative of how good his game is right now and the experience he got under pressure around the greens last week will be a huge advantage when dealing with the firm conditions facing the players this week. His approach game is one of the best in the world these past couple of months and if the putter behaves in Scotland I can see the same result playing out for the second week on the trot. Too hot to ignore.
3pts each-way X.Schauffele 16/1 (1/5 8)
Xander Shauffele - 3pts e/w @ 16/1
Justin Thomas at 22/1 (Nine Places)
Before he teed off in round one of the PGA I highlighted the drift for Thomas on social media.
25.0 Thomas surely interesting...

— Niall Lyons (@Betgolfworld) May 19, 2022
Of course he went on to win the PGA with a proper grinding effort down the back nine there. Here we see 25.0 again before a ball is hit having landed a major this season. That is more than likely down to a sub-par record at the Open having not managed a top 10 to date. We have seen many come of age late on in the Open though and at this stage, it is still relatively early days for Thomas.
The Old Course should suit though and as we chatted about in April he is one of the best exponents of chipping from tight lies. With the course set to firm up this will be even more of an advantage and Thomas has the chance this week to really put himself in the Hall of Fame category. Plenty towards the top of the market have question marks and although Thomas certainly has one surrounding his links form, he remains probably the most backable at the prices.
He has looked good in preparation with a jaunt to Ireland then a Tiger lesson at St Andrew's late on Sunday evening. There isn't much to add here bar the fact I think he has the perfect game for around here and the price looks perfect.
2pts each-way J.Thomas 22/1 (1/5 9)
Justin Thomas - 2pts e/w @ 22/1
Dustin Johnson at 33/1 (12 Places)
Victor Hovland is another who has drifted to a big price after some recent poor form. The task from 70 yards and in may be another reason for that drift, but nevertheless one of the more talented golfers in the field must be worth a second glance heading towards the 50/1 mark. However, at slightly shorter odds I'm prepared to take the chance on Dustin Johnson.
As I pointed out in my trends piece on the Open, Augusta form is crucial and Johnson has a win in the November edition as well as a runner-up in the April slot. He comes here with a cloud surrounding him of course with the LIV chat but his recent form suggests he is worthy of consideration.
He played well on approach at the PGA only to be undone by a poorly behaving putter. 24th in the US Open could have been better also had he managed to hole more putts. His LIV expeditions have resulted in 8th and 3rd and although we have no official stats from those events we can assume is playing decent golf.
He led at halfway here in 2015 only to be blown away by the wind and wet weather that engulfed the course that weekend. His approach play has been firing for a few months now and if he can find some form with the putter he'd be a serious danger. A LIV golfer winning a major would blow away a lot of the cobwebs in the conversation and should they continue to be allowed to compete in these events then it will happen sooner or later. DJ is a prime candidate to be able to overcome the doom and gloom and he has probably reached the perfect point in his career experience-wise to win an Open Championship.
He finished 8th last year to post his fourth top 10 finish in this event and St Andrew's no doubt suits him more than any of other venues. Worth the risk given the potential upside to his reliability should he get into contention.
1.5pts each-way D.Johnson 33/1 (1/5 12)
Dustin Johnson - 1.5pts e/w @ 33/1
Keith Mitchell at 125/1 (11 Places)
One lively outsider I'm keen to get on side at St Andrew's is Keith Mitchell. He doesn't have any of the Major experience I value so highly and has missed the cut at his only two Open appearances, but I'd be bullish about him beating his previous Major best of 34th.
A resident of Sea Island and having played his college golf there he is well accustomed to playing golf by the coast and dealing with the elements. The wind may only be a minor factor this week, but we saw in Scotland last week when a course begins to get firm it'll be beneficial to have those qualities in your locker.
His only win on the PGA Tour came at PGA National which is famed for tough scoring and wind. This century alone you'll find Leonard, Hamilton, Harrington Els and McIlroy who have won the Honda and also have their name on the Claret Jug. Parnevik, Kuchar, Scott and Fowler are others who have won around there and gone very close to winning the Open. He shot a final round of 66 at the Scottish Open on Sunday to finish a respectable 36th and this backs up some eye-catching form in previous weeks.
7th in the Canadian Open and 6th at the Travelers followed a top 20 in the Memorial and he is one of those at triple figures who has some serious form heading to the Old Course and the recent links jaunt under his belt. He hits the ball a mile and is putting extremely well these past few weeks which bodes for a big effort at St Andrew's. What I didn't know and what was pointed out by Ben Coley in his player guide is that his father is an R&A member and his sister went to school in St Andrew's. This is just about as good a triple figure poke as you'll back all year with the place terms available.
1.25pt each-way K.Mitchell 125/1 (1/5 11)
Keith Mitchell - 1.25pts e/w @ 125/1
Hideki Matsuyama at 40/1 (12 Places)
Hideki Matsuyama is another who looks primed for an Open tilt despite a poor week at the Renaissance. He does have an excuse that he was drawn on the side that had nearly a three-shot disadvantage over the first couple of days. It may pay to concentrate more on his magnificent effort at the US Open where he ranked 2nd on approach when finishing 4th. Two starts previous he topped the approach stats at the Byron Nelson when finishing 3rd. This is the upside to backing Hideki and should he land one of those special approach weeks then he must have a huge chance.
He has two top-fives in Open Championships and crucially has the Augusta form also with a win and a couple of other top 10s. His putting has improved down the years as has his work around the greens and despite having already won twice this season on the PGA tour comes in somewhat under the radar.
The previous major performance holds a lot of sway in recent years and the top five in Brookline is a huge positive. Experience counts for a lot usually in this event and Hideki may just be hitting the right stage to land his second major.
1.25pt each-way H.Matsuyama 40/1 (1/5 12)
Hideki Matsuyama - 1.25pts e/w @ 40/1
Seamus Power at 100/1 (12 Places)
Will Zalatoris has shown his major credentials for a while now and will no doubt be popular among punters this week. I can't help but feel his best chance lies on tougher, longer golf courses where his ability to set himself apart from the field is a shade easier than what that task will be this week.
Mito Periera was another who was on my shortlist but it is difficult to wrestle myself away from the horror second round of 81 in Scotland last week having got off to a decent start. Shane Lowry remains another lively option having played some the best golf of his career this year and his wizardry around the greens may prove vital.
Price-wise he just doesn't quite make the grade though. Instead I'll opt for another Irishman in the shape of Seamus Power. Power has catapulted himself up over 400 places in the world rankings in little over a year thanks to some excellent efforts, most notably the win at the Barbasol this exact week last year. Since then he has cemented his place in the world's top 50 finishing 3rd in the Sony and 9th at Pebble on the main tour.
It is his major efforts that really highlight his progression in 2022 finishing 27th at Augusta, 9th at the PGA at Southern Hills, then 12th in Brookline at the US Open. He finished a respectable 30th spot in the Irish Open a couple of weeks ago and chose to skip the Scottish ahead of his first outing at an Open at the Old Course. Paul Dunne did remarkable things in 2015 as an amateur here and Power may emulate his first three rounds there but have the class to finish the job off. He probably hasn't got the credit he deserves this year but comes under the radar in terms of what he has achieved.
His short game is very neat and is no slouch off the tee so the triple figures out there for him look very appealing. The one negative being this is his debut in the Championship which is famously a big hurdle to overcome. However, his 2022 Major efforts were also debuts, and he has fared extremely well to here and I'm hopeful he can continue in that fashion.
0.75pt each-way S.Power 100/1 (1/5 12)
Seamus Power - 0.75pts e/w @ 100/1
Christiaan Bezuidenhout at 100/1 (Nine Places)
Christiaan Bezuidenhout doesn't possess the length off the tee that others have around him this week but with a solid approach game and a hot putter can make up for that deficiency. The South African can continue in Oosthuizen's footsteps and make his mark on the Old Course. He has built up an impressive CV on famous golf courses with wins at Leopard Creek and Valderrama. Two top fives at Wentworth has shown how he can mix it with the stronger fields.
A runner-up in Qatar in 2019 is another positive with many having won there with strong Open Championship records. Like Mitchell, he lacks the Major experience at the business end and made his first cut at an Open Championship last year at St George's. What he lacks for in that department he makes up for with his recent game.
He finished 2nd behind JT Poston two weeks ago at the John Deere and did his chances no harm at all last week in Scotland closing with a 66 to finish in a tie for 16th. Another who arrives at the Old Course with a hot putter that remains a vital aspect of contending this week. Has long since been talked about as a player who could potentially win a major and this week probably holds his best chance to date.
0.75pt each-way C.Bezuidenhout 100/1 (1/5 9)
Christiaan Bezuidenhout - 0.75pts e/w @ 100/1