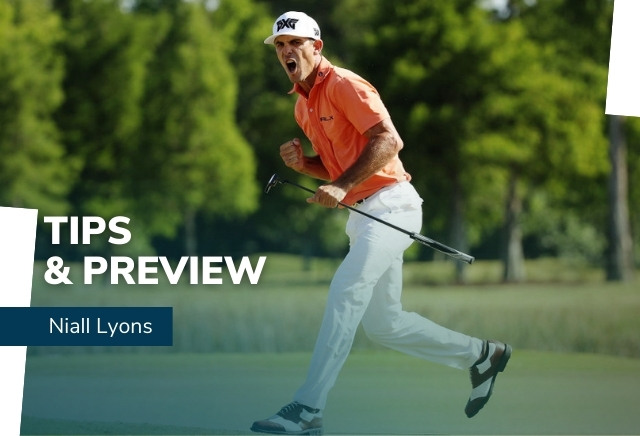 Niall Lyons picks out the best value golf betting odds for this week's PGA Event, the Wyndham Championship.
Wyndham Championship - Winner
The game is up for plenty this week as we enter the final full field event on the schedule for the 2021/2022 season. We know Sedgefield very well and this is the second week on the trot we have a course designed by Donald Ross. This track is quite the change from last week and although scores upwards of 20 under will be needed to win once again, the test is a fair bit different to Detroit. This is a relatively short par 70 featuring only two par fives.
Length off the tee is not much of an advantage and we can see that in the list of champions which includes Kisner, Snedeker, Stenson and the course wizard Webb Simpson. Indeed, driving accuracy is rewarded here better than most courses on tour and those who can set up birdie chances via good positioning off the tee will hold an advantage.
Of the six players who made the playoff last year, two of those ranked in the top three in Driving accuracy for the week. In 2020 Jim Herman (won) and Kisner (3rd), both topped the accuracy stats. In 2019 four of the top seven ranked inside the top 10 in the accuracy stats. Overall it's a decent pointer and those who can guarantee hitting from the short grass will have a bigger chance than usual. Solid ball striking is the way forward here and it'll be those specialists worth concentrating on.
Denny McCarthy at 40/1 (Eight Places)
Two MC's from his last three starts isn't enough to put me off getting involved with Denny McCarthy here this week. Still winless on tour but his game in the last few months suggests he is as close now as ever before. He is the highest he's ever been in the world rankings these last few weeks and that is largely down to a red hot putter. He ranks 4th on tour for SG putting this season and he'd be a tad unlucky not to close the year with some better finishes than what he has done with that form.
Truth be told his long game holds him back a little, and he suffers from a lack of distance for many weeks. He hits a much straighter ball from the tee than most and distance doesn't enter the equation at Sedgefield so this rates one of his best chances. He has finished in the top 20 here the last two years and looks likely to have a lot more to offer here this year and the future at Sedgefield.
Around the 40/1 mark looks very backable and his name would fit in very neatly among the previous winners of this event. His ball striking should improve with the different test at Sedgefield and I am quite excited about his chances. A handful have gotten their maiden win on tour at this track and Denny is poised to follow in their footsteps.
4pts each-way D.McCarthy 40/1 (1/5 8)
Denny McCarthy - 4pts e/w
Billy Horschel at 22/1 (Eight Places)
There are numerous golfers towards the top of the market who are interesting but it s difficult to choose between them. Simpson will have his followers around the 22/1 mark given what he has achieved here before. His game has been trending in the right direction also and there could be an argument that he shouldn't be six points bigger than the likes of Zalatoris and Lowry. I believe the latter two are a shade short if anything though and it is certainly difficult to get involved with any of those three at the prices. Billy Horschel looks the pick of them 22/1.
He was 2nd here two years ago and has lifted his game to a new level since then. He has come alive this time of year before winning at Wentworth in the Autumn of 2021, and of course his impressive run-winning twice on route to winning the FedEx back in 2014. His ball striking has been in good nick all year and when he manages to putt well he sees a big improvement in his results.
He ranked 2nd in putting here back in 2020 when finishing runner up and was 10th in the same stat when finishing 6th the year previous. Horschel clearly likes this course and I'd be surprised should he not make a bold fist of this once again. 21st last time out at the Open with a lukewarm putter and if he brings that long game here he surely has a big chance.
1.5pts each-way B.Horschel 22/1 (1/5 8)
Billy Horschel - 1.5pts e/w @ 22/1
Adam Svensson at 70/1 (Eight Places)
I noted at the John Deere that all Adam Svensson would need is a big upturn with the putter to compete and he duly obliged with the flat stick topping the SG putting stat for the week. Unfortunately, his tee-to-green game, which was consistent for the previous month, deserted him when we were on at 50s.
He finished in a tie for 24th but must be cursing his luck that the week the putter really heated up, his long game didn't make the grade. Since then he went well at the Barbasol finishing 6th, missed the cut at the 3M Open with a similar story to the John Deere, then last week finished 24th where he finished 2nd in SG approach but didn't bring the putter.
The story concludes that he has been a little unlucky producing spikes in various departments lately without everything coming together for one week. He hits a straight ball off the tee and will be suited by a return to this track where he shot 12 under on debut a few years ago. Looks worth chancing again at odds slightly bigger to what we got at the John Deere a few weeks back.
1pt each-way A.Svensson 70/1 (1/5 8)
Adam Svensson - 1pt e/w @ 70/1
Alex Smalley at 80/1 (Eight Places)
We backed Alex Smalley last week and I'm happy to give him another go in a similar strength field around the same price. He missed the cut last week largely down to an off week with the irons and around the green but his quality with his irons all season suggests that trend won't last very long.
His ball striking has been solid all season with the problems increasing the closer he gets to the greens. His finishes of 2nd in Punta Cana, 6th in Mexico, 16th John Deere and 10th in Scotland suggest there is a lot about this kid's game and I believe Sedgefield just may be perfect for him if he can manage a good week on the greens.
1pt each-way A.Smalley 80/1 (1/5 8)
Alex Smalley - 1pt e/w @ 80/1