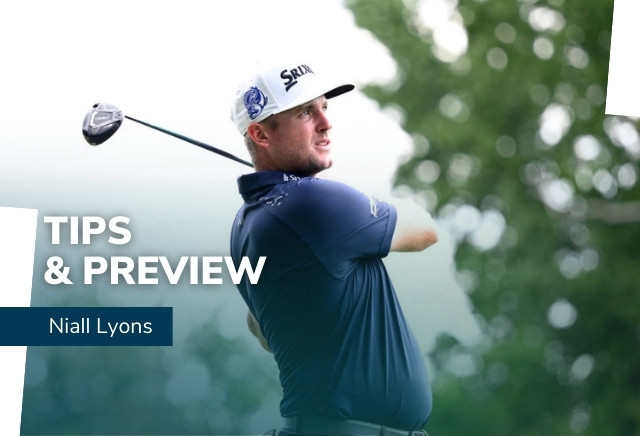 Niall Lyons picks out the best value golf betting odds for this week's PGA Event, the Fedex St Jude Invitational.
The Playoff season kicks off this week in Memphis with the return of the St Jude at TPC Southwind. The last few weeks of the season are always exciting as we see who has it in them to land what is the biggest monetary prize in the game. The only negative to the next few weeks of course is that we don't get the proper tournament we all desire at East Lake in a few weeks with the silly handicap scoring that gives the Fedex leaders a head start on one of the more interesting tracks they play all year.
The greens here are smaller than average and with Zoysia grass on the fairways we see more greens missed than we normally see week to week so short game increases in significance all week.
Will Zalatoris at 28/1 (Eight Places)
If Will Zalatoris doesn't land a win in the next few weeks then it will surely be his last winless season for a while as this swashbuckling type is destined for many trips to the winner's enclosure. Southwind should play to his strengths given the demanding nature of the course and the length of the par 4s in general.
Many approaches come in from 150-200 yards and he performs well in these brackets. We know his putting improves for the big occasion but this year it hasn't been a problem for the most part anyhow, and the odd frailty with the flat stick is often exaggerated by the broadcasters due to aesthetics.
He posted a top 10 here last year on debut ranking 9th in the field on the greens. TPC Southwind really does look like a track upon which he can land his maiden victory as it demands more of a 'major' game than many layouts we see. His ball striking has been consistent all year and I'd be surprised should he not make a bold effort in Memphis this week. It won't be long before sheds the maiden tag and 28/1 seems fair enough where his suitability to the course looks strong.
2pts each-way W.Zalatoris 28/1 (1/5 8)
Will Zalatoris - 2pts @ 28/1
Viktor Hovland at 40/1 (Six Places)
I'm slightly anxious to invest in Viktor Hovland this week given that short game usually plays a part here, but ball striking is paramount at Southwind and he has been recapturing early season form in that department and I'll take the chance at a top price of 40/1.
We saw Morikawa struggle in the Scottish in 2021 before winning the following week at St Georges and for a long way in Fife Hovland looked like he may provide the sequel. The Norwegian played well off the tee and on approach at the Renaissance before failing miserably on and around the greens. Not many saw what was to come at St Andrews on a week that really tested your abilities from inside 50 yards.
Hovland passed the test with flying colours though and maybe a little contention rust was what stopped him in his tracks on Sunday. His approach play earlier in the year was red hot and he looks to be improving once again in that department and possibly heading towards those figures.
After winning in Mexico and the Bahamas late last year he looked to be heading towards favourite for the majors at that point, and should be continue with the form he showed at St Andrews the 40/1 may look silly here. He didn't go off a whole pile bigger at the Open and this field is slightly weaker to the one we saw at St Andrews.
1.5pts each-way V.Hovland 40/1 (1/5 6)
Viktor Hovland - 1.5pts @ 40/1
Brendan Steele at 150/1
At 150/1 Brendan Steele is worth following closely given the golf he has produced this year and should his putter warm up in the slightest any of these given weeks then he must have a big chance of landing a prize before the fat lady sings. This has comfortably been Steele's most impressive year in the ball striking department ranking 10th on tour this year with the likes of McIlroy, Lowry, Schauffele, Scheffler and Rahm ahead of him.
That is the company he is keeping with his long game right now and for the last 24 rounds he ranks 3rd in the field in that department behind only Finau and McIlroy. This hasn't translated to a win simply because of his putter and whilst his long game has been in the best shape of his career, the flat stick has been performing the worst it ever has been.
However, they key to unlocking that problem could come at any given week with a change of putter, or a simple tip on the putting green before an event. At 150/1 I'm always prepared to take that chance that it turns around. Last time out at the Rocket Mortgage there was an improvement and if it can keep heading in the right direction then his long game suggests he should be nowhere near this kind of price.
1pt each-way B.Steele 150/1 (1/5 8)
Brendan Steele - 1pt @ 150/1
Taylor Pendrith at 100/1
I've written plenty about Taylor Pendrith in the last few weeks and I'm more than happy to include him once again whilst triple figure prices are still being published. He didn't stand a chance with Finau a few weeks ago and it was a shame we just bumped into one that week. Last week at the Wyndham the story could have been different had he managed to hole a few more putts and a lukewarm putter cost him having a chance of winning but admirably posting another 13th placed finish.
That is three of his last five efforts that have finished in 13th place. The other two being 11th and 2nd. This lad has a lot of potential and a swing that many would die for. At the minute it looks like he has a high ceiling and until I get evidence to the contrary I'll continue to bet what I believe to be a fair chunk of value.
1pt each-way T.Pendrith 100/1 (1/5 8)
Taylor Pendrith - 1pt @ 100/1
Mito Pereira at 125/1
Another at triple figures worth chancing is Mito Pereira. The Chilean has had an interesting season with the collapse on the 72nd hole at the PGA being the undesired highlight. That didn't set him back though and he continued that form the following week with a top ten at Colonial then 13th at Muirfield Village.
Since then his form has tailed off somewhat coming here off the back of four missed cuts on the spin. It must be said though that three of those four missed cuts included encouraging efforts with the irons and the main problems arriving on or around the greens, which hasn't been indicative of his season to date.
His game off the tee tailed off also at the Renaissance and at St Andrews but the Links golf may just not have been to his liking and I'm willing to forgive those efforts and take the positives from them where approach play was very good.
He lies 19th in ball striking this year on tour and should his game off the tee return to the norm after the links swing then he could easily be a factor here at Southwind. There have been numerous decent efforts here by debutants down the years and given how he has competed this year Mito may just surprise a few at big odds.
0.75pt each-way M.Pereira 125/1 (1/5 8)
Mito Pereira - 0.75pts @ 125/1