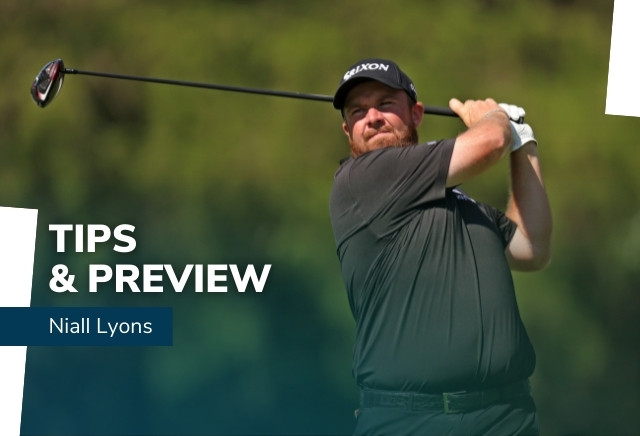 Niall Lyons shares his betting tips for this week's FedEx Cup playoff event on the PGA Tour, the BMW Championship.
BMW Championship
The PGA tour flexed its muscles once again last weekend in terms of entertainment and the investment in the story by the viewers remains undefeated and won't be under threat any time soon.
The near misses in the playoffs, from Straka skirting the water on 18 (twice!) and Zalatoris somehow managing to stay in bounds, to the drama of the par three on the rocks, it was box office material. Thankfully we were on the right side of it and it's always a little bit sweeter landing a maiden win for one of the game's most exciting prospects.
The playoffs roll on to Delaware this week and the South Course at Wilmington Country Club. This is the first professional event to be held here and information is a little thin on the ground.
What we do know is that it's a long 7500+ yards par 71 with plenty of undulations from tee to green. There are a handful of water hazards but length is probably the only defence for this course, and I'd say that defence will be very weak.
I believe it will take 20 under par here to compete I'm sure and with large greens it probably plays right into the hands of the bombers to dominate. Two of the par 5s are well over 600 yards and long par threes are also on the card so the shorter hitters may be able to compete on an equal footing on more standard yardage par fours.
Cameron Young at 28/1 (Seven Places)
At the same price of last week's victor Cameron Young is worth supporting to land his maiden title a week after his close friend. Young and Zalatoris have been close friends ever since rooming together at Wake Forest University. Just what sort of impact Zalatoris' win will have on Young is up for debate, but on merit he must have a similar chance of landing the spoils as what Will had last week.
Young finished a respectable 31st last week on 6 under par but worth noting he ranked 1st in strokes gained off the tee. 16th on approach was nothing to turn your nose up at either but his short game deserted him on what could have been a totally different week had he managed a hot putter. Instead he ranked last but one in that category which gave him no chance to compete.
We saw the fickle nature of that statistic though recently when he couldn't hole a tap at the Renaissance before putting extremely well at St Andrews the following week. Seeing his good friend roll in those pressure putts on the 72nd and during the playoff after huge attention given to his stroke will surely give him the confidence to believe he is next on the list to land that maiden title.
A driver reliant, long course should be perfect for him and it'd make for an exciting event at East Lake should two of the game's most exciting talents have gotten off the mark in the previous two weeks.
2pts each-way C.Young 28/1 (1/5 7)
Cameron Young - 2pts e/w @ 28/1
Viktor Hovland at 28/1 (Seven Places)
Viktor Hovland played reasonably well last week on route to a top 20 finish and I see no reason to desert him as the field decreases. He already won a no cut event with a small field at the Hero and he may need closely watched at East Lake. His game is certainly trending in the right direction and the bigger greens here in Delaware should mean he is chipping less than he usually would and that could translate to better scores.
His putting has remained consistent all year and it's hugely impressive the strides he has made in that department. The elevation changes and slopes around here remind me a little of a handful of holes in the Dubai Desert (most notably the 13th and 18th par fives) where he won beating McIlroy down the stretch there. He is yet to take down a big field of this quality though and that will be next on his list. A win in an event such as this will cement his place among some of the best in the game.
This looks like a decent venue for him and having performed well early on in his career on tracks for the first time, the fact that nobody has teed it up here before somewhat levels the playing field and boosts his chances.
1.5pts each-way V.Hovland 28/1 (1/5 7)
Viktor Hovland - 1.5pts e/w @ 28/1
Shane Lowry at 40/1 (Seven Places)
We haven't seen Shane Lowry at 40/1+ for a while and despite a couple of poor weeks with the driver I'm prepared to take the chance at the price. Earlier in the season Lowry was making waves and his game was stand out compared to many in the game. It is surprising he never landed the win around that stage, but the season isn't done yet. A return to a Trent Jones designed course should be a positive as the Jones track at Firestone was scene of one of his biggest achievements winning a World Golf Championship there. Similar to Firestone this course is heavily tree lined with tough rough and very long.
This should play into the Irish man's hands and his fondness for tree lined tracks (Wentworth in particular) may just give him the boost he needs off the tee. The putter was struggling the past couple of months but that turned around last week ranking 16th in the field in that department. It was a shame his driver deserted him once again and it's sods law that when the putter behaves another club doesn't.
Lowry should be licking his lips at this course this week and the slight downturn in his long game has resulted in him drifting to these kind of odds. There are enough positives course fit wise for me to take the risk this week.
1pt each-way S.Lowry 40/1 (1/5 7)
Shane Lowry - 1pt e/w @ 40/1
Wyndham Clark at 125/1 (Seven Places)
Lying right on the bubble of the Fedex Standings at 70th is Wyndham Clark and he knows he'll need to have a super week to catapult himself into the top 30. He was lying just three back heading into the final day las week in Memphis and a 2 over par round saw him drop to 28th but just manage to squeak into this week. Another week in contention could be on the horizon and although I'd worry about him thinking about East Lake next Sunday if in contention I think it's worth chancing around the 150/1 mark that he is there or thereabouts.
He is another ball buster off the tee who makes most of his gains in that department and faces most of his troubles with approach play. Larger greens this week should help and a good week on the greens could see him in the mix once again. Just one missed cut (US Open) from his last nine show he is putting a glossy finish on the season and the 150/1 looks a little big given what he produced last week.
0.75pt each-way W.Clark 125/1 (1/5 7)
Wyndham Clark - 0.75pts e/w @ 125/1
Luke List at 200/1 (Seven Places)
Luke List has much more serious affliction with the putter than Will Zalatoris but doesn't make half the headlines. His game off the tee has always been his strong point and he has been remarkably consistent in that department all year. He has thrived on approach also and is on course to post his best season in that department.
His putter remains a huge issue, and it nearly cost him his win earlier in the year at Torrey Pines. He managed to pull through though and earn a well deserved maiden victory on the main stage. In a 68 man field with a long course that should play to his strengths I'm willing to take the chance at a top price of 250/1 that he gets into the mix here. Whether the short stick holds up to win is another matter, but contention is far from out of the question.
0.5pt each-way L.List 200/1 (1/5 7)
Luke List - 0.5pts e/w @ 200/1