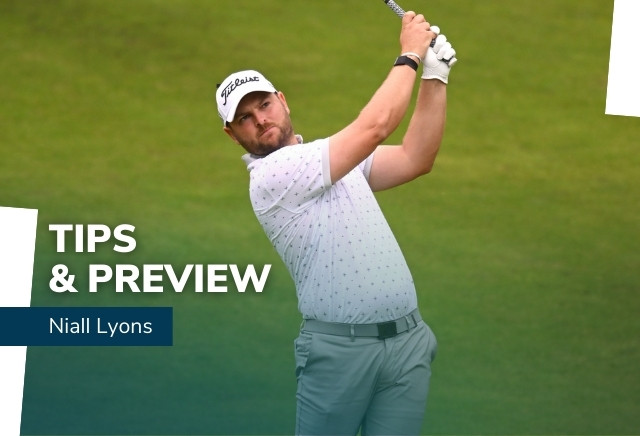 Niall Lyons shares his betting tips and preview for the Italian Open at Guidonia.
Italian Open - Winner
McIlroy, Hovland, Fitzpatrick and Hatton make the trip from the BMW to the Marco Simone venue here in Rome and I for one will be avoiding betting them. The prize on offer last week was one of the most coveted in European Golf and it is a gruelling week both physically and mentally with what happened.
More importantly the prize fund for the Italian Open is just more than a third of what it was last week and without questioning their professionalism I would conclude that motivation certainly isn't as big. We see McIlroy almost halved in price from what he was last week and Hovland similar. Fitzpatrick shortens also despite plenty of errors last week but that is understandable given the weaker field.
Regardless, I think it takes a brave man to get involved with these lads at these prices and there will no doubt be a lot of Ryder Cup attention this week also. It makes for some fancier prices down the field and this is where my attention goes.
Jordan Smith to Win (Seven Places)
Lying 14th in the DPWT rankings Jordan Smith has the potential to make an impact in the final few weeks of the season and Italy will be a good place to stake his claim in the Ryder conversation also. Long and straight is the order of the day here and he has been excellent off the tee for some time now. That continued last week at Wentworth but a poor week the irons compounded by a disappointing effort on and around the greens contributed to a missed cut there. Smith excels with the driver and looking at the results last year this could easily play into his hands. He missed the cut here last year but he was in the middle of a difficult period with his irons, a department much improved upon this season. Meronk and Hojgaard here last year were outside the top 25 in putting in this last year so he won't necessarily need a sparkling week with the flat stick to figure. His huge strength is his driver and if it plays out similar to last year this improved operator must have a fair chance of upsetting the odds.
1.5pts each-way J.Smith 45/1 (1/5 7)
Jordan Smith - 1.5pts e/w @ 45/1
Yannik Paul to Win (Seven Places)
Yannik Paul performed well at the Korn Ferry Tour Championship finishing 17th and returns to Europe now for the final legs of this season where he sits 58th in the DPWT rankings. That is courtesy of a handful of top 10s earlier in the season including when runner up to Sam Horsfield in the Soudal Open. Two top 20s at the Barbasol and Barracuda secured a place in the Wyndham where he finished a respectable 36th. Those efforts are eye catching as is the final effort in the KFT where form on that tour looks as important if not more so than better efforts on the DPWT.
He is a decent all rounder who could take to the Marco Simone golf course and based on past results this season has a fair chance of making an impact in a field of this quality. This is a very top heavy field and should the first handful fail to deliver then there will be a huge chance for guys like Paul who have a lot to play for at this time of year. 36th in a much better field at the Wyndham, if repeated, could go a long way towards getting a place sweat here at the very least.
1pt each-way Y.Paul 125/1 (1/5 7)
Yannik Paul - 1pt e/w @ 125/1
Robert MacIntyre to Win (Eight Places)
After a few bad weeks with the putter we gambled on MacIntyre finding his form again on the greens last week at Wentworth at 66/1. He did just that finishing 22nd in SG putting for the week but sod's law descended and his long game didn't turn up. I'm prepared to forgive him that as Wentworth is somewhere you can find trouble off the tee and his accuracy was slightly off.
It was difficult to play from the rough last week and he probably did well to finish 50th giving the problems he encountered off the tee. That being said, it was encouraging to see his putting touch return and around the 50/1 I'm prepared to give him another shot in a weaker field.
The Scot will be looking to make an impact on the Ryder Cup conversation and there is no better place than to start at the 2023 venue in Italy. There is no doubt he will need to improve to enter the conversation there but as McIlroy said last week they will look to breed new blood next year and MacIntyre surely has the potential to be in with a chance. It'll only take one week for it all to come together and he'll be a tough man to beat.
1pt each-way R.MacIntyre 50/1 (1/5 8)
Robert MacIntyre - 1pt e/w @ 50/1
Wil Besseling to Win (Eight Places)
Wil Besseling arrives here at a very tempting price seeing he is one of the strongest drivers in the field outside of the favourites. The Dutchman went close earlier in the season when being edged out by Samooja in Germany, finsihing second in the Porsche. Plenty of other consistent efforts see him handily placed in the rankings and he has a few big weeks ahead of him. Last week at Wentworth he was 19th on approach and 12th off the tee. That is a superb effort for someone who bashes the ball as hard as he does and had he turned up with any kind of short game he would have figured in the finish.
The short game remains the problem, however, and the gamble is that he turns that around any week. On the weeks that he does putt well we see a significant improvement in his results and turning up around the 150/1 mark looks a tempting enough number to risk. Without doubt one of the better drivers in the field and those types dominated this last year.
1pt each-way W.Besseling 140/1 (1/5 8)
Wil Besseling - 1pt e/w @ 140/1
Marcel Schneider to Win (Eight Places)
Two Englishman Paul Waring and Richard Mansell also make appeal. Mansell looks a classy sort and I don't think it will be long before he gets off the mark on the main tour. Waring has shown signs of a recovery of late with a runner up in the Cazoo Classic then a top 10 in Wales. Should his long game return after a poor week in Denmark then 150/1 may look big come the weekend.
Scrambling played a role last year with Hojgaard topping that stat as well as the two runner ups finishing 5th and 8th ansd for that reason I prefer Marcel Schneider. He has been one of the better performers in that stat currently ranked 2nd on tour. He has enjoyed a consistent season also with five top 10s and a further three top 20s. 6th in Prague and 7th in Switzerland make up two of his last three efforts and bookies are taking a slight chance chalking up him at triple figure prices.
The German is a talented sort finally realising some of his potential on the main stage having been a three time winner on the Challenge Tour. Water hazards do play their part here and he is an accurate golfer from the tee. Couple that with a fine short game and he could upset the odds in Rome.
1pt each-way M.Schneider 100/1 (1/5 8)
Marcel Schneider - 1pt e/w @ 100/1