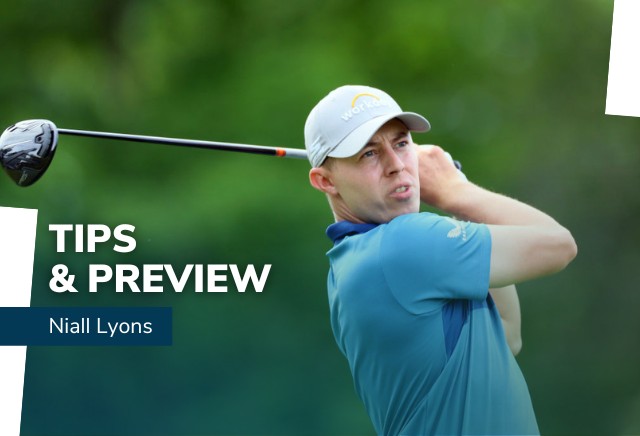 Niall Lyons shares his betting tips and preview for the DP World Tour Championship.
DP World Tour Championship - Winner
The European Tour starts its new schedule from next week with a move to Australia but before that there's the small matter of crowning the rankings champion at the Earth Course in Dubai. Both the individual event and the season ending rankings are up for grabs for a handful and it usually brings the best out of the game's leading lights.
The last 10 renewals of this event have been shared between McIlroy, Stenson, Fitzpatrick, Rahm, Willett and Morikawa. It is a significant trend that each of those have won a major either before or after their wins and represent some of the best the tour has ever offered.
Therefore, unless you've a very bright future ahead or a major championship already bagged then you're up against it here to manage a victory. Hitting plenty of greens and giving yourself enough chances to hole putts on these impeccable surfaces is the key to victory here.
When Fitzpatrick won here in 2016 he hadn't transformed his game into the powerhouse it is right now. Subsequent wins from Willett and Morikawa show you don't have to be among the longest hitters in the field to get a win here.
McIlroy lands here on top of the rankings but without a win on his last four visits to the Earth course. That isn't of much concern as the Rory we have seen this term has been a different player to that one who has turned up in recent years. Remarkably he has only been outside the top 10 three times in his last 14 starts.
The major victory just didn't quite happen this year but it wasn't through a lack of hard graft. Rewards have come elsewhere, both off the course and on it, most notably another Fedex victory. To be crowned champion of both tours will be high on his agenda and expect him to turn up giving everything.
His game is A1 so the only thing we can analyse is the price. The BMW PGA at Wentworth and the Dunhill Links are two recent events that contained very similar fields at the top end. The BMW included the likes of Horschel, Scott, Pieters, Gooch, Ancer, Reed and Garcia to name a few who don't make it to Dubai this week. Similar the Dunhill included Horschel, Oosthuizen, Pieters and Gooch but Rahm and Hovland sat that one out. Rory was 6/1 for Wentworth, an event he has won before. He was 9/2 for the Dunhill. He shortens for this despite the Dunhill being a weaker event.
Granted, various issues come into the price for that week in Scotland, but nevertheless the 7/2 looks a little on the stingy side if anything and at least a point bigger would be necessary to get me interested in the win part of the bet.
Matt Fitzpatrick to win 11/1
The top end of the field is very evenly matched but I'd be surprised should we not get a run out of Fitzpatrick or Lowry and for that reason I'm backing both win only similar to the rationale I mentioned above about McIlroy. Those two recent events where most of these players played together are a decent signpost to the odds we should get here.
In terms of Fitzpatrick he went off 11s for the BMW, 10s for the Dunhill and now 9/1 for this. That looks about right but when you consider his record around this course there is every reason to suggest he should be shorter. His record here reads 4-WIN-12-34-9-WIN-2.
Of course Rahm and McIlroy have similar records here also with both having won them twice. Since the Englishman has transformed his game though he has been winner and runner up here in the last two years and I think he'll be hard to stop going on a similar run once again. Recently he hasn't quite hit the heights he was during the summer with his approach play but there was an improvement last time out at the CJ Cup.
His driving and short game will ensure he is a threat just about anywhere and interestingly it has been mostly his putting here than has separated himself from his competitors. For that reason I'm inclined to ignore a slight regression in his approach play the last few months, and to be fair that is marginal anyhow.
I think McIlroy is too short in the market, and the same applies to Rahm and I believe these three powerhouses should be a fair bit closer. I'd make it 9/2 McIlroy and 7/1 the pair of Rahm and Fitz. I'm happy to give Fitzpatrick a rip at the price.
3.5pts WIN M.Fitzpatrick 11/1
Matt Fitzpatrick - 3.5pts @ 11/1
Shane Lowry to win - 14/1
Shane Lowry went off 14/1 at Wentworth in what was a stronger field and duly obliged on a course that he loves. He doesn't quite have the same love for this place but I don't think that warrants him going off at the same price as he was for that event, an event in which he eclipsed the world's best.
Lowry was second here in 2017 and with three other top 10 finishes clearly has the tools to compete here when his game is on. Last time out at the CJ Cup he ranked 15th off the tee and 9th on approach. His short game suffered badly though and a 23rd placed finish was the best he could muster. His putter certainly went cold in the summer and has returned to some sort of form in the Autumn. Nevertheless, it is a little inconsistent and is a slight worry heading into this week.
There are no questions about his long game though and I feel he is sure to be a feature this week and will be hard to topple should he start holing putts. He has done that here in recent years putting extremely well and these perfect greens should return some confidence to that stroke. The main thing here is the price and I'd make Lowry 4th favourite in this field with the likes of Hatton and Fox looking extremely short.
3.5pts WIN S.Lowry 14/1
Shane Lowry - 3.5pts @ 14/1
Jordan Smith to win - 30/1 (Five Places)
Two major winners are staked above and I'll add another who I believe could make the grade in years to come. If Jordan Smith can find improvement with the putter then he'll enter elite status as a golfer. His ball striking has been off the charts this season topping the SG off the tee stat and lying 8th on approach.
That has resulted in 13 top 20 finishes this season and of course that marvellous victory in Portugal two starts ago. That win was following a good effort on the greens at Valderrama where he finished 6th and last week in South Africa he wasn't disgraced with the putter either.
He started with a 74 last week but rallied well over the weekend with winner Fleetwood only beating him by 2 shots over the weekend, and beating runner up Fox by five shots over the final three rounds. Not many played better over the final three days than the Englishman and that momentum could quite easily carry over to Dubai this week where he should be bullish about his chances.
Talented enough to make that leap into the winners circle here and any sort of performance even close to that effort in Portugal will see him go very close.
1.5pts each-way J.Smith 30/1 (1/4 5)
Jordan Smith - 1.5pts e/w @ 30/1
Alex Noren to win - 33/1 (Five Places)
Kurt Kitayama fits the profile here with what kind of game you're looking and his recent effort of 2nd in the CJ Cup is eyecatching to say the least. His irons have been in fine nick recently and it's easy to see why the bookmakers have gone a little cautious on him. He is a little too short for me to get involved with here but one worth siding with at similar odds is Alex Noren. The Swede has had a consistent start to the season which got a little better last night finishing tied 4th in Houston.
He ranked 13th off the tee and 4th on approach which bodes well for his trip to Dubai. His putter is one club you can almost always rely upon and the signs in Houston that his long game is clicking means he could be a serious danger to the front of the market. His best finish here came last year when he finished 9th and it is safe to say he is playing a little better with three top five finishes in his last nine starts.
Noren went off 33/1 for the Dunhill Links and the same price is on the fair side here this week given how he has played since, and in particular last week. Thriston Lawrence is another worth a second glance around the 80/1 mark this week given a repeat of a few of his efforts this season would see him in the mix but the quality of the winners here down the last decade speaks volumes and I'll be surprised if someone like him or similar managed to upstage the best here.
1pt each-way A.Noren 33/1 (1/4 5)
Alex Noren - 1pt e/w @ 33/1