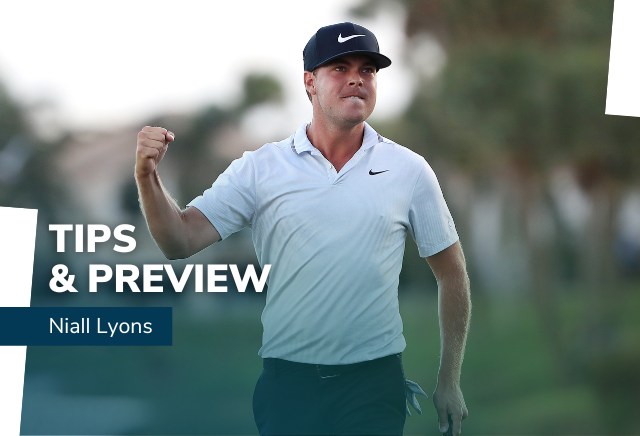 Niall Lyons shares his betting tips and preview for the RSM Classic.
RSM Classic Winner
The curtain comes down on the main 2022 schedule on the PGA Tour this weekend and the RSM Classic is a fine way to end the show. Played over the two tracks as usual in Sea Island we have the Seaside and Plantation courses. The easier of the two (Plantation) is used for one round whilst the tricker Seaside track makes up the remaining three. Plenty are based here or have practiced here at some point and there are usually a handful of those towards the top of the leaderboard come the final few days.
Not one particular aspect of the game stands out here at Sea Island but it usually takes a neat and tidy game to contend with the wind off the coast. Distance is never usually a huge asset to have here, instead keeping it in play with a sharp short game will be enough to keep tabs on the top. A nod to performance at other coastal tracks is another angle to consider before placing our bets. For that we look to Waialae, Harbour Town, Pebble Beach and to a lesser extent Puerto Rico and Punta Cana.
Tony Finau romped to an easy victory last week in Houston and it was one of those occasions where you could kick yourself you weren't on. This is the final chance to land a full field victory in the States this year and we'll plough on in an attempt to boost the bank balance before Santa's reindeer begin their pre match warm up.
Keith Mitchell at 35/1 (Eight Places)
I expected Keith Mitchell to be closer to second favourite in this event and the 35/1 on offer looks worthy of a small investment. Players with ties to Georgia often play well here and Mitchell being a resident has a decent record around here. Two top 15 finishes in his last three efforts here suggest he is capable of going better and last weeks performance was eyecatching.
He was 6th on approach last week in Houston on route to finishing 9th and the upturn with the irons is just the tonic he needs heading to Sea Island following a few bad weeks on approach play. Harman rating a 22/1 shot whilst Mitchell rating 35/1 doesn't quite add up following Mitchell's effort last week and from the top of the market he looks the pick of the value.
2pts each-way K.Mitchell 35/1 (1/5 8)
Keith Mitchell - 2pts e/w @ 35/1
Patton Kizzire at 150/1 (Eight Places)
Patton Kizzire has a history of playing extremely well on these types of tracks and at 150/1 looks worth chancing here. Back at the end of 2017 he won at Mayakoba before heading to Waialae a few months later and doing the deed once again. These are the tracks where he comes into his own and this was evident once again last time out in Mexico where he finished 10th.
He lay in second spot there heading into the final round and with little or no chance of catching Henley finished with a level par round that saw him fall a few spots. It's a sign of what he is capable of on these tracks and he has two top 15 finishes here in his last four starts. A similar effort to Mexico could easily be on the cards here on courses that suit and the 150/1 is looks a little big.
1pt each-way P.Kizzire 150/1 (1/5 8)
Patton Kizzire - 1pt e/w @ 150/1
Kevin Kisner at 50/1 (Eight Places)
Kevin Kisner struggled a little in the Presidents Cup, easily being their weakest team member. He has been lightly raced with only one tournament played since mid August so it's a gamble as to what sort of game he turns up with here. It's a gamble I'm willing to take though given his excellent record around here. Since 2015 his record here reads 4-WIN-CUT-4-7-CUT-2-CUT. So when he has made the cut here in his last eight starts he hasn't finished outside the top seven.
He was out with the washing last time out at the CJ Cup but it wasn't exactly a venue that would suit. This is where his skill set lies and should he turn up with anywhere near his average game then he could easily compete here. The bookmakers are taking a chance dangling a top price of 55/1 out there for someone who has such a record around here and I've been roped in. One of those that could pay off or go horribly wrong, but you take your chances with a guy like Kisner here.
1pt each-way K.Kisner 50/1 (1/5 8)
Kevin Kisner - 1pt e/w @ 50/1
Russel Knox at 100/1 (Eight Places)
Scott Stallings is an interesting runner should he manage to recreate some of his form towards the end of last season. After a promising start at the Sanderson he hasn't quite played as well since and that's enough to put me off. Veteran Sean O'Hair is another worth a glance at a big price with his only effort thus far this season being a top 15 finish in Bermuda.
Russell Knox shot a final round 74 last week in Houston to tumble to 27th but there have been plenty of positives about the way the Scot has started his campaign. Only one missed cut from 6 so far this term is a decent start and three top 30 finishes have been a fair return. He will be looking to improve on that though given the credentials he has for a task like this. We have four events with full stats so far this season and his approach play has been excellent.
He was 14th on approach at the Fortinet, 7th at the Sanderson and 11th in Houston. With a lack of distance in the bag those courses aren't entirely suitable and a trip to Sea Island should be welcomed. He doesn't need the length here and instead his approach play should count for a lot more if it continues in the same manner. He has runner ups at Harbour Town and Mayakoba as well as a win on a seaside links in Ireland. His game looks to be trending in the right direction and I wouldn't be surprised should he put his best foot forward here.
1pt each-way R.Knox 100/1 (1/5 8)
Russell Knox - 1pt e/w @ 100/1
Robbie Shelton at 150/1 (Eight Places)
Robbie Shelton is a four time winner on the Korn Ferry Tour and there is plenty of promise about the way he has kicked off this campaign. Three top 25 finishes in his six starts is a fair return to date with one part of his game somewhat letting him down each and every week. Last week in Houston it was the putting but worth noting he was 12th on approach on route to finishing 52nd in the Lone Star state.
His approach play has been more than satisfactory since the season began and a trip to Sea Island should suit as it isn't a heavily driver dominated track. He has missed the cut on both occasions he has played here but the price is a standout one in this field and looks like it must be taken.
He went off a 35/1 shot just three starts ago in the Bermuda and although this is a much tougher field the drift to triple figures doesn't seem quite right. Patrick Rodgers has had slightly better form since the Bermuda but he was going off a similar price there and now sits around the 40/1 mark this week, all be it with better course form. Shelton has bags of ability and a decent skillset to tame these seaside tracks.
1pt each-way R.Shelton 150/1 (1/5 8)
Robby Shelton - 1pt e/w @ 150/1
Erik Barnes at 500/1 (Eight Places)
Finally I'll take a flyer on 500/1 shot Erik Barnes. Barnes earned his tour status after a series of excellent finishes early on in the Korn Ferry Tour last season. He managed to qualify for the US Open last year also and is what you can call a proper grafter on tour. He didn't disgrace himself there either just missing on the cut on the number. Four missed cuts from six so far this season may look bad but his long game has been in fair nick on a few starts. Last week in Houston he was 24th on approach and 9th around the greens. A repeat of those efforts should translate well to Sea Island and the 500/1 looks a worth a pop.
0.5pt each-way E.Barnes 500/1 (1/5 8)
Erik Barnes - 0.5pts e/w @ 500/1